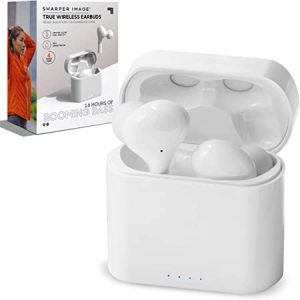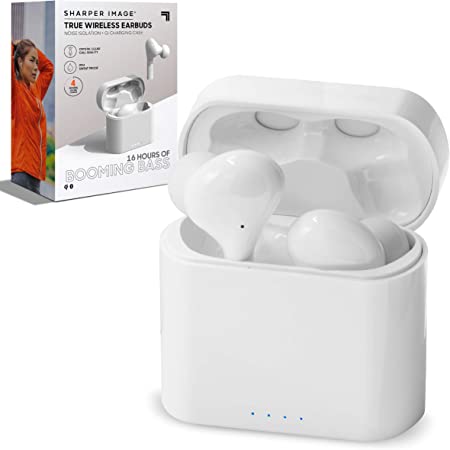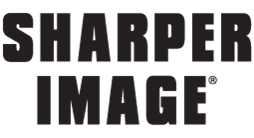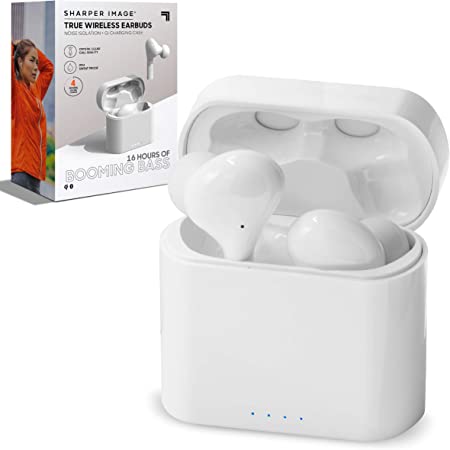 Sharper Image The True Wireless Earbuds User Manual
FRONT
CONGRATULATIONS ON YOUR PURCHASE OF THE TRUE WIRELESS EARBUDS.
Please read all instructions and warnings prior to use. Keep this sheet as it contains important information for future reference
QUICK START GUIDE
01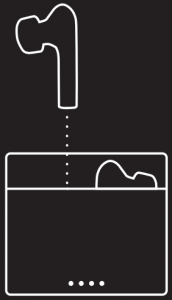 CHARGE
02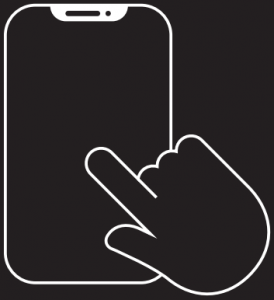 CONNECT
03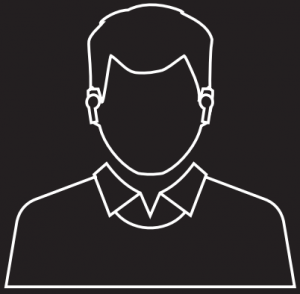 PLAY
01 CHARGE
Place the earbuds into the case
For wired charging – connect the charging cable to the earbud case then connect the USB connector to a power source
For wireless charging – place the back of the case on a Qi charging base
3. Blue lights on the case indicate when the case is charging. All 4 LEDs will light up when the case if fully charged
4. A white LED on earbuds will turn on while charging and turn off when fully charged.
02 CONNECT
Your device must have BLUETOOTH® capability. Consult your device manufacturer or user manual if you are unsure if your device has this feature.
Turn off any devices that may have been previously paired to the earbuds.
Remove the earbuds from their case and place the earbuds in your ear
Place your device within 3 feet of earbuds
Enable BLUETOOTH® on your device and search for new BLUETOOTH® devices. Refer to your device's manual on how to enable and operate BLUETOOTH®.
Select SI TWS from the list of BLUETOOTH® available devices
You can now stream music wirelessly from your device to your earbuds.
Note: Your earbuds will automatically pair with your device when the earbuds are removed from their case.
03 PLAY (TOUCH CONTROLS)
MUSIC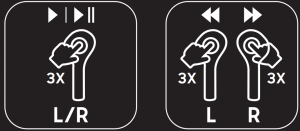 CALLS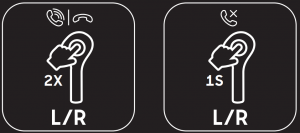 (TOUCH CONTROLS CONT.)
POWER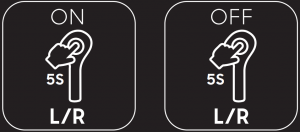 VOICE ASSISTANT
BACK
WHAT YOU GET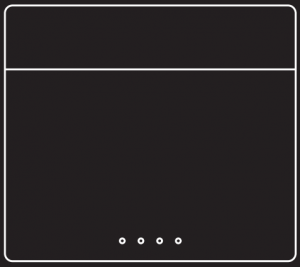 QI CHARGING CASE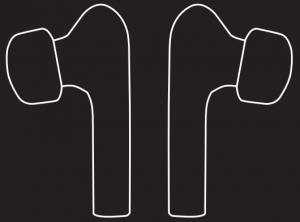 2 EARBUDS

4 PAIRS OF EARBUD TIPS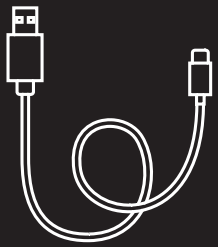 USB TO USB-C CABLE
FIND THE RIGHT FIT

Start with the largest size ear tips first and work your way down.
There is an improper seal if:
Earbuds do not stay in during light activity
There is no reduction in outside noise
You experience "distant" sounds
KEEP THIS INSTRUCTION MANUAL AS IT CONTAINS IMPORTANT INFORMATION FOR FUTURE REFERENCE.
Due to continuous product improvements, the pictures on this manual may differ slightly from the actual product.
SAFETY WARNINGS
PLEASE READ BEFORE USE
Not a children's item. Keep out of the reach of children.
Listening to loud music for extended periods of time may damage your hearing
Do not use earbuds while driving
Always pay attention to your surrounding while using this product
Only use the included power cable for operation.
Do not attempt to use this product for other purposes
Do not expose to extreme temperatures or moisture
Thoroughly inspect products before every use. If the product appears worn, frayed/splintered, cracked, or broken in any manner, discontinue use and discard immediately.
RECHARGEABLE BATTERY WARNING
This product contains batteries that are non-replaceable.
There is a risk of fire and personal injury if battery is punctured, damaged, or misused.
Do not dismantle, crush, incinerate or short-circuit battery.
Never expose battery to extreme temperatures or moisture.
Keep away from flammable materials and direct sunlight.
Only charge using the provided charger, cable, and/or adapters.
Rechargeable battery is only to be charged by an adult.
Adult supervision is required while charging the battery.
Allow battery to cool to room temperature before charging.
Charge on a non-flammable surface and keep away from flammable products.
Discontinue charging if battery becomes hot, swells, smokes, or gives off a strong odor.
Battery chargers used with the product are to be regularly examined for damage to the cord, plug, enclosure, and other parts. In the event of such damage, chargers must not be used until the damage has been repaired.
Recycle or dispose of battery according to federal, state, and local laws.
Keep these instructions for future reference.
ADVANCED
TO ENTER PAIRING MODE AND LOOK FOR A BT-ENABLED DEVICE
Tap four times on one earbud
TO CLEAR PAIRED DEVICE
While earbuds are charging, long tap one earbud for 5 second
TO CONNECT TWO EARBUDS
Clear paired devices then double tap on each earbud
TO CONNECT 1 EARBUD
Power off both earbuds then power the one you want to use
TO SWITCH MICROPHONE BETWEEN EARBUD AND PHONE:
Triple tap one earbud
TO SWITCH BETWEEN 2 CALLS
Single tap one earbud
TO HANG UP CURRENT CALL WHEN IN 2 CALLS
Double tap one earbud
TO RESET
Forget earbuds in your device's Bluetooth setting then reset your device. Place earbuds in their case and turn your device back on
SPECIFICATIONS
Bluetooth 5.0
Range: Approximately 30ft
Battery: 40mAh per earbud, 400mAh case
IPX4 Sweat resistant
Call/Playback time: Approximately 4 hours @ 50% volume
FCC + LEGAL STATEMENTS
SHARPER IMAGE® NAME AND LOGO (INCLUDING THE 77 LOGO) ARE TRADEMARKS OR REGISTERED TRADEMARKS. DISTRIBUTED BY AND © 2020 MERCHSOURCE, LLC. IRVINE, CA 92618. ALL RIGHTS RESERVED.
This device complies with part 15 of the FCC Rules. Operation is subject to the following two conditions: (1) This device may not cause harmful interference, and (2) this device must accept any interference received, including interference that may cause undesired operation.
FAQS
Are these ipx4 or ipx7? there are images claiming both in this add.
Ear buds are IPX4. They are sweat proof.
Where can I buy a replacement Usb cord?
Anywhere c style cables are sold
are these water resistant?
Nope
my earbuds won't pair with macbook pro anyone help?
They don't last or work well with any devices. return if its not to late and get SPIDOC Bluetooth headphones better sound and quality.
Can they be used with the tv?
If you have Dish Network you can use these with TV.
Do these earbuds have a flashing blue light when paired to a device or in use the whole time?
Yes they do
What's the actual size of the charging case?
It's 2 inches wide by 1 and 3/4 tall
Do these work with ipads?
They just don't work
Why is the case chargeing ( 4 blue LEDs are lit), but the pods say "low battery"?
Poor product performance.
what's the wall charger model for this earbuds? Should be 5V and 0.5Amp
Don't get those headphones they will break within a week
Why is the case chargeing ( 4 blue LEDs are lit), but the pods say "low battery"?
Poor product performance.
Can these be worn in an mri machine?
No
batteries – can they be replaced?
Nope
Do they work if you only wear one?
They never work properly, useless
are they compatible with iPhone 7?
yea, they paired easy with my iphone 8, it most likely work with the iphone 7 as well with it being only one generation apart
do they have a case cover?
Yes
why wont this work with ipod nano?
Only the latest version of the ipod nano has bluetooth connectivity. Please check which version you have to see if it is compatible with bluetooth technology.
do these work with apple ipod – I can pair but can't get sound?
It depends on the version of ipod that you own. Not all ipods are capable of bluetooth connectivity, only some of the later models. Please check the bluetooth capabilities of the specific model you own.