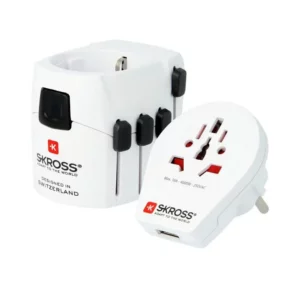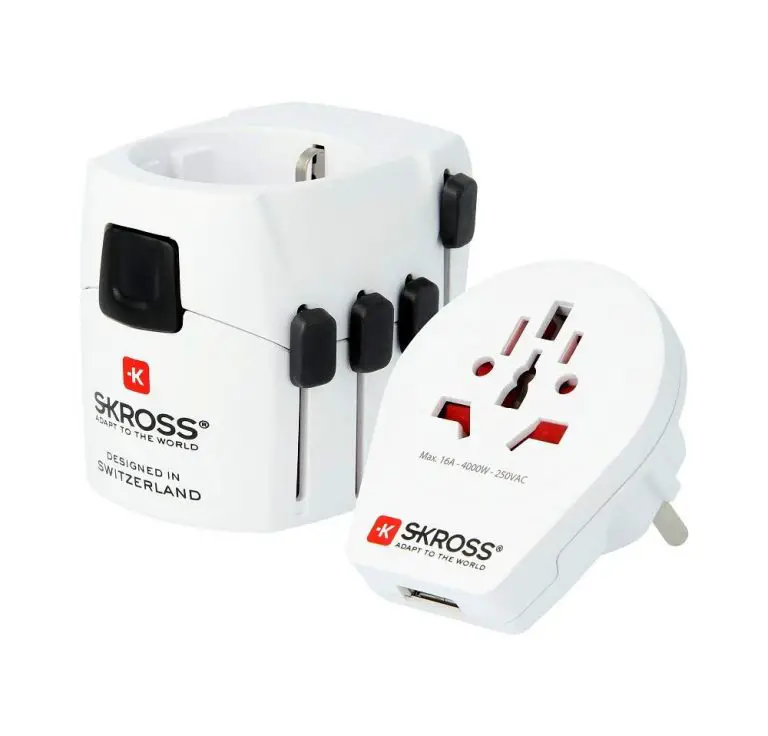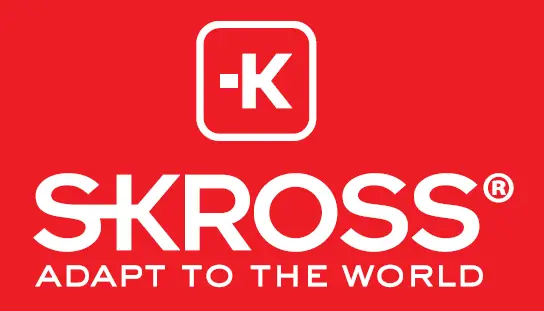 SKROSS USB Universal Adapter PRO – World andamp; USB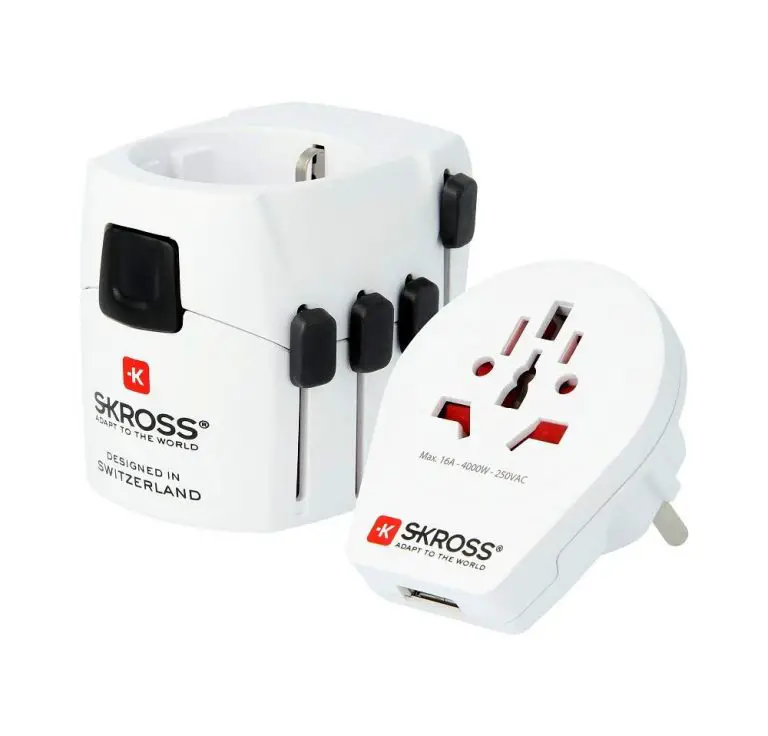 World adapter PRO, 3-pole
max. 7 A, 100 V/700 W–250 V/1750 W
Country adapter World to Europe, 3 pole
max. 16 A/100 V–250 V

only included with PRO – World version

Country adapter World to Europe USB, 3 pole
max. 16 A/100 V–250 V
1 x USB-A port: 5 V/max. 2.4 A

only included with PRO – World & USB version

Fuse replacement
Slow blow microfuse (glass or ceramic):
T 7 A, 250 V AC, 6.3 x 25.4 mm
Plug types
A USA/Japan,
B USA,
C Euro,
E French Schuko,
F Schuko,
G UK,
I Australia/China,
J Switzerland,
L Italy,
N Brazil
Safety instructions
Keep the adapter out of the reach of children.
The adapter is only intended for short-term use. Disconnect from the mains/device after use.
Never use the adapter if the casing is damaged.
Never expose the adapter to liquids or moisture.
The adapter is not suitable for use in enclosed spaces (IP20).
The adapter is not a voltage converter. The input voltage for the device to be connected must match the voltage of the local mains power supply.
The fuse will blow if the adapter is used with higher-powered devices than specified (W = A x V).
When replacing the fuse (not possible for all adapters), always use an appropriate fuse.
The adapter cannot be used to charge electric vehicles.
The adapter must only be used to connect a single device (not including USB connections).
The adapter must not be used with multiplug sockets or other adapter plugs.
Improper use of the adapter will invalidate the manufacturer's warranty.
Retain a copy of this document and the manual.
Warranty and limitation of liability
This product has been developed in line with international safety standards. The user must exercise due care and attention when using the product. The warranty expires 24 months after the date of purchase and is limited exclusively to the replacement of a defective product. Aside from its commitment to replace a defective product within the warranty period, WorldConnect AG accepts no liability, under any circumstances, for direct, indirect or consequential damages resulting from (i) a defective product; (ii) force majeure events; (iii) any improper use of the product that deviates from its intended use (iv) any use of the product that contravenes the instructions contained in the manual. Liability is also excluded for any lost profits, operational downtimes, data loss or any other losses and/or damages incurred during the proper or improper use of the product.
Subject to change.
©2020 WorldConnect AG. All rights reserved.