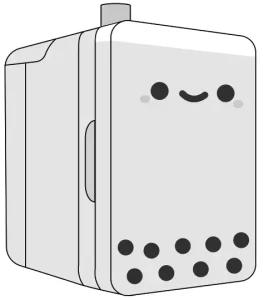 Pearl Boba Tea Mini Fridge 2.0
User Manual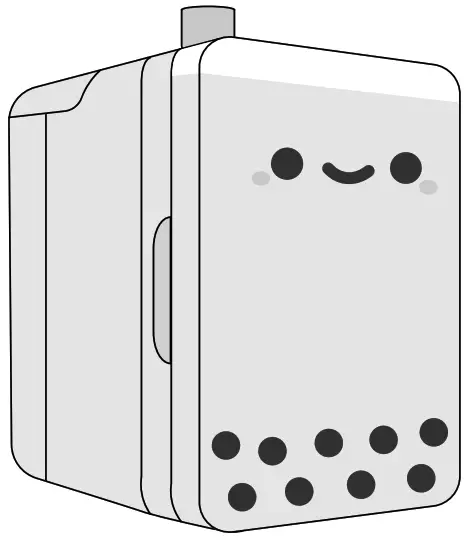 Thank you for purchasing the SMOKO Pearl Boba Tea Mini Fridge!
Use the Pearl Boba Tea Mini Fridge to keep your favorite skincare products cold or use it to store your food/ beverages! It's also road trip friendly so you can take it with you on your adventures. It can hold up to 10 liters (up to 12 soda cans).
This mini-fridge comes with removable shelves so you can customize it to your needs.
Use the fridge for:
Storing skincare products
Storing beverages
In the office
Students' dorm or dining hall
Traveling
Please read and follow all safety rules and instructions in this manual before operating.
HOW TO OPERATE THE FRIDGE
AC POWER CORD
Household Power Cord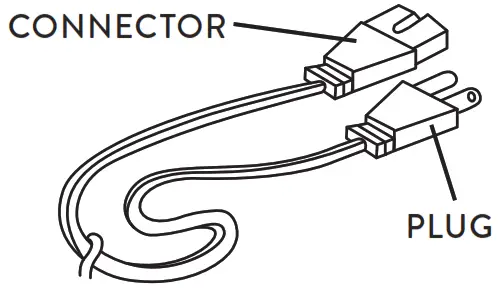 DC POWER CORD
Car Power Cord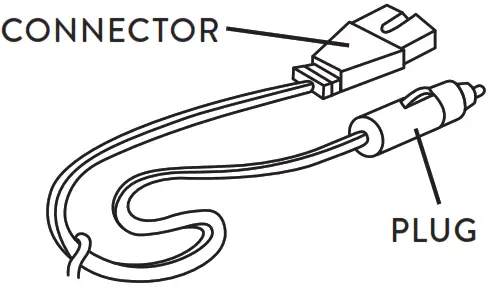 Make sure the switch at the side of the cooler and warmer is OFF, and then insert the plug of the power cord into the socket of the unit.
Insert and connect the respective plugs.
Cooling: Set the switch to COLD. The green light indicator will be on, indicating that the unit is in cooling mode.
Heating: Set the switch to HOT. The red light indicator will be indicating the unit is in heating mode.
OPERATING PANEL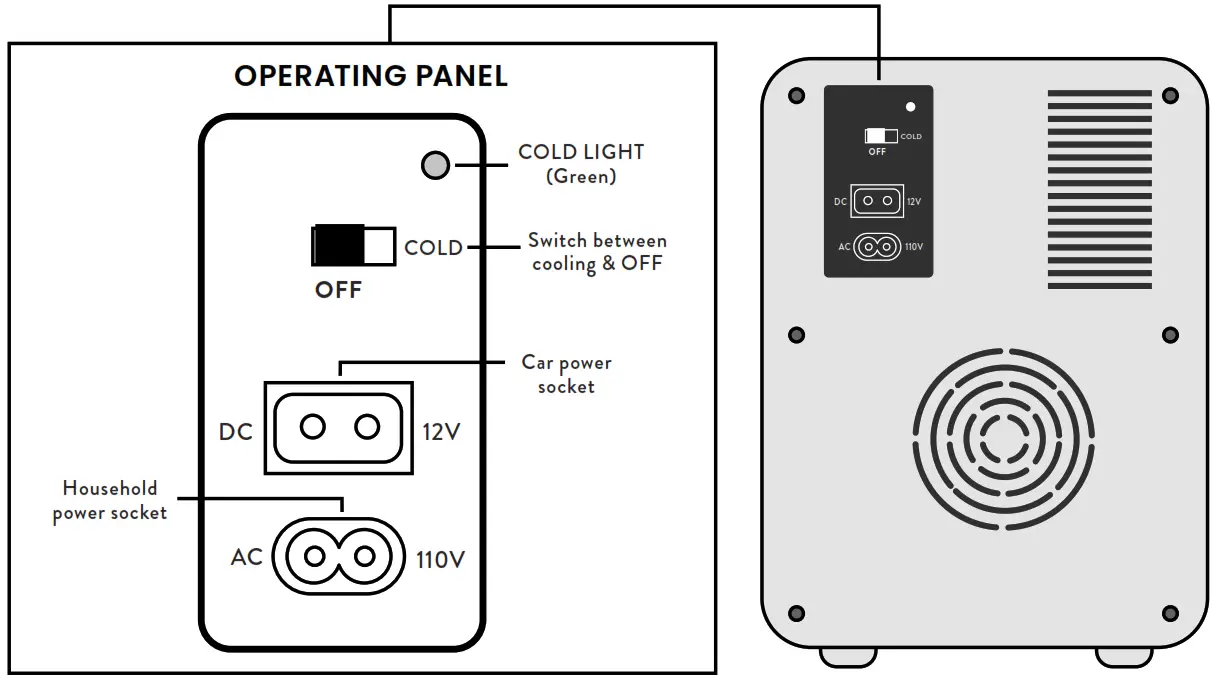 HOW TO USE FRIDGE AT HOME (AC 110V)
Connect the AC power cord (household power cord) with the household socket of the product.
Insert the power socket into the concentric plug.
HOW TO USE FRIDGE IN THE CAR (DC 12V)
Turn on the car engine to start. (Please note: the appliance may or may not work in certain cars)
Plugin the DC power cord into the car lighter socket.
Connect and insert the plug of the DC power cord into the fridge and the socket of the car lighter.
FAQ
Why are there water droplets inside my fridge?
A bit of water accumulation is completely normal in thermoelectric units and can occur due to condensation dripping from stored products. To remove extra moisture, dry the inside with a soft cloth twice a week or place a desiccant pack inside the fridge to help minimize moisture.
Why is my fridge not cold enough?
The temperature of the fridge is determined by the temperature surrounding the outside of the fridge (it cools at approximately 16-20 degrees lower than the outside temperature).
WARNING AND NOTICE
FOR THE PROPER OPERATION, PLEASE READ THE STATEMENT BELOW CAREFULLY BEFORE USING THE APPLIANCE. MISUSE OF THE APPLIANCE MAY CAUSE THE ITEM TO MALFUNCTION, DEATH, OR INJURY.
After 1 month of use, unplug the fridge for 1 to 2 days to prevent overheating.
Prevent the fans from being stuck or blocked. The fans being stuck will heat the engine and cause a fire. Towels, clothes, and the like should not be put near the item at all times.
Please confirm the sockets of the cords are tight. A loose socket will result in the cords and sockets heating or malfunctioning and may possibly cause a fire.
Please unplug the fridge if not in use for a period of time.
Keep the appliance away from flammable items and dampness to prevent a fire.
Do not break up or refit the appliance.
Do not rinse with water or expose to rain. Do not use in extreme heat or cold weather.
Prevent the appliance from being upside down or dropped.
Children should be supervised to ensure that they do not play or damage the appliance as it may cause harm/ injury.
This appliance is not intended for use by persons (including children) with reduced physical, sensory, or mental capabilities, or lack of experience and knowledge unless they have been given supervision or instruction concerning the use of the appliance by a person responsible for their safety.
Keep ventilation openings, in the appliance enclosure or in the built-in structure, clear of obstruction.
Do not use electrical appliances inside the storage compartments of the appliance, unless they are the type recommended by the manufacturer.
This product has 90 days warranty following its delivery date. (Date delivered: )
Questions or comments?
Please email: [email protected]
SPECIFICATIONS
Dimensions: 9.6 x 9.8 x 13.7"
Interior Dim: 6 x 7.5 x 11.2"
Weight: 6.4 LBS
Length of Cable: 70.8"
Cool Temperature: 35.6˚F or 2˚C
Power Consumption: 110-240v, 50W
AC/ DC Cables included