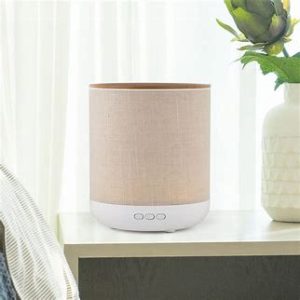 Soothing Snooze™
Essential Oil Diffuser & Sound Machine
INSTRUCTIONS
PARTS

FEATURES
2-in-1 Ultrasonic diffuser and sound machine allow you to transform water and essential oil into a fragrant mist, with soothing sounds drifting you into a peaceful snooze. Features a woven fabric design to bring a warm ambiance to your home décor.
Water Capacity: 300 mL (10.14 fl oz)
Suggested Room Size: Up to 300 sq ft
Continuous Operation: Up to 7 hours
Light Options: Warm White Light, Soft White Light, and Off
Sound Options: Thunderstorm, Ocean WavesNature and Off
Automatic safety shut-off
Power: AC adapter included, cULu s approved
CARE and MAINTENANCE
Only use the adaptor that is supplied with the unit. Always unplug the adaptor from the electrical outlet before filling. Always remove the adaptor before cleaning. Essential Oil should not come in contact with any exterior surface of the unit. Do not submerge the unit into the water to avoid the risk of electric shock. Do not put fingers, hands, or any object into the unit while operating. Do not touch the water while the unit is operating. Do not attempt to adjust or repair the unit. Do not place this unit near heat sources or direct sunlight. Use this unit only as intended and described in this manual.
Clean unit weekly.
* SpaRoom® KLENZOR™ tablets may be used to renew diffuser to like-new condition.
Remove Top Cover. Empty the water from the Water Tank away from the Air Outlet. Rinse Base with hot topwater at least three times to ensure buildup is removed. The Ceramic Disc should not come in contact with any hard or sharp objects. To remove possible buildup, gently use a cotton swab dipped in white vinegar to wipe out the inside. Dry with a soft cloth and allow the unit to dry thoroughly. Do not use strong cleaning agents.
INSTRUCTIONS FOR USE
Place diffuser on a flat, water-resistant surface.
Remove Top Cover from the Base.
Insert the Adapter's DC connector into the DC Socket on the back of the Base.
Pour tap water into the Water Tank up to the Max Water Level Line inside the Base. DO NOT USE DISTILLED WATER. Add 3-5 drops of essential oil (not included) directly into the Water Tank. Replace Top Cover onto the Base.
Button Functions:
• Power Button:
• 1st Push: Continuous Mist with Warm White Light
• 2nd Push: Continuous Mist with Soft White Light
• 3rd Push: Continuous Mist with Light Off
• 4th Push: Turns Unit Off
• Sound Button:
• 1st Push: Thunderstorm
• 2nd Push: Ocean Waves
• 3rd Push: Nature Sounds
• 4th Push: Sound Off
• Volume Button:
• 1st Push: Quiet
• 2nd Push: Loud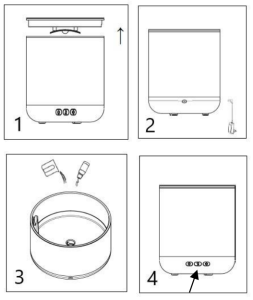 NOTES:
Only use 100% pure or natural essential oil. Other types, such as fragrance and synthetic oils, may cause corrosion that can damage your diffuser and void our warranty.
It is normal for the temperature of the water and Adapter to increase while in operation.
The diffuser will automatically turn off when the water level becomes too low.
Disconnect the Adapter from the electrical outlet when not in use.
Keep out of reach of children and pets.

2021 UNITREXe • CLEVELAND, OH • WWW.SPAROOM.COM