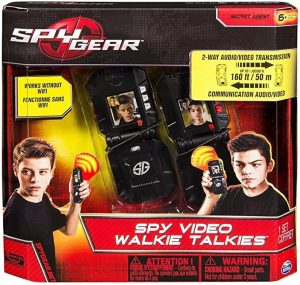 SPY GEAR SPY VIDEO WALKIE TALKIES™ USER GUIDE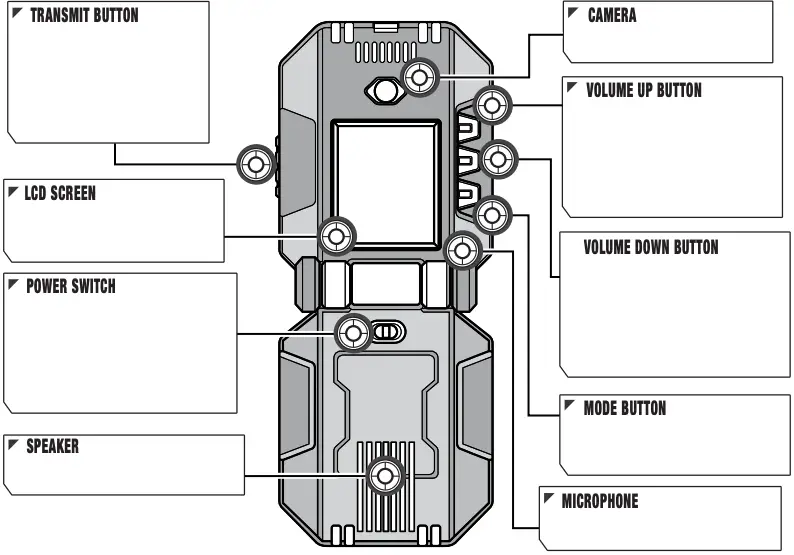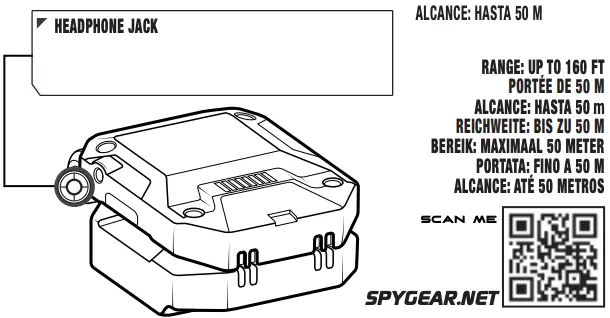 ICONS LEGEND

ENTERING SPY MODE ICON

RECIEVING SPY MODE ICON
PAIRING SEARCH ICON
appears while walkie talkies are disconnected)

STANDBY WARNING LIGHT
(appears 1 minute before auto shut off)

VOLUME LEVEL ICON

LOW BATTERY ICON
(When icon appears, unit will auto shut down soon. Replace battery now.)
HOW TO OPERATE
Open your SPY VIDEO WALKIE TALKIES™ and move the power switches to the ON POSITION.
You will see the image from the other SPY VIDEO WALKIE TALKIES™ in the LCD DISPLAY.
Press and hold the TRANSMIT BUTTON and talk into the SPY VIDEO WALKIE TALKIES™ to transmit your voice to the other SPY VIDEO WALKIE TALKIES™.
To increase or decrease the volume, use the VOLUME+ and VOLUME – buttons beside the screen.
Connection Problem? If the two units are ON and unable to connect, press and hold both mode buttons for 2 seconds to reconnect.
NOTE: you can plug headphones into the HEADPHONE JACK to listen more stealthily. This will turn off the speaker on the SPY VIDEO WALKIE TALKIES™. Head phone not included. Choose a headphone that complies with EN60065:2002+A12:2011.
SPY FACT: If you plug headphones into both units you no longer have to press the TRANSMIT BUTTON to transmit sound to each other. Both units will continuously stream audio.
NOTE: Your SPY VIDEO WALKIE TALKIES™ will automatically turn off after 15 minutes. There will be a beeping noise at 14 minutes of inactivity to warn you about auto shut off. Press any button to keep using your SPY VIDEO WALKIE TALKIES™.
SPY VIDEO WALKIE TALKIES™ MODES
Press the mode button to cycle through the different modes for your VIDEO WALKIE TALKIE™.
Press once to switch to picture in picture mode 1 (IMG 1: You / IMG 2: Incoming signal).
Press once to switch to picture in picture mode 2 (IMG 1: Incoming signal / IMG 2: You).
SPY MODE: In spy mode your unit's screen and speaker will turn off to make it appear off while still sending image and audio to the second unit. Your VIDEO WALKIE TALKIE™ is now a spy cam, leave it in another room to see and hear everything happening on the second unit.
HOW TO INSTALL BATTERIES
Open the battery door with a screwdriver.
If used batteries are present, remove these batteries from the unit by pulling up on one end of each battery. DO NOT remove or install batteries using sharp or metal tools.
Install new batteries as shown in the polarity diagram (+/-) inside the battery compartment.
Replace battery door securely.
Check your local laws and regulations for correct recycling and/or battery disposal.
NOTE: If normal function of the product is disturbed or interrupted, strong electro-magnetic interference may be causing the issue. To reset product, turn it completely off, then turn it back on. If normal operation does not resume, move the product to another location and try again. To ensure normal performance, change the batteries, as low batteries may not allow full function.
Care and Maintenance: Always remove batteries from the toy when it is not being used for a long period of time. Wipe the toy gently with a clean damp cloth. Keep the toy away from direct heat. Do not submerge the toy in water. This can damage the electronic assemblies.
Special Note to Adults: Parental guidance is recommended when installing or replacing batteries. Regularly examine the toy for damage. In the event of any damage, the toy must not be used until the damage has been repaired. This toy is not intended for children under 3 years old.

Requires 3 x 1.5 V AAA/LR03 alkaline batteries (not included). Batteries or battery packs must be recycled or disposed of properly. When this product has reached the end of its useful life it should not be disposed of with other household waste. The Waste Electrical and Electronic Equipment Regulations require it to be separately collected so that it can be treated using the best available recovery and recycling techniques. This will minimize the impact on the environment and human health from soil and water contamination by any hazardous substances, decrease the resources required to make new products and avoid using up landfill space. Please do your part by keeping this product out of the municipal waste stream! The "wheelie bin" symbol means that it should be collected as "waste electrical and electronic equipment". You can return an old product to your retailer when you buy a similar new one. For other options, please contact your local council.
BATTERY SAFETY INFORMATION: Requires 3 x 1.5 V AAA/LR03 alkaline batteries (not included). Batteries are small objects.
Replacement of batteries must be done by adults.
Follow the polarity (+/-) diagram in the battery compartment.
Promptly remove dead batteries from the toy.
Dispose of used batteries properly.
Remove batteries for prolonged storage.
Only batteries of the same or equivalent type as recommended are to be used.
DO NOT incinerate used batteries.
DO NOT dispose of this product in fire, as batteries inside may explode or leak.
DO NOT dispose of batteries in fire, as batteries may explode or leak.
DO NOT mix old and new batteries or types of batteries (i.e. alkaline/ standard).
DO NOT use rechargeable batteries.
DO NOT recharge non-rechargeable batteries.
DO NOT short-circuit the supply terminals.
IMPORTANT INFORMATION: Remove all packaging before use. Retain this information, addresses and phone numbers for future reference. Content may vary from pictures. An adult should periodically check this toy to ensure no damage or hazards exist, if so, remove from use. Children should be supervised during play. Spin Master reserves the right to discontinue use of the www.spygear.net website at any time. MADE IN CHINA.
Spin Master International SARL, hereby declares that this Spy Video Walkie Talkie™ is in compliance with the essential requirements and other relevant provisions of Directive 1999/5/EC. A copy of the declaration of conformity can be requested at [email protected] or SPIN MASTER INTERNATIONAL S.A.R.L., 16 Avenue Pasteur, L-2310, Luxembourg.

SPIN MASTER INTERNATIONAL, S.A.R.L., 16 AVENUE PASTEUR, L-2310, LUXEMBOURG www.spinmaster.com
TM & © Spin Master Ltd. All rights reserved.
Warning: CHOKING HAZARD – Small Parts.
Not for children under 3 years.