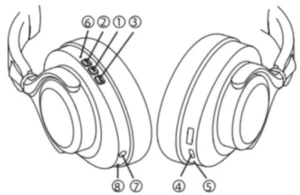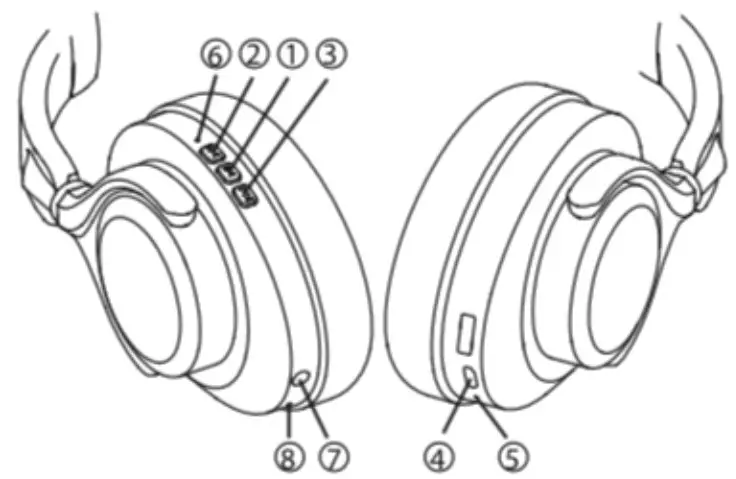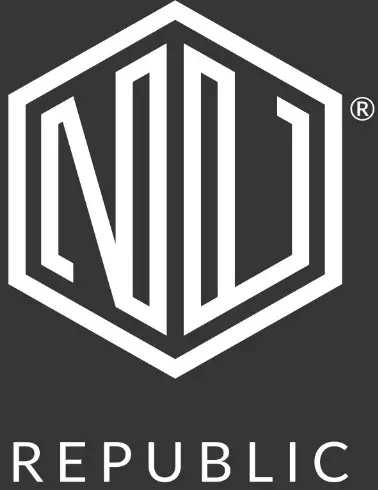 USER MANUAL
NU 514
USING THE HEADPHONES
Thank you for purchasing the NU STARBOY 2 MAX Bluetooth® headphones. This guide is provided to help you get started quickly with your wireless stereo headphones; please read it carefully and save it for future reference.
INCLUDED WITH THE HEADPHONES
USB charging cable
In-line cable
CHARGING THE BATTERY
Although the battery Is partially charged initially, we recommend you fully charge the battery before first use. Allow about 2.5 hours for a full charge.
Plug the Micro USB end of the included USB cable into the USB micro port charger connector under the right earcup of the headphones.
Plug the other end into a USB port on your computer or other devices made for USB charging.
Allow about 2.5 hours for a full charge. The indicator light will be red while charging. Once fully charged, the indicator light will be softer red.
Note: You can still enjoy your music while charging your headphones.
PAIRING
To use your NU STARBOY 2 MAX Bluetooth headphones with a Bluetooth device (such as a smartphone, computer or tablet), first establish a wireless connection between the headphones and the device.
Activate the Bluetooth feature function on your Mobile Phone to begin setup.
The "Search new device" screen will be displayed.
Place both devices not more than 3 feet away from each other.
Press and CONTINUE to HOLD the Multi Function PAIRING BUTTON until the Blue/Red LED indicator starts blinking alternately, this indicates that the headset has entered pairing mode.
As soon as the system detects the new device in your dialog box, select the icon that reads "NU STARBOY 2 MAX" the headset.
The software may activate the passkey window and ask you to enter the PIN code ="0000" (4 zeros). Otherwise, the wireless connection will be established automatically with the remote device.
If the pairing is successful, the Blue LED will start blinking slowly, If after 60 seconds the pairing process fails, please repeat steps | through 6 described above.
The headset will go automatically into standby mode after a short period of inactivity.
CALLS
When there is an incoming call, the headphones will ring. Press the Multifunction button to answer an incoming call. You may also press the answer button on your mobile phone to receive the callin your headphones. Music playback pauses temporarily. To end a call simply press the Multifunction button once again. Likewise, you may also end the call directly using your mobile phone. As soon as your hang up, music playback resumes automatically.
PRODUCT DIAGRAM
| | | | |
| --- | --- | --- | --- |
| 1. M | 3. – | 5. Charge indicator light | 7. Aux In- 3.SMM |
| 2. + | 4. CHARGING PORT | 6. POWER LED | 8. Microphone |
Multi Function / Pawing Button
Answer or end a call (Press) / Redial (Double Press) Reject a call (Press and hold for 2 seconds) Play or pause (Press) / Pairing (Press and hold)
Volume up (Press and hold) / Track forward (Press)
Volume down (Press and hold) / Track back (Press)
Charger connect
Battery Indicator
Bluetooth Indicator
3.5 mm cable port
Microphone
PRODUCT SPECIFICATIONS:
Frequency Range: 2.4GHz-2.48GHz
Battery Specifications: 3.3V-4.2V, 300mAh, Built-in
CONNECTIVITY
Bluetooth V4.1, Class Il
HSP/HFP/A2DP/AVRCP protocols
Distance Range upto 10m
AUDIO
Frequency response: 20 Hz ~ 20 KHz
Driver: 40 mm neodymium drivers
Impedance: 320415%
3.5mm AUX in jack
MICROPHONE
Sensitivity. -42 dBt3 dB (@1 Khz)
FEATURES
Play time: Upto 16 Hours*
Stand-by time: Upto 100 Hours
Charging System: Micro-USB
Charging time: 2.5 Hours
Charge Indicator on iOS devices
Built in Mic for HandFree Calling
Touch controls on ear cups
Noise isolation blocks out unwanted background noise
*Battery time is approximate and depends on network configuration, signal strength, operating temperature, voice and data mix, and features selected
UNDERSTANDING THE WARRANTY
Nu Republic thanks you for showing confidence in our products and becoming our valued customers. To ensure a delightful product experience Nu Republic recommends reading the User Guide carefully and contacting our customer care helpline to understand the product warranty period and conditions.
Nu Republic warrants that the product at the time of its original purchase free of defects in material and workmanship.
This Warranty is subject to folowing terms
The warranty is given only to original purchaser of the product ("customer")
The warranty will be applicable for 6 months from date of Original purchase or 18 months from date of import as mentioned in the import sticker on the box whichever is earlier. The customer has to present PROOF of PURCHASE/Invoice for claiming any warranty
For entire Warranty Period, Nu Republic or its authorized representative will at their discretion repair or replace defective product. Repair or replacement may involve the use of same or equivalent reconditioned unit. Nu Republic will return the repaired product or can replace with another same or equivalent product to the customer in full working condition. All replaced /faulty parts or components with become property of Nu Republic
The details of the service locations can be taken from our service helpline, It is the responsibility of the Customer to bring the product to the Nu Republic Service Location at his/her own risk and expenses
For any product repaired or replaced during warranty period, the repaired or replaced product shall continue to be within period of the original product
The warranty will not be applicable under the following circumstances
The product code/serial number water indicator or warranty seal has been removed, erased defaced altered or is illegible
Deterioration of the product due to normal wear and tear
Use other than in accordance with the user manual rough handling, ingression of /exposure to any kind of kquid(water, sweat, beverages, oils etc.) exposure to moisture, dampness or exposure to extreme environmental conditions corrosion, oxidation unauthorized repairs, unauthorized spare parts usage accidents, forces of nature or other actions beyond reasonable control of Nu Republic unless the defect was caused directly by defects in material or workmanship
The warranty will also not cover any physical damage to surface of the product including but not .limited to scratches on the body parts
As defects caused by the fact that the battery has been short circuited or by the fact that the seals of the casing or any evidence of tampering or the product is used for equipment other that for which it is certified
FOR ANY CLAIM UNDER THE WARRANTY IS SUBJECT TO NOTIFICATION TO NU REPUBLIC FOR THE ALLEGED DEFECT WITHIN A REASONABLE TIME OF IT OCCURANCE AND IN NO EVENT NOT LATER THAN EXPIRY OF WARRANTY PERIOD
NU REPUBLIC /AUTHORIZED PARTNER WILL NOT BE RESPONSIBLE FOR ANY KIND OF LOSSES DIRECT OR INDIRECT RESULTING DUE TO ANY LOSS OF CUSTOMER DUE TO NON FUNCTIONING
NU REPUBLIC'S OBLIGATION UNDER THIS WARRANTY SHALL BE LIMITED TO REPAIR OR PROVIDING REPLACEMENT OF PARTS ONLY. THE MAXIMUM CLAIM ENTERTAINED BY NU REPUBLIC WILL BE SUBJECT TO MAXIMUM RETAIL PRICE OF THE PRODUCT OR PURCHASE PRICE (AS PER INVOICE) WHICH EVER ONE IS LOWER
In event of any unforeseen circumstances, there is unavailability of certain spare parts, prevailing depreciation rules will be binding on the purchaser to accept as a commercial solution in lieu of repairs
Helpline Number: +91.8826257630
Working Hours: Monday to Friday: 10:00 AM — 5:30 PM (except national and public holidays)
Email: [email protected]