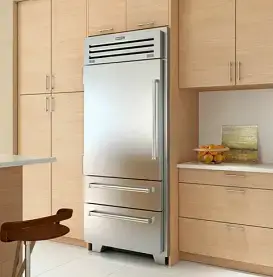 SUBZERO 91 CM Pro Refrigerator Freezer User Guide
I C B P R O 3 6 5 0
FEATURES
Scrubs the air of ethylene, mold, viruses, and bacteria every twenty minutes using NASA-based advanced air purification technology
Dual refrigeration technology preserves refrigerated foods with cool, moist air and frozen foods with frigid, dry air
Creates the ideal environment for produce in independently-controlled crisper drawer
Easy access to food with full-extension slide-out glass shelf with adjustable gates
Controls temperature within one degree of setpoint via intuitive exterior touch control panel
Locks in temperature and humidity with soft-close door hinge and magnetic seal on doors and drawers
Automatic ice maker with advanced water filtration system
Control brightness with soft-on LED lighting that fully illuminates the cavity, making food more visible and less likely to hide
Install directly within surrounding cabinetry for built-in, or add accessory panels for freestanding
Makes an iconic stainless-steel statement, inside and out
Rigorously tested to ensure decades of use
Exceptional support from Customer Care team
PRODUCT DETAILS
REFRIGERATOR
LED refrigerator and freezer lights
4 glass refrigerator shelves (3 adjustable; 1 fullextension slide-out)
1 high-humidity crisper drawer with adjustable dividers
2 stainless-steel slide-out bins
Air purification system
FREEZER
1 full-extension roll-out freezer drawer with automatic ice maker and removable ice container
91 CM PRO REFRIGERATOR/FREEZER
PRODUCT SPECIFICATIONS
Model ICBPRO3650
Dimensions 914mmW x 2134mmH x 610mmD
Door Clearance 949mm
Drawer Clearance 660mm
Weight 286 kg
Refrigerator Gross Capacity 563 L
Refrigerator Storage Capacity 503 L
Freezer Gross Capacity 136 L
Freezer Storage Capacity 93 L
Electrical Supply 220-240 VAC; 50/60 Hz
Electrical Service 3 A
Receptacle 3-prong grounding-type
ELECTRICAL PLUMBING
NOTE: Dimensions in parenthesis are in millimeters unless otherwise specified
INTERIOR VIEW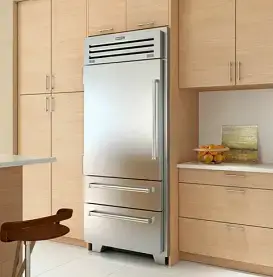 This illustration is intended for interior reference only and may not represent the exterior of the model being specified.
DIMENSIONS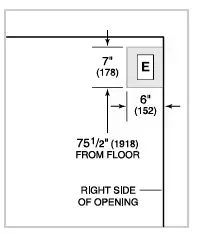 STANDARD INSTALLATION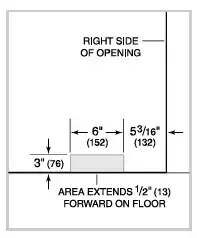 GUIDE ONLY.
THESE SPECIFICATIONS ARE A GUIDE ONLY. Not suitable for cabinetry, installation or services location.
SUB-ZERO AND WOLF OFFER A CUSTOMISED DESIGN CHECK SERVICE to ensure your new appliances are installed perfectly. Please contact our Customer Care team for further information regarding our Design Check Service, or for detailed product specification and installation advice.
Phone: 03 9600 2218 Email: [email protected]
Sub-Zero and Wolf Design Guides are also available via our website: www.subzero-wolf.com.au
Specifications are subject to change without notice. This information was generated on August 12, 2019. Verify specifications prior to finalizing your cabinetry/enclosures.