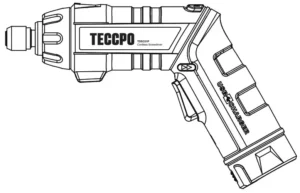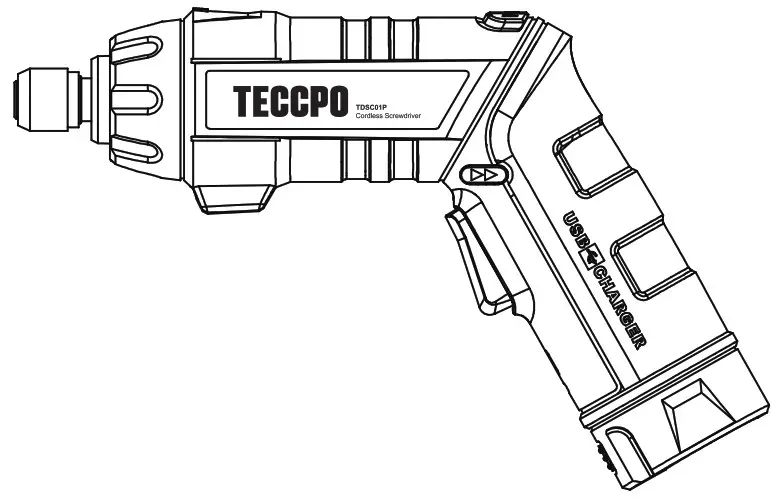 INSTRUCTION MANUAL
4V Max LI-ION
CORDLESS SCREWDRIVER
TDSC01P
Operation /Safety Instruction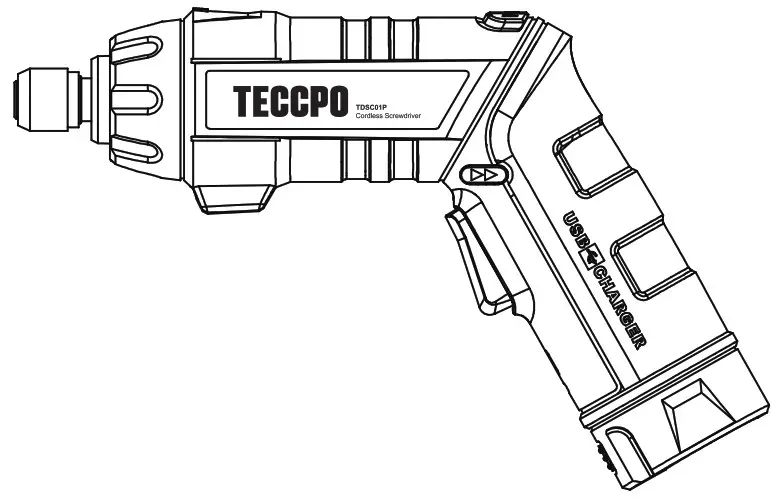 TECCPO is committed to providing the best After-sale Service,we strive for your FIVE STAR satisfaction! [email protected] / [email protected]
Original Instructions
Description of Symbols
The rating plate on your tool may show symbols.These represent important information about the product or instructions on its use.
| | |
| --- | --- |
| | Wear hearing protection Wear eye protection Wear breathing protection Wear head protection |
| | Wear hand protection |
| | Read instruction manual |
| | DO NOT incinerate batteries! |
| | Caution! |
| | For indoors use only ! |
| | Class II construction |
| | Environmental Protection Waste electrical products should not be disposed of with household waste. Please recycle where facilities exist. Check with your local authority or retailer for recycling advice. |
| | Conforms to relevant legislation and safety standards. |
| | Li-ion battery cells are recyclable and should not be disposed of with household waste. Please recycle where facilities exist. Check with your local authority or retailer for ecycling advice |
Specification
Rated Voltage
DC 4.0Vmax
No-load Speed
180rpm
Torque Max.
6.0Nm
Capacity
2.0Ahr
LED
Yes
Compatible Bits
1/4″ hex bits
Protection class
Product Features

| | | |
| --- | --- | --- |
| 1. Keyless Chuck | 5. Trigger Switch | 9. LED Display |
| 2. Torque Adjustment Ring | 6. Spindle Lock Button | 10.Flashlight Button |
| 3. LED light | 7. Soft Grip Handle | 11.Flashlight |
| 4. Forward/Reverse Switch | 8. Charging socket | 12. Charger USB Cable |
Accessory: Bit holder x1 50mm Screwdriver Bits x6 Adapter x1 25mm Screwdriver bits x 28pcs Sockets x 8pcs
General Safety
WARNING: Read all safety warnings and all instructions. Failure to follow the warnings and instructions may result in electric shock, fire and/or serious injury.
WARNING: This appliance is not intended for use by persons (including children) with reduced, physical or mental capabilities or lack of experience or knowledge unless they have been given supervision or instruction concerning use of the appliance by a person responsible for their safety. Children must be supervised to ensure that they do not play with the appliance. Save all warnings and instructions for future reference The term "power tool" in the warnings refers to your mains-operated (corded) power tool or battery-operated (cordless) power tool.
Work area safety
a) Keep work area clean and well lit. Cluttered or dark areas invite accidents.
b) Do not operate power tools in explosive atmospheres, such as in the presence of flammable liquids, gases or dust. Power tools create sparks which may ignite the dust or fumes.
c) Keep children and bystanders away while operating a power tool. Distractions can cause you to lose control.
Electrical safety
a) Power tool plugs must match the outlet. Never modify the plug in any way. Do not use any adapter plugs with earthed (grounded) power tools. Unmodified plugs and matching outlets will reduce risk of electric shock.
b) Avoid body contact with earthed or grounded surfaces, such as pipes, radiators, ranges and refrigerators. There is an increased risk of electric shock if your body is earthed or grounded.
c) Do not expose power tools to rain or wet conditions. Water entering a power tool will increase the risk of electric shock.
d) Do not abuse the cord. Never use the cord for carrying, pulling or unplugging the power tool. Keep cord away from heat, oil, sharp edges or moving parts. Damaged or entangled cords increase the risk of electric shock.
e) When operating a power tool outdoors, use an extension cord suitable for outdoor use. Use of a cord suitable for outdoor use reduces the risk of electric shock.
f) If operating a power tool in a damp location is unavoidable, use a residual current device (RCD) protected supply. Use of an RCD reduces the risk of electric shock.
Personal safety
a) Stay alert, watch what you are doing and use common sense when operating a power tool. Do not use a power tool while you are tired or under the influence of drugs, alcohol or medication. A moment of inattention while operating power tools may result in serious personal injury.
b) Use personal protective equipment. Always wear eye protection. Protective equipment such as dust mask, non-skid safety shoes, hard hat, or hearing protection used for appropriate conditions will reduce personal injuries.
c) Prevent unintentional starting. Ensure the switch is in the off-position before connecting to power source and/or battery pack, picking up or carrying the tool. Carrying power tools with your finger on the switch or energising power tools that have the switch on invites accidents.
d) Remove any adjusting key or wrench before turning the power tool on. A wrench or a key left attached to a rotating part of the power tool may result in personal injury.
e) Do not overreach. Keep proper footing and balance at all times. This enables better control of the power tool in unexpected situations
f) Dress properly. Do not wear loose clothing or jewellery. Keep your hair, clothing and gloves away from moving parts. Loose clothes, jewellery or long hair can be caught in moving parts.
g) If devices are provided for the connection of dust extraction and collection facilities, ensure these are connected and properly used. Use of dust collection can reduce dust-related hazards.
Power tool use and care
a) Do not force the power tool. Use the correct power tool for your application. The correct power tool will do the job better and safer at the rate for which it was designed.
b) Do not use the power tool if the switch does not turn it on and off. Any power tool that cannot be controlled with the switch is dangerous and must be repaired.
c) Disconnect the plug from the power source and/or the battery pack from the power tool before making any adjustments, changing accessories, or storing power tools. Such preventive safety measures reduce the risk of starting the power tool accidentally.
d) Store idle power tools out of the reach of children and do not allow persons unfamiliar with the power tool or these instructions to operate the power tool. Power tools are dangerous in the hands of untrained users.
e) Maintain power tools. Check for misalignment or binding of moving parts, breakage of parts and any other condition that may affect the power tool's operation. If damaged, have the power tool repaired before use. Many accidents are caused by poorly maintained power tools.
f) Keep cutting tools sharp and clean. Properly maintained cutting tools with sharp cutting edges are less likely to bind and are easier to control.
g) Use the power tool, accessories and tool bits etc. in accordance with these instructions, taking into account the working conditions and the work to be performed. Use of the power tool for operations different from those intended could result in a hazardous situation.
WARNING: When used in Australia or New Zealand, it is recommended that this tool is ALWAYS supplied via Residual Current Device (RCD) with a rated residual current of 30mA or less
Battery tool use and care
a) Recharge only with the charger specified by the manufacturer. A charger that is suitable for one type of battery pack may create a risk of fire when used with another battery pack
b) Use power tools only with specifically designated battery packs. Use of any other battery packs may create a risk of injury and fire.
c) When battery pack is not in use, keep it away from other metal objects, like paper clips, coins, keys, nails, screws or other small metal objects that can make a connection from one terminal to another. Shorting the battery terminals together may cause burns or a fire.
d) If liquid contacts eyes, additionally seek medical help. Liquid ejected from the battery may cause irritation or burns.
e) Under abusive conditions, liquid may be ejected from the battery; avoid contact. If contact occurs, flush with water. If liquid contacts eyes, additionally seek medical help. Liquid ejected from the battery may cause irritation or burns.
Service
a) Have your power tool serviced by a qualified repair person using only identical replacement parts. This will ensure that the safety of the power tool is maintained.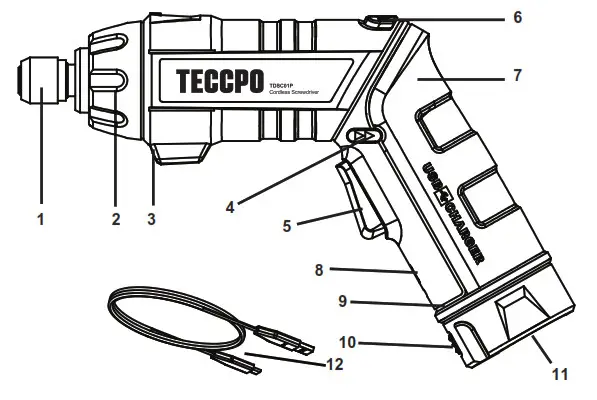 Before putting the unit into operation, read and observe the instructions for use.


Risk of damage to the eyes! Never look directly into the LED.
Using for the first time
Charging the battery pack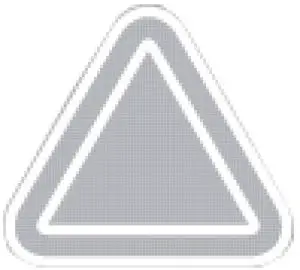 NOTICE!
Risk of damage to the unit!
Do not allow the battery pack to deep discharge.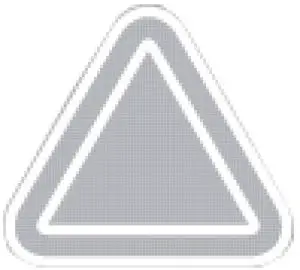 NOTICE!
Risk of damage to the unit!
Do not press the On/Off switch after the device has deactivated automatically

Note:
The Li-Ion battery pack can be charged at any time without affecting the lifetime of the unit. Interrupting the charging process will not damage the battery pack.
The battery pack must be charged prior to the first start-up
Connect the Charger USB Cable(12) n to the charging socket(8).
Connect the charging cable's USB connection to the computer's USB port or a USB charger for a wall socket (sold separately or the other cellphone adapter which output current less than 2.1A).
The LED Display(9) shows red light during the charging. When the LED Display shows green light the charging is ready.
Operation
Charging states: Only red lights up when charging
Torque setting: Torque from 1Nm to 6Nm, Max. Torque: 6Nm
Spindle lock: This tool is fitted with a spindle lock so that is can be used as a normal screwdriver.
Use the tool this way to loose very tight screws of firm tighten screws.
Inserting bits
Push the keyless chuck(1) and insert the bit in the bit holder,then release the keyless chuck(1).
Pull on the bit to check that it is properly fitted and does not come loose.
Removing bits
Push the keyless chuck(1) and pull the bit out of the bit holder.
Changing the rotation direction


NOTICE!
Risk of damage to the unit!
Only use the rotation direction switch when the device is at a standstill
To screw screws into place, press the Forward/Reverse Switch (4) to the forwards (rotation in clockwise direction).
To remove screws, press the Forward/Reverse Switch (4) to the backwards (rotation in an anti-clockwise direction).
If the rotation direction switch is in the centre position, the Trigger Switch (5) is blocked.
Check before switching on!
Check to make sure the device is in a safe operating condition:
– Check to make sure there are no visible defects.
-­ Check to make sure all device components are correctly mounted.
Switching on and off
-­ To start the tool turning, press the Trigger Switch(5)
• The LED (3) will light up.
-­ To switch the unit off, release the Trigger Switch(5)
Screwdriver action
– Keep the device in a straight line to the screw.

Note:
Always use the screw bit designed for the screw. If you use the incorrect bit, you may damage the head of the screw.
Cleaning
Cleaning overview
Regularly and according to the operating conditions
| | |
| --- | --- |
| What? | How? |
| Clean the ventilation slots of the motor to remove dust. | Use a vacuum, cleaning brush orpaint brush. |
| Clean the device. | Wipe the unit with a damp cloth. |
Preparing for disposal
Disposal

Disposal of the appliance
Appliances which are label led with the adjacent symbol must not be disposed of in household waste. You must dispose of such old electrical and electronic equipment separately.
-­ Please check with your local authority about the possibilities for correct disposal.
Through separate disposal you send old equipment for recycling or for other forms of re-use. You will thus help to avoid in some cases that damaging material gets into the environment.

Disposal of the packaging
The packaging consists of cardboard and correspondingly marked plastics that can be recycled.
-­ Make these materials available for recycling
Disposal of batteries and accumulators
Disused batteries and accumulators do not belong in domestic refuse; they must be disposed of as prescribed by regulations.
-­ Bring batteries which are no longer usable to the battery collection point of the dealer or of your local authority.
-­ Do not burn accumulators. Risk of explosion
MAINTENANCE AND SERVICE
Your Warranty Includes
30 Days Money Back Guaranty
With in first 30days of your purchase, you are allowed to retum your product for a full refund.
30 Days to 3 Months(6 Months)
We will replace the defective unit due to manufacture fault with a new one. (You will receive extra 3 months if you register on our website.)
3 Months to 24 Months
Within 24 months, we will provide timely and effective online after-sales service after your purchase.
Please be noted that accesories are free, not included.
How to Return Your TECCPO Products
— Contact [email protected] with your order number.
— We will issue you RMA# and return address for your return.
— Please fill out RMA info, tear off this page and leave it inside your return package.
We will issue replace/return after receiving your return.
Return Products Details
To get your retums processed as quickly as possible, please fill this form and include it in your return package.
| | |
| --- | --- |
| Purchase Name | |
| Order Number | |
| Date of Purchase | |
| Your Email Address | |
| Where did you buy it | |
– ff your product is purchased from Amazon Fulfilled channel, please contact
Amazon for return within 30 days of purchase.
Solid Booster in your Workshop
Shenzhen Allsight E-business Co., Ltd
Web: www.teccpotools.com
Facebook: www.facebook.com/Teccpo.
USE-[email protected]
ADD: Room 104, Building P09, south China City Electronic trading Center, Longgang District, Shen Zhen, CHINA
Made in China