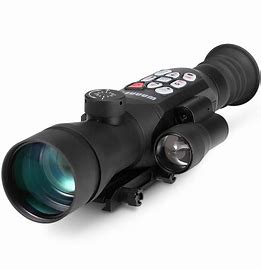 Night Vision Scope
View Fullscreen
Night Vision Scope
User Manual
V 4.0
E50-II E50-II Plus
Declaration
Copyright 2019. All rights reserved. Original manufacture is abbreviated as Company. Without the written permission of Company, no units or individual shall copy or translate part or all of the contents of the manual without authorization, and shall not disseminate for
the purpose of profit-making in any way, including electronic, photocopy, recording, etc. The product specifications and information mentioned in this manual are for reference only, and no further notice will be given if the content is updated. This manual is only used as guidance, and the statement is made without any form of guarantee.
Thank you for your attention to Company's night vision scope(hereinafter as NVDevice). To ensure a better night vision experience, please read the instructions carefully and follow them before using the NVDevice.
Manual Catalog
1 About NVDevice…………………………………………………………………..1 1.1 NVDevice function …………………………………………………………1 1.2 Packing list……………………………………………………………………1 1.3 Product…………………………………………………………………………1
2 How to use ………………………………………………………………………….3 2.1 Assembly………………………………………………………………………4 2.2 Power and adjusting ………………………………………………………4 2.3 Display information and Keyboard ……………………………………5 2.4 Zeroing and Ballistic calculation ………………………………………8 2.5 Recharging………………………………………………………………….14
3 APP ………………………………………………………………………………….15 3.1 System and authority requirements ………………………………..15 3.2 Downloading and connection…………………………………………15 3.3 APP instructions…………………………………………………………..16
4 Range Finder and Fast Aiming …………………………………………….18 4.1 Range Finder ………………………………………………………………18 4.2 Fast Aiming …………………………………………………………………22
5 Parameters and Attention ……………………………………………………23 6 Disclaimer …………………………………………………………………………24 Appendix A…………………………………………………………………………..25 Appendix B ………………………………………………………………………….26
1 About NVDevice
1.1 NVDevice function
NVDevice can be used for observing or hunting in dark environments. It is widely used in animal tracking, breeding, exploration, search, patrol, rescue, frontier defense, investigation and evidence collection, hunting and other outdoor sports.
1.2 Packing list
Night vision scope Adapter Clean cloth Wrench
User Manual USB cable Certificate Packing bag
1.3 Product
Product Model E50-II series Outline: Figure 1.1 is the outline for E50-II seriessub-products E50 -II and E50-II Plus are shown in Figure 1.2 and 1.3 respectively.
Figure 1.1
1
Figure 1.2 E50-II
Figure 1.3 E50-II Plus
2
2 How to use
Usage flow chart:
3
2.1 Assembly
Lock and fix the equipment on picatinny rail with base bracket, and remove the objects lens cover.
Figure 2.1
2.2 Power and adjusting
Figure 2.2 Power switch. Power On: Long press the power button until the screen lights up. Power Off: Press the power button until the "power Off" countdown is displayed in the screen.
4
Diopter and focus adjusting Ensure the lens and IR Led lamp lenses are clean. Adjust the diopter until you can see screen information clearly. Adjust the focus until observation object is clear.
2.3 Display information and Keyboard
The display information corresponds to NVDevice functions, functions can be opened or changed by keyboard. Display information When working, the screen is displayed as Figure 2.3, and the meaning of screen information is listed in the table.
Figure 2.3
5
Information
Description
Information Description
Date
Week
The 12 hour time
AM/PM
Sensitivity Brightness
Contrast Image Parameters
Control Information
Record Status
Temperature
Battery Status
Recharge Symbol WiFi Symbol
Battery Percentage Positioning Symbol
TF Card Symbol
Record time or Errors
Zero and Aiming Point
Keyboard
Figure 2.4
Turn on NVDevice, it is necessary to adjust brightness, sensitivity
and contrast according to environment by clicking Corresponding
keys ( ,
and ).
Decide whether to use other functions according to needs.
6
Function Button
Red Button
Black Button
1
Power
/
/
2
Positioning
WiFi
3
Shift
Laser Aiming
4
Record
Photo
5
+
Cursor Up
Sensitivity
6
+
Cursor Left
Digital Zoom
7
+
Cursor Right
Contrast
8
+
Cursor Down
Brightness
9
Unit Switching
Cursor/Menu
Buttons are multifunctional:
1.Black icon function:
Clicking button means black icon function is on, off or grade change.
2.Red icon function:
, and
functions (on, off or unit change) could be
achieved by long pressing, while press "
" and " "(
) at the same time, Cursor can be controlled up / left / down /
right.
3. Special combination function:
Press "
" , " " and "
" simultaneously, Cursor lock will
restore the initial password "123456".
For more details about keyboard operation, refer to Appendix A.
Notice:
1) TF card: Do not power off or take out TF card when recording is on, otherwise the TF Card or video files maybe damaged. When
7
the TF card formatting is finished successfully, screen displays "Format success", or error information.
2) WIFI: Once WiFi is on, it could not be turned off until power is down.
3) Altitude: When turn on GPS, the real-time datum is involved in
ballistic calculation automatically. There are two optional units :
Meter and Yard, long press "
", Unit changes.
4) Temperature, "" for Centigrade, "" for Fahrenheit. Long press
"
". Datum is involved in ballistic calculation automatically.
5) Ballistic Beginning/Ballistic Finished, please refer to section 2.4.
2.4 Zeroing and Ballistic calculation
Calibrating your gun before using is necessary. But you could decide whether to use trajectory solution or not according to your needs. Zeroing
Figure 2.5
8
Figure 2.6
, Zero point "X", Zero point for calibrating guns, Reference point for ballistic calculation.
Zeroing steps.
1) Setting "Cursor X" and "Cursor Y" to (0,0) by APP "Setting" or
NVDevice button combinations: "
"+" ", "
"+" ",
"
"+" ", "
"+" ".
2) Install NVDevice on the gun, fix the gun on a stable platform.
3) Set a target 50 meters (the Metric system) or 50 yards (the British system) far away.
4) Shoot a shot at the target.
5) Setting zero point "X" to bullet drop point by APP "Setting" or
NVDevice button combinations: "
"+" ", "
"+" ",
"
"+" ", "
"+" ".
No operation within a few seconds, the data will be recorded automatically. Zeroing finished.
Ballistic calculation refer to the next section. More functions, such as Range estimation and Fast aiming refer to chapter 4.
Ballistic calculation
Click
to enter ballistic menu, there are two types of units
menus available:
9
Figure 2.7 The metric ballistic menu
Figure 2.8 The british ballistic menu
10
Ballistic Coefficient Ballistic Model Bullet Caliber Muzzle Velocity Bullet Weight Target Range Target Angle Wind Velocity Relative Humidity Altitude Temperature
Input mode Manually
British
Manually
Manually
Inch
Manually
ft/S
Manually
Grain
Manually
yard
Manually
degree
Manually
mile/h
Manually
%
Automatically yard
Automatically
British Range [0.200,0.999] [G1,G8] [.200,.500] [0900,5000] [020,800] [100,999] [Dn-90,Up+90] [L-35,R+35] [000,100]
Metric
Inch m/S Grain meter degree m/S % meter
Metric Range [0.200,0.999] [G1,G8] [.200,.500] [0300,1500] [020,800] [100,900] [Dn-90,Up+90] [L-15,R+15] [000,100]
11
Temperature, measured automatically. Altitude is measured by GPS automatically. the other parameters is set Manually. 5 bullet parameters is provided by the manufacturer, once the parameters are modified, they will be automatically recorded, and do not need to be re-entered later. Other parameters refer to Notes.
Exit ballistic menu, "
" jumps to the corrected position after
ballistic calculation, shoot with " " aiming at target immediately.
Notice:
1) Bullet Caliber, Adopting international common British u nits. For example, the .500 inch corresponds to the metric 12.7mm.
2) Bullet Weight, Adopting international common British units Grain.
3) Target Range, input according to the optical ranging results described in section 4.1.
4) Target Angle, Which corresponds to the slope angle of the target, is automatically measured by the gyroscope inside. Figure 2.9 is an example of the target angle. If the target is higher than the NVDevice ,the angle is >0, otherwise the angle is <=0. The screen zero point (as described later) aiming at the target, in Figure 2.10,
means the target is 2 degrees lower than the NVDevice. The value is measured in real-time by the gyroscope of the NVDevice, and the value should be input manually.
Figure 2.9
12
5) Wind Velocity
Figure 2.10
Figure 2.11 The wind direction is shown in Figure 2.11. The wind velocity calculation is based on experience. Half speed wind, Wind Velocity = Actual wind speed/2, Wind
13
direction [-30,-60], [-120,-150], [30,60], [120,150] degree. Full speed wind, Wind Velocity = Actual wind speed, Wind
direction [-60,-120], [60,120]. Downwind and headwind, Ignore. The wind direction is clockwise from 0° to -180°, Wind Velocity <0, Anti-clockwise from 0° to 180°, Wind Velocity >0. The actual wind speed is judged by experience, such as leaf, tree, dust and other reference materials moving with the wind. Downwind and headwinds can be ignored in the effective range of civilian hunting rifles. 6) Relative Humidity, Judged by experience, and the datum is not recorded.
2.5 Recharging
Figure 2.12
14
3 APP
APP is used to control NVDevice remotely. Mobile device connects to the NVDevice hot spot, then you can control NVDevice and view live video through the NVPlay APP.
3.1 System and authority requirements
Mobile device system requirements: APP version 1.0 or above Android version 5.1 or above iOS version 11.2 or above Mobile device permissions: External storage WiFi Playback video Voice and video recording Camera, etc. The above authority requirements is only used to enhance user experience, APP will not infringe on user's privacy. If rejected, the application may not be able to fully provide the correct user experience.
3.2 Downloading and connection
Figure 3.1 NVPlay icon
15
APP downloading. 1) iOS version, search NVPlay in Apple App Store, and download. 2) Android version, search NVPlay in Google Play Store, and download. 3) Others Android versions, visit www.wanney.com/download, scan QR code or click the picture to download. If couldn't install, please allow mobile device to install unknown software. APP connection. 1) Turn on NVDevice's WIFI. 2) Mobile device selects hot spot name at the beginning "E50II@" or "E50IIP@" and input password "12345678". 3) Running NVPlay: click the Play button to enter, you can take photos, videos, cursor movement and other settings. If there is a circle that keeps spinning in screen, please check whether WiFi is linked successfully.
3.3 APP instructions
Figure 3.2
16
Figure 3.2 is APP interface, icons functions are as follows:
, Local takes a photo.
, Local video recording, click it to record or stop.
, Unlock or lock cursor movement function. Unlock , input the
password (Figure 3.3), original password is "123456", you could
enter the setting panel to set a new password by clicking
.
, If unlock, cursor move up / down / left / right, used for calibrating guns.
, If unlocked, cursor move by finger within a certain range. Under normal communication conditions, NVDevice records the coordinates of the current cursor automatically when there is no operation within 5 seconds.
, Switch to setting panel, options: Image View Grade, Hardware Decoder, Quality Priority, CursorX/CursorY, Set time and Password.
In usual, you just need to click Set time icon to synchronous NVDevice and mobile device, and set CursorX/CursorY to calibrating guns. If you want to set more options, please go to Appendix B for detail. Ballistic calculation refer to section 2.4.
Figure 3.3
17
4 Range Finder and Fast Aiming
4.1 Range Finder
Range estimation is quite important, we could estimate range by optical probabilistic ranging according to reference object. Usually, we chose prey animal as reference object, reference height of four normal prey animals are listed as follow, such as bear, deer, boar and pheasant.
Figure 4.1 Bear
18
Figure 4.2 Hunter and Deer
Figure 4.3 Boar and Pheasant
Press the
key to select the following interface.
19
Figure 4.4 The Metric System Optical Scale
Figure 4.5 The British System Optical Scale
20
, The vertical dashed line corresponding to the lower left
diamond is the starting line of the horizontal axis scale.
, The horizontal dashed line corresponding to the upper right
diamond is the starting line of the vertical axis scale.
, Optical proportion line, long line is 100, 200, 300,
400 and so on. Short line is 50, 150, 250, 350 and so on. Long lines
have numerical labels, for example, the short line between 200 and
300, means 250. Range Finder Steps. 1) Choose a reference of object, such as a bear in Figure 4.1 2) Using vertical scale 3) Default bear height is 2.4 yards/2.2 meters, choose the 2.4 yard
or 2.2 meter area, Aligning the starting line of the vertical axis scale to the top of the bear 4) Look at the position of the bear's foot on the vertical axis. In the British system, for example, if the bear's foot is at 250, it means the bear is 250 yards away 5) If the bear's foot is between 350 to 400, it means the bear is 375 yards away 6) In this way, the optical distance measurement is also the same. On the left or right side of the head or on the left and right side of the tail, use a horizontal axis ruler Note: The above is optical probabilistic ranging, ranging accuracy is closely related to experience, familiar with it, according to the size and proportion of reference, the distance of the target can be estimated. In a certain civil field, the accuracy could meet the
21
4.2 Fast Aiming
requirements in a relatively short range.
Figure 4.6 Fast Aiming : Horizontal Scale. The center is Zero Point. Left 5 mils and right 5 mils.
Metric System, 100/200/300/400/500 meters shooting point. British System, 100/200/300/400/500 yards shooting point. All of the shooting point, Calculated from the Ballistic Menu.
Scale of an object 0.5/1.5 meters height at 100/150/200/250/300/350/400/450/500 meters in Metric System. Scale of an object 0.5/1.5 yards height at 100/150/200/250/300/350/400/450/500 yards in British System.
Real-time tilt parameters of NVDevice.
22
5 Parameters and Attention
Parameters APP Application Shell material Color Type Focus Diopter Distance WiFi Resolution TF Card Optical Magnification Digital Zoom Working Temperature Storage Temperature Relative Humidity Battery Battery Capacity Battery Brand Recharge current Endurance Time Net Weight Warranty
NVPlay Entertainment for civic use Aluminum Alloy and Others Black Monocular 60 mm – 5 to +3 Full dark 280meters / 350meters(Plus) 1080P/25Hz or 1080P/30Hz(Plus) 1080P/25Hz Max to 128GBClass4 and above X 3.9 / X 3.8(Plus) X2 -20 to 55 degrees -30 to 60 degrees 90%, non-condensing 18650 lithium battery X 2 More than 6000mAh Samsung / Panasonic / LG, etc. 5 V / 1A More than 6 hours, once charge 1060 g 12 months
23
Attention Please do not use NVDevice under strong light. Try to avoid rain, fog, dust and corrosive gases. Avoid collision. Do not use NVDevice after glass damage. Store at normal temperature. Avoid surface condensation caused by humidity change and
remove immediately after discovery. If NVDevice is out of use for a long time, please recharge it every
3 months. Do not aim at the static target for a long time after starting up, so
as to prevent the screen from being ghosting. Do not remove TF card when NVDevice is working, If necessary,
please stop record firstly.
6 Disclaimer
In order to protect the legitimate rights and interests of users, please read the instructions carefully before use and operate NVDevice in accordance with the correct text terms. Once you start using NVDevice, We can deem that you have read, understood, approved and accepted NVDevice instructions, descriptions, considerations, all the terms and contents. Users promise to use NVDevice legally and bear the consequences. At any time, Company does not bear any joint liability. Beyond the warranty period Damage caused by improper use of the user (incorrect operation,
immersion, breakage, impact, use in strong light) Self dismantling The attachment label of product accessory is torn or damaged. NVDevice is used for illegal purposes in local country
24
Appendix A
PowerLong press"
", Turn on/off Device.
1) WiFi, Click "
", WiFi turns on and cannot be turned off.
2) GPS, Long press"
", Turn on/off positioning.
3) Laser, Click " ", Turn on/off laser indicator.
4) Shift, Press " below.
" with other button at the same time, see
5) Photo, Click " ", Take a photo.
6) Record, Long press " ", Record start or stop.
7) Sensitivity, Click " 00%.
", Sensitivity from 00% to 100%, default
8) Contrast, Click " ", Contrast from 0 to 4.
9) Brightness, Click " ", Brightness from 0 to 4.
10) Zoom, Click" ", Digital zoom function on/off, if on, the image is enlarged and no text information is on the screen, default off.
11) OSD Color, Click "
", Select cursor/character color and
ballistic calculation menu(see below).
12) Cursor Move, Press "
" and press " "( ) at
the same time, Cursor can be controlled up / left / down / right.
13) Unit Conversion, Long press "
", Units of altitude /
temperature / ballistic / rangefinder can be changed.
14) Restore Cursor lock password, press "
" ," " and
"
" simultaneously, Cursor lock will restore the initial
password "123456".
25
Appendix B
Press
in app home interface to switch to setting panel.
Figure 1 Setting panel interface is desplayed as Figure 1.
26
Image View Grade: Setting NVDevice video quality. LOW: low video quality, WiFi image is continuous, default state. MIDDLE: medium video quality. HIGH: high quality video. Note: LOW is the default state, which can meet the image quality requirements of most users. HIGH and MIDDLE are mainly used for video recording of high quality requirement. For normal usage, switch to LOW mode. This mode is automatically recorded, and takes effect when NVDevice is restarted. Hardware decoder, Older mobile devices do not have hardware decoder configuration, and must be set to software decoding. Hardware decoding can reduce power consumption and system overhead. Quality Priority: It is normal phenomenon that WiFi video image transmission losing data, turning on this option means image quality is a priority, otherwise continuity is a priority. CursorX/CursorY: Setting the horizontal and vertical offset of the zero point for ballistic calculation, mainly used for calibrating guns, refer to section 2.4. Set time: Time / date of synchronous NVDevice and mobile device. Password: Set the cursor lock password to avoid modification by other users carelessly. See Figure 2. The original cursor lock password is "123456". Please refer to Appendix A for password restoring.
27
Figure 2 Save to remote SD card, remote turning NVDevice recording on/off. SD card format, remote formatting the TF card of the NVDevice, all data in the card will be lost.
28