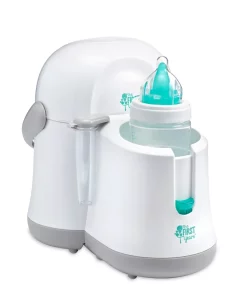 2-in-1 simple serve bottle warmer warmer andamp; sanitizer in one compact unit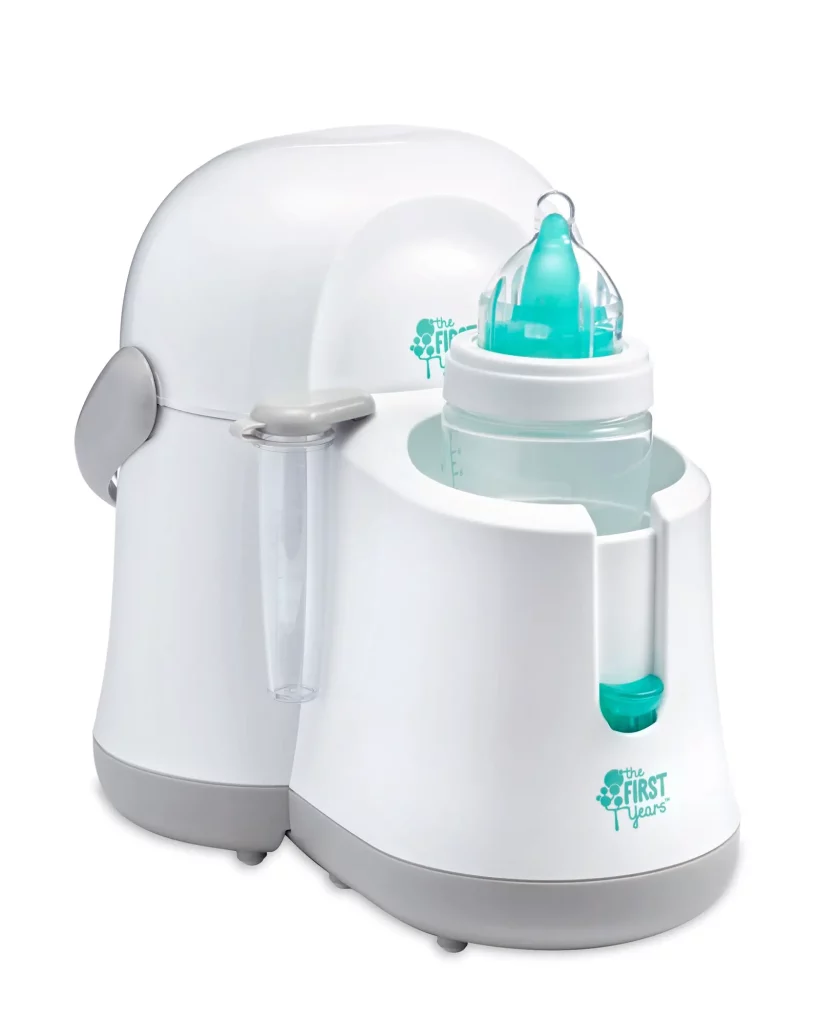 Overview
IMPORTANT SAFEGUARDS
Read all instructions.
Do not place your hands in or around the warming chamber during heating.
To prevent injury, always shake bottle well, and test temperature of contents before giving bottle to your child. Also, if heating baby food, always test temperature before feeding your child.
Do not touch hot surfaces. Use handles.
To protect against electrical shock do not immerse cord, plugs, or appliance in water or other liquid.
Allow unit to cool before removing warming chamber basket.
Close supervision is necessary when any appliance is used near children.
The use of accessory attachments not recommended by the appliance manufacturer may cause injuries.
TOMY does not make, offer, or recommend any accessory attachments for this unit. The use of any kind of accessory attachment may cause injury.
For household use only.
Unplug from outlet when not in use and before cleaning. Allow to cool before putting on or taking off parts.
Do not operate any appliance with a damaged cord or plug or after the appliance malfunctions or has been damaged in any manner. Return appliance to the nearest authorized service facility for examination, repair, or adjustment.
Do not use outdoors.
Do not let cord hang over edge of table or counter, or touch hot surfaces.
This product does not require preheating.
Do not place on or near a hot gas or electric burner, or in a heated oven.
The user should not attempt to service or repair the unit.
No serviceable parts inside.
Extreme caution must be used when moving an appliance containing hot oil or other hot liquids.
Save these instructions for future use.
To disconnect, turn any control to "OFF", then remove plug from wall outlet.
Do not use appliance for other than intended use.
Before serving, be sure food is at safe temperature.
Before serving, unplug cord from wall outlet. Do not leave cord within child's reach.
The heating element surface is subject to residual heat after use.
This appliance is not intended for use by persons (including children) with reduced physical, sensory or mental capabilities, or lack of experience and knowledge, unless they have been given supervision or instruction concerning use of the appliance by a person responsible for their safety.
Children should be supervised to ensure that they do not play with the appliance.
SAVE THESE INSTRUCTIONS
This appliance has a polarized plug (one blade is wider than the other). To reduce the risk of electric shock, this plug is intended to fit into a polarized outlet only one way. If the plug does not fit fully into the outlet, reverse the plug. If it still does not fit, contact a qualified electrician. Do not attempt to modify the plug in any way.
A short power supply cord is provided to reduce the risk resulting from becoming entangled in or tripping over a longer cord.
Longer extension cords are available and may be used if care is exercised in their use.
If a longer extension cord is used:

The marked electrical rating of the extension cord should be at least as great as the electrical rating of the appliance;
The cord should be arranged so that it will not drape over the countertop or tabletop where it can be pulled on by children or tripped over unintentionally.
WARNINGS:
ALWAYS mix bottle / stir food well and test temperature of contents before giving bottle to child. ALWAYS turn unit off and unplug to clean.
DO NOT use glass bottles in Warmer – sudden temperature change may cause glass to break.
DO NOT immerse unit in water.
DO NOT use scouring pads, solvents or abrasive cleaners to clean unit.
Water vial: Dishwasher safe (top rack only).
Baskets, adapter ring: Dishwasher safe (top rack only).
Sanitizer Lid: Dishwasher safe (top rack only).
Bottle warmer unit: ALWAYS TURN OFF AND UNPLUG BEFORE CLEANING. Wipe surface of unit as well as inside warming chamber with a damp cloth or sponge using mild liquid soap. Wipe with clear water. Air dry. DO NOT IMMERSE BOTTLE WARMER IN WATER. Do not use scouring pads, solvents or abrasive cleaners as they could damage the unit. Warming chamber:
Mineral deposits (usually white in color) may form on the inner surfaces of the warming chamber and can cause damage to the unit.
To remove mineral deposits:
Unplug the unit.
Remove the basket, and wash separately as indicated above.
Pour 2 oz. vinegar into the warming chamber and let it stand for an hour or two (longer if necessary).
Pour out the vinegar and rinse the chamber two or three times with 3 or 4 oz. of clean tap water.
Do not immerse the Bottle Warmer in water. Wipe dry or air dry.
TO USE
HEAT BOTTLE / JAR:
Place unit on a flat surface and plug into AC outlet.
Fill water vial with room temperature water to recommended time marking (minutes) listed in WATER MEASURING GUIDE. The time listed is a recommendation ONLY. The vial markings DO NOT provide exact durations.
Pour water from vial into the warming chamber.
Always place basket into warming chamber first before adding bottle or jar. Do not place bottle/jar directly onto heating element.

Wide neck bottle: Place bottle into lift out basket.
Slim neck bottle (straight or angled): Place adapter ring on top of the basket warmer and then place bottle into basket.
Disposable bottle or baby food jar: Insert into lift out basket .
NOTE: Remove lid of baby food jar before placing into the lift out basket.

Press the ON button. Button will light to indicate that unit is heating.
When the light turns off, the warming cycle is complete. The heater shuts off automatically.
Remove bottle/jar from chamber and allow it to cool before handling.
Adjust the level of water (minute marking) in the water vial as follows:
If contents are too hot – use less water in the water vial.
If contents are too cool – use more water in the water vial. ALWAYS mix bottle / stir food well and test temperature of contents before giving bottle to child.
Wait 10 minutes before heating a second bottle to avoid overheating.
SANITIZE:
Fill the water vial to 3 minutes.
Place 1 or 2 pacifier(s) in lift-out basket.
Place sanitizer lid on lift-out basket.
Pour water into warming chamber.
Place lift-out basket with sanitizer lid into Warming Chamber.
Press ON button.
When light turns off, remove the lift-out basket with sanitizer lid.
ALWAYS allow pacifier to cool before giving to child.
WATER MEASURING GUIDE – RECOMMENDED MINUTE MARKINGS
FORMULA
Bottle type
Disposable
Slim
Wide neck
Bottle Size
4 oz.
8 oz.
4 oz.
8 oz.
5 oz.
9 oz.
Refrigerated
1.5
2.5
4
2.5
4
5
Room Temp
1
2
2.5
2
2.5
3.5
BREAST MILK
Bottle type
Disposable
Slim
Wide neck
Bottle Size
4 oz.
8 oz.
4 oz.
8 oz.
5 oz.
9 oz.
Refrigerated
1.5
2.5
4
2.5
4
5
NOTE: The recommended heating times are not exact durations.
WARRANTY
Our Limited Warranty and Warranty Period
When we use the terms "we," "us" and "our," we are referring to TOMY, and when we use the terms "you" and "your" we mean the original end-user customer. Our products are guaranteed to be free from defects in material and workmanship under normal and intended use for a period of 90 days from the date of your purchase.
Repair/Replacement
If our product fails to meet our limited warranty during the warranty period, we will, at our option, repair or replace the product free of charge.
What Our Limited Warranty Does Not Cover
We offer this limited warranty only when the product is used by the original end-user customer. We offer no other warranty. Additionally, while our warranty is excellent, there are other limits to it. We offer NO WARRANTY in cases of damage in transit, inadequate care, abuse, abnormal use, misuse, accidents, normal wear and tear, damage due to environmental or natural elements, failure to follow product instructions, immersion in water (except for products specifically identified by us in writing as intended for water use), battery leakage or improper storage or maintenance of the products.
Disclaimer of Other Warranties
THE EXPRESS WARRANTIES IN THE PRECEDING SECTION ARE EXCLUSIVE AND IN LIEU OF ALL OTHER WARRAN TIES. However, to the extent applicable law does not permit disclaimers of certain implied warranties, such warranties are limited to the warranty period identified above. Some states and countries do not allow limitations on how long an implied warranty lasts, so the above limitations may not apply to you.
Limitation on Damages
IN NO EVENT SHALL WE BE LIABLE FOR INCIDENTAL, COMPENSATORY, PUNITIVE, CONSEQUENTIAL, INDIRECT, SPECIAL OR OTHER DAMAGES. OUR AGGREGATE LIABILITY WITH RESPECT TO DEFECTIVE PRODUCTS IS LIMITED TO THE MONIES PAID TO US FOR THE DEFECTIVE GOOD. Some states and countries do not allow the exclusion or limitation of incidental, consequential or other damages, so the above limitation or exclusion may not apply to you.
State Variations
This warranty gives you specific legal rights, and you may also have other rights which vary based on state, province or country.
Contact Us
If you have a warranty claim or request, or any customer care questions, please contact us via website www.thefirstyears.com or using the contact details below.