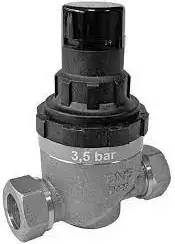 TRITON Kit B – Pressure Reducing Valve User Guide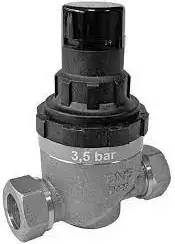 Kit B – Pressure Reducing Valve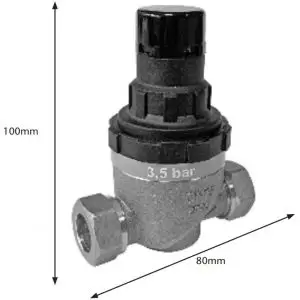 SAFETY CRITICAL TRITON ACCESSORY
INSTALLERS PLEASE NOTE THESE INSTRUCTIONS ARE TO BE LEFT WITH THE USER
INTRODUCTION
This installer guide contains all the necessary instructions for the installation of the pressure reducing valve.
Where on site running water pressures are about above 5 bar for mixer valves or 6 bar for unvented water heaters the installation of a pressure reducing valve is required protecting the plumbing system from excessive water pressure.
This 'drop tight' pressure reducing valve will not allow the pressure to increase under no flow conditions protecting the water systems from fluctuating mains water pressure and potential damage to the plumbing system.
The valve installation must be carried out by a suitably competent person, please read this guide carefully before beginning the installation.
Care taken during the installation will help to ensure a long and trouble free life from the valve.
SITE REQUIREMENTS
Maximum Static Pressure: 16 bar
Maximum cold water temperature: = 25°C
Minimum cold water temperature: = 5°C
Factory setting: 3.5 bar
INSTALLATION
The installation of the pressure reducing valve must comply with the Water Supply (Water Fittings) Regulations and byelaws for sealed or unvented systems.
Before installing the valve, flush the pipework through to remove any debris that may be in the system.
Triton recommends the use of copper pipe, the use of other materials is beyond the scope of this installer guide
The valve can be installed horizontally or vertically with no effect on performance.
For correct operation the valve must be installed with the water flowing from upstream to downstream; directional arrow shown on the body.
IMPORTANT:
Suitable isolating valves (complying with Water Regulations and Bylaws) MUST be fitted on the cold water supply as an independent means of isolating the water supplies should maintenance or servicing be necessary.
For commercial applications the use of easily accessible in-line filters is recommended to aid maintenance.
Customer Service
Triton Showers
Triton Road
Nuneaton
Warwickshire CV11 4NR
Triton is a division of Norcros Group (Holdings) Limited
Customer Experience: 024 7637 2222
Trade Installer Hotline: 024 7637 8344
Website: www.tritonshowers.co.uk
E-mail: [email protected]
[email protected]
For product guarantee information please go to www.tritonshowers.co.uk/help-and-support
TRITON reserve the right to change product specification without prior notice. E&OE.