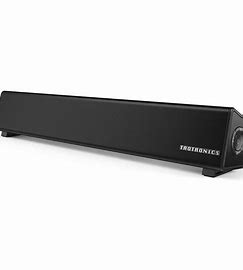 TROTRONICS TaoTronics PC Sound Bar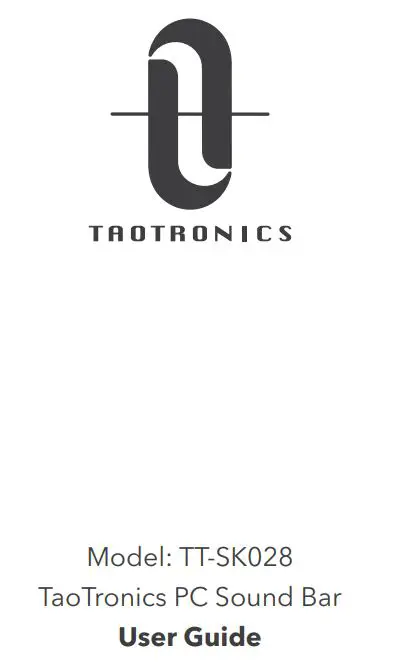 IMPORTANT SAFETY INSTRUCTIONS
Thanks for choosing TaoTronics PC Sound Bar. Please read this User Guide thoroughly before use and retain it for future reference.

WARNING
To reduce the risk of fire or electric shock, do not expose this appliance to rain or moisture.
Keep the soundbar away from extreme heat and humidity, and do not expose it to direct sunlight.
Do not place near any heat sources such as radiators, heat registers, stoves, etc.
Only uses this Sound Bar indoors.
Never place this Sound Bar on other electrical equipment.
Keep the Sound Bar clean and dry. Do not clean the product with detergent containing alcohol, ammonia, benzene, or abrasives.

CAUTION
Do not scrape the surface with sharp objects.
Do not block any ventilation openings.
Unplug this device during lightning storms or when not used for long periods of time.
Do not drop or knock your soundbar on hard surfaces as it may damage the interior circuits.
Protect the power cord from being walked on or pinched particularly at plugs, convenience receptacles, and the point where they exit from the device.
Close attention is needed when using near children.
Unauthorized disassembly of any parts of this appliance is forbidden.
Always ask a professional technician or authorized personnel for repair.
Do not use chemicals or detergents to clean the appliance. Clean only with a dry cloth.
READ AND SAVE THESE INSTRUCTIONS
Package Contents
1 x TaoTronics PC Sound Bar (TT-SK028)
1 x 3.5mm Audio Cable
1 x User Guide
1 x Thank You Card
Product Diagram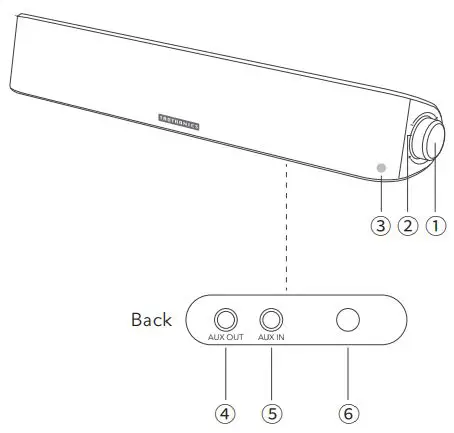 (1) Volume Knob
(2) Volume Knob Indicator
(3) Bluetooth® Indicator
(4) AUX OUT Port
(5) AUX-IN port
(6) USB Power Cord
Button Control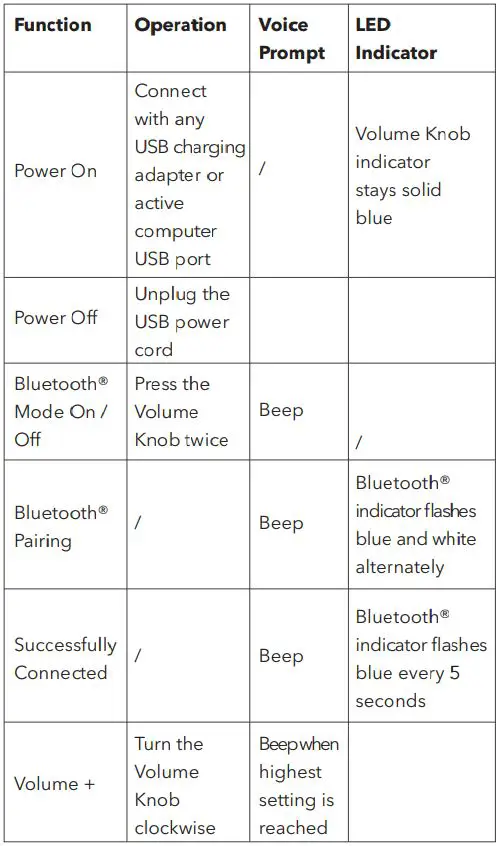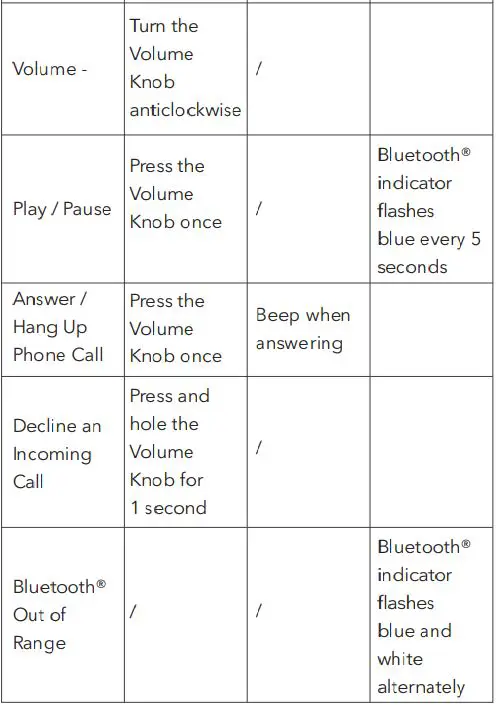 Use Your Sound Bar
Place the Sound Bar
1.Place this unit on a level table near the place where the USB power plug can be easily reached.
2.Never place this unit in an enclosed cabinet when the soundbar is playing.
Bluetooth® Connection
1. Connect the soundbar with any USB charging adapter or active computer USB port to turn on the unit.
2. Press the Volume Knob twice to turn on Bluetooth® mode. The Bluetooth® indicator will flash blue and white alternately indicating the soundbar is in pairing mode now.
3. Turn on the Bluetooth® function on your device and search for nearby devices. Find "TaoTronics TT-SK028" in the search results and tap to connect.
4. Once connected, a beep will be heard and the Bluetooth® indicator will flash blue every 5 seconds.
Note:
When the Bluetooth® mode is turned on, the soundbar will automatically enter pairing and re-pairing mode. If the soundbar has been connected before, it will attempt to pair with the last connected device. If not, the soundbar will enter pairing mode for pairing with another Bluetooth® device.
Please make sure no other active Bluetooth® devices are within range, and that the soundbar is within 3ft / 1m away from your device.
AUX Cable Connection
1.Connect the soundbar with any USB power adapter or active computer USB port to turn on the unit.
2.Plug in the 3.5mm audio cable into the AUX IN port at the back of the soundbar.
3.Connect to your AUX device via the cable.
Note:
Once connected to the AUX OUT port, the sound will be bypassed to the audio device connected.
Make sure the music is at the audile level and tune the volume through the Volume Knob.
Cleaning and Maintenance
Clean the Sound Bar on a regular basis.
Use a dry and soft cotton cloth to wipe the unit.
Keep away from sharp objects to avoid scratches.
Put the unit in a dry and shady place if it is to be idle for a long time.
Do not clean the product with detergent or chemicals.
Do not insert anything into the product.
Warranty and Service
This product is covered with TaoTronics product and labor warranty for 12 months from the date of its original purchase. If any problems occur, please contact the TaoTronics Customer Care Centre via the contact information listed in this User Guide.
We can only provide after-sales service for products that are sold by TaoTronics or TaoTronics authorized retailers and distributors. If you have purchased your unit from a different place, please contact your seller for return and warranty issues.
www.taotronics.com
E-mail: [email protected]
MANUFACTURER
Manufacturer: Shenzhen NearbyExpress Technology Development Co., Ltd.
Address: Floor 7, Building E, Galaxy World Phase II,
Shenzhen, China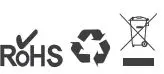 MADE IN CHINA TT-SK028_V1.3_EN-JP


The Bluetooth® word mark and logos are registered trademarks owned by the Bluetooth SIG, Inc. and any use of such marks by Sunvalleytek International Inc. is under license. Other trademarks and trade names are those of their respective owners.
NOTE: This equipment has been tested and found to comply with the limits for a Class B digital device, pursuant to part 15 of the FCC Rules. These limits are designed to provide reasonable protection against harmful interference in a residential installation. This equipment generates uses and can radiate radio frequency energy and, if not installed and used in accordance with the instructions, may cause harmful interference to radio communications. However, there is no guarantee that interference will not occur in a particular installation. If this equipment does cause harmful interference to radio or television reception, which can be determined by turning the equipment off and on, the user is encouraged to try to correct the interference by one or more of the following measures:
– Reorient or relocate the receiving antenna.
– Increase the separation between the equipment and receiver.
– Connect the equipment into an outlet on a circuit different from that to which the receiver is connected.
– Consult the dealer or an experienced radio/TV technician for help
Changes or modifications not expressly approved by the party responsible for compliance could void the user's authority to operate the equipment.
This device complies with Part 15 of the FCC Rules. Operation is subject to the following two conditions:
(1) this device may not cause harmful interference, and
(2) this device must accept any interference received,
including interference that may cause undesired operation.

WEEE Compliance
Correct Disposal of This Product (Waste Electrical & Electronic Equipment) (Applicable in countries with separate collection systems) This marking on the product, accessories, or literature indicates that the product and its electronic accessories should not be disposed of with other household waste at the end of their working life. To prevent possible harm to the environment or human health from uncontrolled waste disposal, please separate these items from other types of waste and recycle them responsibly to promote the sustainable reuse of material resources. Household users should contact either the retailer where they purchased this product, or their local government office, for details of where and how they can take these items for environmentally safe recycling. Business users should contact their suppliers and check the terms and conditions of the purchase contract. This product and its electronic accessories should not be mixed with other commercial wastes for disposal.