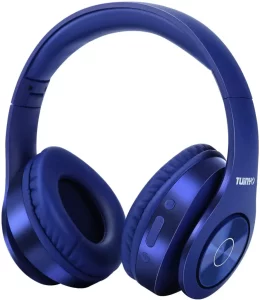 Bluetooth Headphones Wireless, TUINYO Headphones-Complete FeaturesInstruction Manual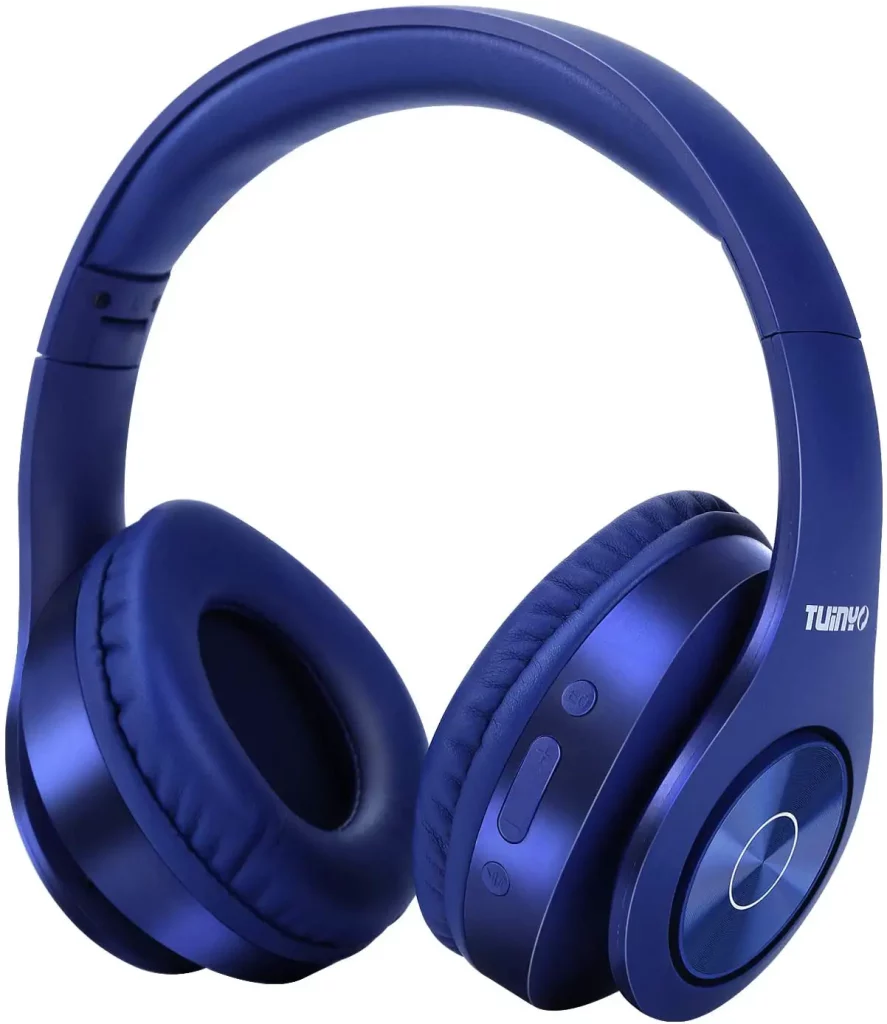 Bluetooth Headphones Wireless, TUINYO Headphones-Complete FeaturesInstruction Manual
Specifications
DIMENSIONS: 7.09 x 6.3 x 3.54 inches,
WEIGHT: 12.2 ounces,
PLAYTIME: 35 hrs.,
BATTERY: 800mAh,
CHARGING TIME: 2-2.5 hours,
EFFECTIVE RANGE: 10 meters,
MANUFACTURER: Tuinyo
Tuinyo over-ear stereo wireless headsets is a pair of professional Bluetooth wireless headphones that provide a comfortable experience of listening to music while being a fashionable addition to your electronic accessories. They come with wireless and wired connectivity options, with long battery life and high-fidelity sound quality. When they run out of battery you can also switch to wired mode and enjoy unlimited music time.
Design
These are really fashionable-looking headphones that feature some superior comfort wearing and foldable design. They are lightweight therefore you can wear them for a long period of time without tiring your head. They have soft cushion ear cups that provide a comfortable ear fit design. The headband is adjustable and fit all sizes. The headphones are also foldable making them very easy to carry. You can fold them and store them in the EVA protective case that comes along with the headphones. This makes them super easy to be carried around by occupying less space and being light in weight.
Sound Quality
They feature a 40mm dynamic driver that produces premium high-fidelity sound. They produce sound with stable deep bass and extended treble. They deliver a perfect music experience just like the way it is intended to be heard without any loss of volume.
Connectivity Modes
Another prominent feature of these headphones is that they provide wired and wireless connectivity options. You have the freedom to listen to your music in the wireless mode and when you run out of battery you can easily switch to wired mode. You can turn to the wired mode using the 3.5mm audio cable to connect to your device.
Stable Connection
These Tuinyo Bluetooth headphones allow you to connect to any device using Bluetooth with easy pairing. They can connect to Bluetooth of version 5.0. They feature connectivity to any Bluetooth-enabled device such as iPhone, Samsung, Huawei smartphones and tablets, also laptops and PCs. The connection is quick and seamless and has a range of 33ft. If you wish to pair your Tuinyo headphones with the TV, you will require an additional Bluetooth Transmitter.
Other Features
You can take calls or use voice assistants using the built-in microphone, without touching or holding your phone in Bluetooth Mode. This offers a convenient method of performing tasks while listening to audio and being away from your device.
It also supports Siri and Google Assistant which is activated by using the built-in microphone.
What's in the Box?
Tuinyo Headphones x 1
Storage Case x 1
Charging Wire x 1
Aux Cable x 1
User Manual x 1
Tuinyo Stereo Wireless Headphones Controls
The Tuinyo headphones controls are as follows:
Vol+/Previous
Vol-/Next
MP3/FM Mode
ON/OFF button
Tuinyo Stereo Wireless Headphones Track Controls
In order to increase the volume, use the button with "+" icon.
In order to decrease the volume, use the button with "-" icon.
To play the previous track, press the "+" button.
To play the next track, press the "-" button.
To change the mode from Mp3 to FM or vice versa use the MP3/Fm button.
Other Controls and Features
The headphones have a Micro SD slot and a Headphones jack where you can plug in a 3.5mm adaptor. It also has a led indicator to show on/off or charging status.
PROS
Good Fit
Good Sound Quality
Nice Size of Ear Pads
Fast Charging
CONS
The short length of charging wire
The volume isn't loud enough
VERDICT
These are a good pair of headphones that come at a good price and have the basic features of headphones with provide wired and wireless charging. They are quite fashionable. The sound quality is also moderate.
FAQS
Does it work with iPhone 13?
Yes, it can work with any Bluetooth-enabled device. iPhone 13 has Bluetooth which means Tuinyo over-ear stereo headphones can work with it.
How do I pair these with my HP elite book?
Turn on the Bluetooth of your device. Look for a device named "tp18" in the device's list and connect to it.
What is the impedance of 16 or 32ohms of these headphones?
These headphones have an impedance of 32 ohms.
Does it come with the 3.5 jack?
Yes, they come with a 3.5mm jack to be used in case of wired connectivity. They also come with a USB charging cable.
What kind of plastics and materials is this made with?
Its made of a basic plastic material and the earpieces are made of imitation leather.
How is mic quality?
The mic is horrible. Simply not usable for conferencing. Very disappointed
Do these work with Alexa?
yes as long the device supports it
Will it work with chrome
Yeah.
Does anyone know how to get the MP3 player to work?
Never got the headphones to work at all
How to change EQ mode to normal?
Sorry our Bluetooth Headphone don't have EQ function .
How long we need to charge ?
1st time 8-12 hours. When they're fully charged, a blue light will come on near the charging point. After initial charge didn't keep track. I've used them up to 3 days without a charge.
Are these headphones AHP compatible?
Our wireless bluetooth headphones are compatible with : iPhone, Tablet, Laptop, PC, iPad, MacBook and other Bluetooth enabled device.
does the flashing blue light when it's on and paired ever stop blinking?
The light turns off after pairing
When listening to music, does it have separate buttons for volume up/down AND forward/return to next and previous songs?
There are separate buttons for up and down volume, but no buttons for selection direction.
Will these connect to a Apple laptop?
yes!
Is the sound range 20 to 20,000 hertz?
yes!
Will this work with a Apple tablet?
Yes this will work with an Apple Tablet
Tuinyo bluetooth headphones -black : does this have an sd card slot?
These headphones were very poorly built.
Car these headphones be used with a cd fm player?
4 hours