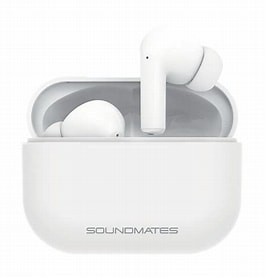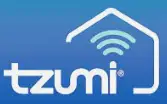 Soundmates V2 Manual
Turning On Your Earbuds
METHOD 1 : Remove your earbuds from the charging case. Both earbuds' LEDs will flash blue. METHOD 2 : If the earbuds are not inside the charging case or turned off, tap the RIGHT or LEFT earbud for 5 seconds until the blue LEDs flicker and you hear "Power On".
Turning Off Your Earbuds
METHOD 1: Place your earbuds back into the charging case. METHOD 2: Tap either earbud for a few seconds until you hear "Power OFF'.
Eiwetooth Pairing Instructions
FIRST: Remove both earbuds from the charging case. They will begin auto-pairing to each other. SECOND: Keep the earbuds within 3 feet of your smart device (for Bluetooth pairing only) Enable your device's Bluetooth function from Its Settings menu. Select "Soundmates" from the Bluetooth device list to pair the earbuds to your device. Once paired, you will hear "Device Connected: Your Soundmates are now ready to use!
Single Earbud Usage
Each earbud can be used independently.
Calling / Music
ANSWER/END CALL Tap RIGHT or LEFT earbud 2 Ernes REJECTING A CALL Tap and hold Right or Left Earbud 2 seconds until you hear a prompt sound PLAY/PAUSE Tap RIGHT or LEFT earbud 2 times NEXT SONG Tap the RIGHT earbud 3 Ernes REWIND/PREVIOUS SONG Tap the LEFT earbud 3 times
Voice Assistant
Tap and hold RIGHT or LEFT earbud for 2 seconds until your hear a prompt sound to activate the Voice Assistant/Sid function. This function may not work for all devices.
Charging Soundiviates
Make sure to fully charge the earbuds prior to the first use. Please note: If you are only using one earbud and the second one is fully charged in the case, be sure to remove it prior to inserting the first one.
Charging The Case
Plug the standard Micro-U56 charging cable into the port on the case and connect the USB head to a power source, such as an AC wall adapter or computer. The LEO will flash green while charging. Once fully charged, LED will illuminate solid green. When the earbuds are low in power, you will hear "Battery Low". Place the earbuds into their respective slots in the charging case. They will automatically begin to charge. The LEDs will turn solid red while charging. The LED on the bottom of the case will turn White. Once fully charged. the LEDs on earbuds and case will turn off.
Important Safeguards
Do not use this unit for anything other than its intended use.
Keep the unit away from heat source, direct sunlight humidity, water or any other liquid.
Do not expose the device to extremely high or low temperatures, as it may damage the battery.
Do not operate the unit if it has been wet or moist to prevent against electric shock and/or injury to yourself and damage to the unit.
Do not use this unit if it has been dropped or damaged in any way.
Repairs to electrical equipment should only be performed by a qualified electrician. Improper repairs may place the user at serious risk.
Keep this unit out of reach of children
This unit is not a toy.
Specifications
Bluetooth Technology: Version 5.1
Battery (Earbuds): 45 mAh (02); 3.7V
Battery (Charging Case): 500 mAh 27V
Input Power Supply: DC SV/1A
Earbuds Charging Time (Est): approx 1.2 hr
Charging Case Time (Est): approx 2 hr
Music Playback Time: approx S hrs
Frequency: 20-20KHz
Battery Disposal:
This product contains a lithium polymer battery. Lithium polymer batteries are environmentally safe when fully discharged. Please refer to your local and state laws for battery disposal procedures. This device complies with Part 15 of the FCC Rules. Operation is subject to the following two conditions: Ill this device may not cause harmful interference, and (2) this device must accept any interference received, including interference that may cause undesired operation Warning: Changes or modifications to this unit not expressly approved by the party responsible for compliance could void the users authority to operate the equipment. NOTE: This equipment has been tested and found to comply with the limits for a Class B digital device, pursuant to Part 15 of the FCC Rules. These limits are designed to provide reasonable protection against harmful interference in a residential installation. This equipment generates, uses and can radiate radio frequency energy and, if not installed and used in accordance with the instructions, may cause harmful interference to radio communications. However, there is no guarantee that interference will not occur in a particular installation. II this equipment does cause harmful interference to radio or television reception, which can be determined by turning the equipment off and on, the user is encouraged to try to correct the interference by one or more of the following measures:
Reorient or relocate the receiving antenna.
Increase the separation between the equipment and receiver.
Connect the equipment into an outlet on a circuit different from that to which the receiver is connected.
Consult the dealer or an experienced radio/N technician for help.
This device and its antenna(s) must not be co-located or operation in conjunction with any other antenna or transmitter.
Radiation Exposure Statement
The device has been evaluated to meet general RF exposure requirement in portable exposure condition without restriction.
FAQS
Is this an order for 2 pairs/sets of earbuds?
Just one pair
Can I connect my Air 4920 to another router?
Yes, you can connect your Air 4920 to another router using an Ethernet cable (yellow plug). Please refer to Quick Installation Guide for more information.
Can I connect my Air 4920 to another router?
Connect to your network, open a web browser and type http://air4920.local in the address bar. Log in with default user name and password (admin/admin) and navigate to QUICK SETUP from the left pane.
Why are my sound mates red?
Actual headphones will be red to indicate charging. Low battery for the headphones will be a blinking red color. The color will turn off for full charge. The Case blinking blue means to plug in
How long do ProBuds v2 last?
These Wireless earbuds come with a built in mic and over 40 hours of standby time. Pairing is Easy: Set up in seconds with auto-pairing and reliable Bluetooth 5.0 technology. The Best Sound: High-quality audio for your music and phone calls.
How long is the battery life on ProBuds v2?
pto 23 Hours of Audio Bliss-ProBuds 2 by Lava comes with a long battery backup of 5 hours in the buds and can be extended up to 23 hours with its 370 mAh charging case.
How long does it take for ProBuds v2 to charge?
QUICK RECHARGEABLE BATTERY WITH 7 HOURS OF PLAY TIME: Connect the micro USB plug to micro USB port and connect USB Plug with power supply, average charge time 1 hour. Micro USB.02-Mar-2022
How long can wireless earbuds last?
More often than not, most true wireless headphones last about 3 hours of use on average before they get completely drained. This is where charging cases come in handy. A great charging case can give your headphones at least extra 5 to 6 hours of listening time.
Why are my earbuds flashing red and blue?
When the light is flashing red and blue, the headphones are ready to be connected to a Bluetooth source. When they connect, the light will start slowly flashing blue only. When you turn them off, you hold the middle button down until the light turns red. When you let go of the button, the headphones will shut off.
Can you overcharge earbuds?
No, you can not over charge the ear buds. This really should not be a concern with any lithium ion product.
Why you shouldn't use Bluetooth headphones?
Even if radiation from your Bluetooth headphones reaches your brain, Bluetooth devices have a low power output. That means they can't produce enough heat to do any lasting damage to your brain even after hours of use.
Why wont my earbuds turn on?
If the power on the headphones is not turning on, the battery may not be inserted correctly or the battery may need to be replaced. Check the following items to troubleshoot this issue. IMPORTANT: If model-specific information is needed to complete any of the steps, refer to the instructions supplied with the product.
Which are best AirPods?
Verdict.If you want the best AirPods around, you need to go Pro. You won't regret it and the noise cancelling is brilliant. If you can't quite run to those, then the AirPods 3 really do put AirPods 2 in the shade and they are definitely our pick of the cheaper pair of AirPods.
Are AirPod pros better than AirPods?
The main difference between the AirPods 3 and the AirPods Pro continues to be active noise cancellation, which remains exclusive to the pricier model. But the new AirPods still offer significantly better audio with improved bass compared with Apple's long-stemmed second-generation AirPods.
Does Bluetooth cause brain damage?
Since Bluetooth is in the non-ionizing group of EMR which emits low-frequency waves, it is safe for humans, and it will not pose any health risks to the brain. These frequencies are too low to change the cell structure.