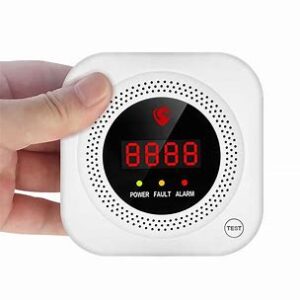 301/Y302 Gas Leak Detector Instruction Manual
※ ATTENTION: Please take a few minutes to thoroughly read this Manual which should be saved for future reference and passed on to any subsequent owner.
General Instructions
Y301/Y302 combustible gas detectors (hereinafter referred to as "detector") are designed to detect explosive gases (natural gas and LPG) in the air for houses, offices, and similar places, etc.
It's an electrical alarm apparatus that is located in a fixed place to work constantly and can give out a visual and audible alarm. The detector is equipped with a high-performance Catalytic Gas sensor with excellent sensitivity. The digital display and audible alarm notify the user of the presence and relative concentration of combustible gas.
Technical Specifications
Area of Usage: Households
Operating Voltage: 110-220V 50/60Hz
Power Consumption: <3W
Sensor Type: Catalytic gas sensor
Alarm Set Point: 5% LEL
Tolerance: +/- 3% LEL
Material: V0 fireproof ABS + PC
Warm-up Time: 3 minutes (regular)
Response Time: Less than 30 seconds
Audible Warning: Speaker (voice alarm)
Alarm Sound Level: 85 dB at 1m
Visual Warning: Green-System is on
Yellow-Fault, sensor has lost efficacy
Red-Alarm, gas leakage.
Detected Flammable Gases: Natural gas (methane), LPG (liquefied petroleum gas)
Operating Temperature: 0-55 ℃
Relative Humidity: ≤ 95% to avoid condensation
Size: 3.7"x 3.7"x1.26" (94mm x 94mm x 31mm), housing material: plastic
Package Size: 4.72"x 4.72"x2.36" (120mmx120mmx60mm)
Product Layout
Catalytic Gas Sensor Inside (Note: if use a lighter to test functionality, release gas closed to the sensor area as shown in dashed line.)
Digital Display
Power Indicator (Green)- System is on
Fault Indicator (Yellow)- Sensor has lost efficacy
Alarm Indicator (Red)- Gas Leakage
& 11. Air Inlet
TEST button
Extension Cable
Bracket
Speaker
General Information About Installation
Natural Gas is typically supplied through the main utility line connected to your home. Natural Gas is comprised of methane gas and is much lighter than air, in case of gas leakage, natural gas rises towards the ceiling and accumulates in areas near the ceiling. If you are a user of natural gas, mount your detector around 30cm (12 inches) away from the ceiling and 1.5~3 meters away from the gas supply to ensure the earliest opportunity to detect a leak.
Propane is typically supplied to homes via delivery truck in liquid form and stored near the home in propane tanks. Propane and LPG (liquefied petroleum gas) are often used synonymously. Propane is much heavier than air and will collect at lower levels. If you are a user of propane, mount your detector around 30cm (12 inches) away from the floor and 1.5~3 meters away from the gas supply to ensure the earliest opportunity to detect a leak.
It's very important to mount the detector at a place with the biggest potential for gas accumulation.
The detector should not be located on the following places:
Smelly places
Directly over a sink
Vaporous places
Over the oven or chimney hood
Closed to vacuuming fan (exhaust fan etc.)
Closed to door or window
Place with temperature under 0℃ or over 55℃
A place with dirt and dust which may block the detector
Wet and moist places
A place with furniture or wares which may block the air movements
Location should not be very close to apertures and ventilation channels as air stream may be great and gas concentration will decrease.
The detector should not be assembled over or near a gas appliance as a small normal gas release at the beginning may lead to undesired alarms.
Operation
Plugin the detector.
Three lights (Green, Yellow, Red) flash and there is a voice prompt "Alarm is initiating. Please wait 3 minutes for sensor preheating".
Wait for 3 minutes for the warm-up process. Don't apply gas to test during the warm-up process because the gas won't be detected. During the warm-up process, the short press TEST Button can switch language (Chinese and English language), the default is English.
Warm-up finished, there's a voice prompt and Green Power Indicator will remain on.
In the working state, press the Test Button, the three lights flash and there's a voice prompt.
Pre-Alarm setpoint is 5 (= 5% LEL). The detector will give out a voice prompt and Red Alarm Indication flashes when the gas concentration is equal to or above 5. Visual and audible alarm will continue until ambient gas concentration falls below the alarm set point (5% LEL). When the gas concentration is more than 20 (=20% LEL), the number on digital display will be changed into letter A.
Apply for after service if the Yellow Fault Indicator flash on, which means sensor has lost efficacy and can't finish data collection. At same time, Digital Display will show ERR (abbreviation of error). Just send Email to:

[email protected]

, engineers on staff from factory will reply and resolve your issues and concerns in 24 hours.
Maintenance
Periodically observe the detector to make sure the Green Power Indicator is on. Press the TEST button, the three lights flash and there's a voice prompt. Recommend at least once per two weeks.
Use lighter or similar items for function test, gently release some gas into one plastic bag then subsequently moving the detector into the bag to check functionality. The number on the digital display will change correspondingly. Recommend at least once per month.
Unplug the detector and wipe only with a damp cloth as needed. Do not apply abrasive solvents or other cleaners. Chemicals can permanently damage or temporarily contaminate the sensor inside.
Avoid spraying air fresheners, hair spray, paint, or other aerosols near the alarm.
During any decoration activities such as painting, wall brushing, wall-papering, staining or stripping floors or furniture, etc., wrap the detector with plastic bags and move to a remote location to prevent possible damage or contamination of the sensor.
Do not paint the unit. Paint will seal the vents and interfere with proper sensor operation.
Warning: Vapor of alcohol and similar substance, spray, intense cigarette smoke, torch gas, cleaning agents and chemical substance with strong odors, intense meal, and water vapors can damage the sensor or cause alarm malfunction and temporary readings that are not gas readings. The detector is only used to reduce and prevent accidents, can't make sure everything. Please pay more attention in your daily life and strengthen your safety and security consciousness.
What to Do in Case of Alarm
If the detector indicates an alarm signal or your smell gas odor without a signal, keep calm and perform the following actions:
-Shut off the gas source from the main gas control valve or storage tank (LPG).
– Close gas valves and gas tools (such as cookers) starting from the closest one.
-Open the doors and windows in order to increase ventilation.
-Do not use lighter or matches, put out all the open fires, smoky materials, sources that may lead to spark and fire.
-Do not touch any electrical hardware including gas detector devices, do not turn on/off, do not interfere to their plug (fuses, doorbell, electric switches etc.).
-Do not use mobile phones and radio devices to avoid the risk of spark.
-Extinguish the fire, if any, extinguish all naked fire including all the smoky materials.
-Call gas distribution company from a suitable location.
Warranty
The manufacturer warrants to the original consumer purchaser, that this product will be free of defects in material and workmanship for a period of 2 years from the date of purchases, but visit our website and register your purchase information to apply for "1-year Extended Warranty" that starts at the time of purchase for a 3 years warranty. Yeezou's liability and buyer's remedy under this warranty are limited to the repair or replacement of a comparable product.
Our company does not undertake any responsibility for the warranty when any of the following circumstances occur:
Failure to use the product in accordance with the instructions contained within this manual;
Damage due to insertion of opening the housing without permission;
Damage due to usage with water, strong mechanical force, or in any environment that does not conform with the above specifications;
Any other damage caused by accident, unreasonable use, neglect, tampering, or other causes not arising from defects in material or workmanship;
Warning: Do not open or remove the unit back cover. Back cover removal will void the warranty and lead to potential electric shock risky.
Thanks very much for choosing our products and service. If have any unpleasant experience, don't hesitate to contact us by E-mail, We always have Engineers on staff directly from the factory and they will support you to resolve your issues and provide a professional solution in 24 hours before you make poor reviews.
We are committed to innovate and improve for excellent products and better service.
Thank you again for your business, support, and feedback.