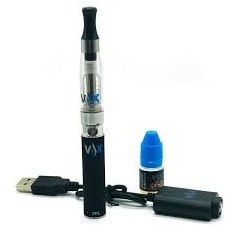 XPS XPRESS STARTER KIT USER MANUAL
PERSONAL VAPORIZER
Introduction
VaporX® is proud to present to you the best personal electronic vaporizers, designed to work with all of your alternative smoking needs. VaporX® Vaporizers are revolutionary in the way they work, and are easy to use, discreet and compact in size, allowing you to vape anywhere you like, in style. And, as they are powered by a high capacity, rechargeable, lithium ion battery, your VaporX® is good to go anywhere you do! Now go and enjoy a true VAPOR eXperience!
XPS IS COMPATIBLE WITH XLT & XRT COMPONENTS VISIT IVAPORX.COM TO SEE OUR FULL COLLECTION OF PERSONAL VAPORIZERS AND ACCESSORIES!
What is a vaporizer?
A personal electronic vaporizer is a devise that converts a substance into an inhalable vapor through the use of an atomization component known as a vaporizer, rather than through combustion and burning. In layman's terms, when you press the button and inhale, a sensor in the unit's battery controller activates a microcomputer which tells the battery to turn on, thus powering the atomization process and beginning the vaporization of your desired substance (e-liquid, oil, dry herb, etc.), dependent on your VaporX® Model.
What is the vaporx xps ?

Starting to use your xps
THE XPS COMES LOCKED!
The VaporX® XPS comes "Locked". To begin the use of your your unit, follow the "Unlocking" instructions found on the next page of this manual.
THE XPS NEEDS SOME JUICE!
Once unlocked, if when inhaling from the XPS there is no "vapor", one of two things is required:
1) Add VaporX® Formula51 X-Juice to the tank (see page 11)
2) Recharge your VaporX® XPS Vaporizer battery (see page 7)
Locking your vaporx xps
THE BATTERY LOCKING FEAUTRE:
The VaporX®'s XPS is equipped with a locking feature, keeping the unit from activating from accidental contact with the unit's power button. This feature serves as a child safety mechanism to deter use of this device by those under the legal smoking age.
TO LOCK: Rapidly press the VaporX's® power button six (6) times. The indicator light will blink three (3) times to indicate that your Vaporizer is locked.
TO UNLOCK: Follow the same procedure of rapidly pressing the unit's power button six (6) times, and allowing the indicator light to blink three (3) times.
Charging the battery
HOW TO CHARGE YOUR VAPORX® BATTERY
To charge your VaporX's® battery, screw the battery component into the USB charger, included in your XPS Starter Kit, until snugly tightened. Plug the USB charger into any live USB port found on a computer or other supporting device. The battery's LED light will ash ve (5) times to indicate that charging has begun. The indicator light on the USB charger will illuminate green once the battery is fully charged.

Charging the battery (con't)
CHARGING YOUR VAPORX® BATTERY (con't)
Initial Charge: You can use the VaporX® XPS Vaporizer immediately, but to get the maximum puts, we recommend frst charging the XPS until the USB's indicator light continuously illuminates green – this will condition the rechargeable battery for future charges and maximize its lifespan.
Subsequent Charges: When the XPS's LED light blinks ten (10) times, the unit needs to be recharged. These charges should last approximately two hours.
Battery – additional info
The XPS Vaporizer will allow you to press the button as long as you like but will automatically shut o after approximately ten (10) seconds. The blue light will blink five (5) times after a continuous ten (10) second push, then shut the unit o. This occurs to prevent any damage to the vaporizer.
When not using your VaporX® Vaporizer, it is recommended to engage the "lock" feature so the unit does not accidentally activate.
xps – e-liquid vaporizer
The VaporX® XPS is designed for use with VaporX® Formula51 E-Juice, and most of your favorite e-liquid solutions. The XPS Vaporizer Starter Kits comes equipped with a high capacity tank cartomizer, which is optimized for the very best e-liquid vaping experience.

VISIT IVAPORX.COM TO SEE OUR FULL COLLECTION OF E-JUICE FLAVORS AND STRENGTHS!
xps – tank cartomizer
HOW TO FILL YOUR TANK CARTOMIZER
1) Unscrew & remove the tank's mouthpiece.
2) Rest the tank catomizer on a at surface.
3) Using your favorite, VaporX e-juice bottle's spout, all the tank cartomizer to your desired level – DO NOT go over the 1.6mL mark on the side of the tank.
4) Rescrew the mouthpiece to the tank.
5) Screw the tank cartomizer to the end of your VaporX® XPS battery.
6) Enjoy a true VAPOR experience!

Warnings & Disclaimers
PLEASE READ THE BELOW CAREFULLY AND THOROUGHLY
Read the following safety recommendations before using your VaporX® Personal Electronic Vaporizer. Keep this user manual in a secure area for future reference.
The VaporX® Personal Electronic Vaporizer is not intended for use by children, pregnant or breast feeding women, or those with life threatening illnesses. This device is not a medical device, nor is it intended to diagnose, cure, treat, or prevent any disease or other conditions. Likewise, it is not a smoking cessation device. If you have any health concerns or issues, please consult with your physician prior to using the VaporX® Personal Electronic Vaporizer. (con't)
your state, if you are a non-smoker, if you have demonstrated an allergy or sensitivity to any combination of inhalants, if you are pregnant or breast-feeding, or if you have heart disease, diabetes, high blood pressure or asthma.
Vapor Corp. is not responsible for any damage or personal injury caused by the irresponsible, incorrect, or inappropriate use of the VaporX® Personal Electronic Vaporizer.
The VaporX® Personal Electronic Vaporizer is not intended for use with medicinal or illegal substances of any kind and using such will void the warranty. Any illegal use of this device could subject the user to severe fines, penalties, and/or imprisonment under the law of your jurisdiction.
Please note that high impact collisions such as dropping this device may cause it to no longer operate properly.
Avoid direct contact and ingestion of the VaporX® Formula51 X-Juice as it is highly concentrated nicotine meant to be vaporized and released incrementally.
The maintenance and repair of the product shall be conducted by the customer service department of the company only. The company takes no responsibility for any loss caused by abnormal use or intentional or careless misuse of the product.
Do not use attachments or accessories that are not recommended by the manufacturer.
VaporX®, a product of: a publicly traded company
(VPCO) vapor-corp.com
This product may contain nicotine, a chemical known to the State of California to cause birth defects or other reproductive harm. This product has not been approved by the United States Food and Drug Administration. Keep out of reach of children. Refrain from using this product if you are under the legal smoking age in your state. This product is not an aid for smoking cessation.