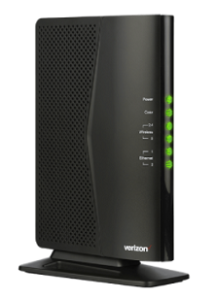 Actiontec WCB6200Q Installation Guide
Take your internet to its max potential.
Your Fios Network Extender has arrived.
Installation kit
Expand the reach of your Wi-Fi network with the Fios* Network Extender. Here's what's included:
(1) Fios Network Extender
(1) Ethernet cable
(1) Coax splitter
⑴ Power adapter
(2) Coax cables
fios by verizon
Install the Fios Network Extender.
Step 1
Place the Fios Network Extender in an area where your Wi-Fi signal is spotty. A coax outlet must be available nearby. For the Fios Network Extender to operate, your router must also be connected to another coax outlet.
Step 2
Connect a coax cable from the extender to a coax outlet.
Coax wall outlet already in use?
No problem, use the splitter.
Step 3
Connect the power cord.
Step 4
Wait for the lights on the front to turn green. This may take a few minutes.
Do I need to do anything else?
Nope! You shouldn't need to do anything else. Once connected, the extender will be updated with the latest software, and will be ready for your smart devices to connect automatically with the same Wi-Fi network name and password as your existing router, all within about 15 minutes.
Here's how your Fios Network Extender should look when you're done setting it up.