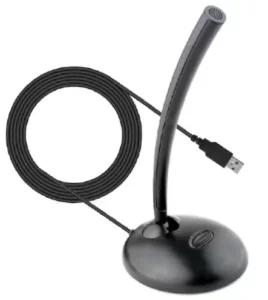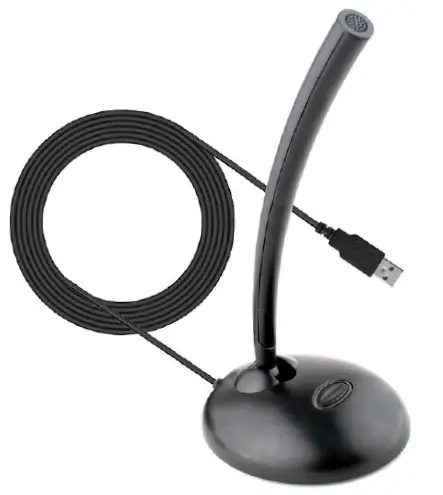 volkano Usb Desk Microphone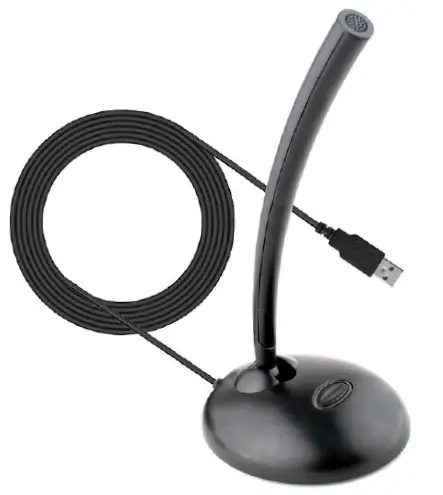 Highlights
USB 2.0 Plug and Play Interface.
Compatible with Computers and Laptops.
Built-in Desk Stand.
Adjustable Microphone Boom.
On/Off/Mute Button.
Supports: Windows®, Apple Mac® OS
Package Contents
Stream Desk Series USB Desk Microphone
Instruction Manual
Specifications
Sensitivity: -58 dB ± 3 dB
Frequency Response: 100 Hz – 16 kHz
Sensitivity Reduction: -3 dB at 1.5 V
Impedance: ≤ 2.2 K Ω
Operation Voltage: 4.5 V
SNR: ≥ 58 dB
Cable Length: 1 m
Connector: USB Type A
Identifying Parts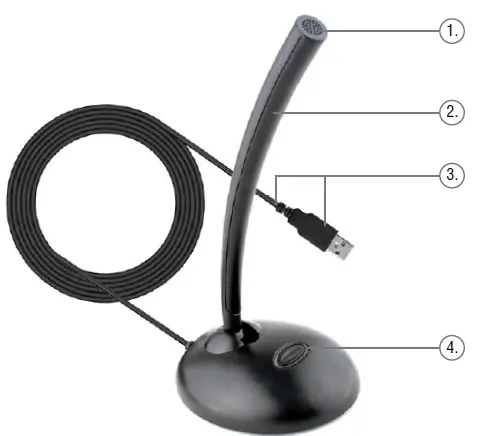 Microphone Capsule
Adjustable Boom
USB Cable & Connector
On/Off/Mute Button
Instructions
Instructions for Use
Navigate to the Taskbar and right-click on the "speaker" icon.
Left-click on "Open Sound settings"
Click on the "Choose your input device" dropdown menu and select Microphone as your default device.
Instructions for Mac OS®
Navigate to the Desktop Menu and click on "System Preferences".
Click on the "Sound" icon in the Hardware section.
Click on the "Input" tab and select the Microphone from the list of devices.
Safety Precautions
The product should only be used with the parts provided by the manufacturer.
This product is intended for indoor use only.
Never use your microphone near water or in areas where it can come into contact with water. Never handle the microphone if it has been dropped in water or any other liquid. If the product comes into contact with water while still plugged in, this is a safety hazard.
Always make sure your hands are dry before touching the USB cable or power connections.
Do not operate the product with a damaged cable, or after it malfunctions, has been dropped, or damaged in any manner.
The microphone is intended for personal use only. Commercial use invalidates the warranty and the supplier cannot be held responsible for injury or damage caused when using the device for any other purpose than that which it was intended for.
This microphone is not intended for use by children, or persons with reduced physical, sensory or mental capabilities, or lack of experience and knowledge, unless they have been given supervision or instruction concerning use of the device by a person responsible for their safety. Extreme caution must be exercised.
Children should be supervised to ensure that they do not play with the microphone. Packaging must never be left within reach of children, since it is potentially dangerous.
Cleaning and Care
Before Cleaning: Ensure that your Volkano Stream Desk Series microphone is not plugged into any device before cleaning or maintaining it.
Cleaning: Wipe down the surface of your Volkano Stream Desk Series microphone using a soft, slightly damp cloth.
Do not use any harsh or abrasive cleaning chemicals or materials on your Microphone as doing so may damage or scratch the surface finish.
Do not expose your Microphone to direct sunlight or high temperatures for extended periods of time.
Do not store in temperatures over 140 °F (60 °C).
Troubleshooting
Q: My speakers are not playing any audio when the microphone is plugged in.
A: Ensure that your computer's default recording device is the Microphone and your default playback device is your designated speakers.
Environmentally Friendly Disposal
Do not dispose of electrical appliances as unsorted municipal waste, use separate collection facilities. Contact your local government for information regarding the collection systems available. If electrical appliances are disposed of in landfills or dumps, hazardous substances can leak into the groundwater and get into the food chain, damaging your health and well-being.
Disclaimer
All product and company names are trademarks™ or registered® trademarks of their respective holders. Use of them does not imply any affiliation with or endorsement by them.
Warranty
This Volkano Stream Desk Series microphone comes with a standard 12 limited month warranty against manufacturing defects and faults. Should your Volkano Stream Desk Series microphone be unboxed with any faulty parts, poor finishing or visible damage, or fail to perform due to a manufacturing defect or poor workmanship, please return it with your proof of purchase (till slip or invoice) to the store of purchase for an exchange, or repair, depending on the store's returns policy.
This warranty commences from the date of purchase. Kindly retain your proof of purchase as well as the packaging for your warranty period.
NOTE:
The warranty does not apply to product that:
Has failed due to excessive wear and tear beyond what is considered to be reasonable.
Has been misused or neglected.
Has been damaged accidentally or by Force Majeure including fire and flooding.
Has been used or operated contrary to operating or maintenance instructions outlined in this manual.