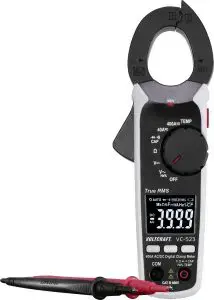 VOLTECRAFT Clamp Meter Instructions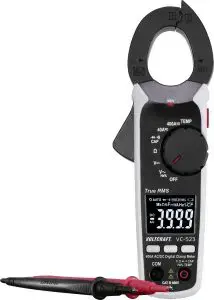 VOLTCRAFT® – TOP PERFORMANCE IN EVERY WAY
"For more than 35 years, our product range has been dynamically adapting to the constant changes in the industry. We commit to offering first-class quality to our customers while delivering an excellent cost-performance ratio. This philosophy remains the cornerstone of Voltcraft's success."
CLAMP METER
Nº 1693351 // VC-522
Nº 1693352 // VC-523
Nº 2139578 // VC-523 SE
Nº 1693353 // VC-532
Nº 1693354 // VC-533
Robust and ergonomic measuring callipers.
All models are equipped with True RMS for reliable measurement of balanced and unbalanced voltages and currents, non-contact AC Voltage Test (NCV), and switch to light up the measuring area.
Perfect for servicing machines, in control cabinets and also for measuring high currents in automotive and truck electrics.
PACKAGE CONTENTS:
Current probe
Safety test leads
Temperature sensor Type-K
Measuring adapter type-K
Pocket
3 micro batteries (type AAA)
Safety data sheet
Operating instructions
FEATURES:
CAT III 600 V
True RMS
Measuring point illumination
TECHNICAL DATA:
VC-522
VC-523 / VC-523 SE
VC-532
VC-533
Item no.
1693351
1693352/2139578
1693353
1693354
Display (counts)
4000
6000
Voltage measurement
AC/DC
Measurement range voltage AC
0.001 – 600 V
Frequency range
50 – 400 Hz
Measurement range voltage DC
0.1 mV – 600 V
Current measurement
AC
AC/DC
AC
AC/DC
Measurement range current AC
0.01 A – 400 A
0.1 A – 1000 A
Frequency range
50 – 60 Hz
Measurement range current DC
0.01 A – 400 A
0.1 A – 1000 A
Resistance
0.1 Ω – 40 MΩ
0.1 Ω – 60 MΩ
Frequency
10 Hz – 10 kHz
Temperature
-20 to +760 °C
-20 to +1000 °C
Capacity
0.01 nF – 4000 µF
0.01 nF – 6000 µF
Basic accuracy
±0.8 %
Opening for current probe
32 mm
36 mm
Power supply
3 micro batteries (AAA, LR3)
Dimensions (L x W x H)
208 x 68 x 32 mm
237 x 56 x 34 mm
Weight
220 g
328 g
EQUIPMENT:
Measuring functions: current, voltage, resistance, temperature, capac- itance, frequency, continuity test, diode testing
Auto
manual range
Data hold function
Relative reference value function
Auto power off function
Non-contact AC voltage detection
Multi-function thread for optional accessories.
Additionally for VC-530 series: Illuminated buttons and rotary switch areas
Bar graph display
Low-pass filter
Max./min. value memory
Pulse ratio (duty cycle)
Low-impedance function (LoZ)
This data sheet is a publication by Conrad Electronic SE, Klaus-Conrad-Str. 1, D 92240 Hirschau (www.conrad.com). All rights including translation reserved. Reproduction by any method, e.g. photocopy, microfilming, or the capture in electronic data processing systems require the prior written approval by the editor. Reprinting, also in part, is prohibited. This publication represent the technical status at the time of printing.
© Copyright 2019 by Conrad Electronic SE.