VOOPOO DRAG-3 177W Starter Kit

Thanks for your purchase of a VOOPOO product. For the better use of all the functions of this product, please carefully read the operation notes and detailed functional instructions before your first use of this product. If you have any problems with using this product, please contact our local agent or visit our official website at www.voopoo.com.
Parameters
Size : 138*52*25mm
Battery: 2*18650(not include)
Input Voltage: 6.4~8.4V
Power range: 5~177W
Charging voltage: 5V/2A
Resistance range: 0.1~3.0Ω
Capacity:5.5ml(Standard Edition)/2ml(TPD Edition)
Kit included:TPP-DM1(0.15Ω)& TPP-DM2(0.20Ω)
Other optional POD: PnP MTL Pod PnP RTA Pod PnP Pod
Other optional Coil: compatible with all PNP coils
Operations Steps
Step 1: Install coil
Take out the coil, and Insert the coil from the bottom of the pod
Step 2: Fill e-liquid
Pull out the silica gel plug according to the instructions, then refill e-liquid from oil-filling slots. It is recommended to keep two thirds full.
Step 3: Install the atomizer
Insert the atomizer with e-liquid into the mod.
Step 4: Start to use the device
After keeping it stand for about five minutes, you are freeto use the device. You can adjust the airflow in order to enjoy optimal vaping experience.
Interface introduction
Enter the theme switching interface :Press the "+"and"-"buttons simultaneously

Function description
Choose Mode:Short press on fire button three fimes.

Smart(The pnp coil is used, which can identify the best power and prevent the coil from burning due to high power.)
RBA(User-Defined adjust 5W-177W.)
SUPER Mode–When the resistance is between 0.1Ω and 0.3Ω and when the wattage of the box mod is equal to or over 80w, the SUPER Mode will open automatically and bring super fast firing speed and to the vapers who like huge vapor。

Data clear: Press the fire button and "-" button at the same time. (Data Clear will clear all the data).
Lock/unlock: Press the fire button and "+" button at the same time.
Charging: Support charging with 5V/2A. It is recommended to use the Type-C provided by VOOPOO to charge the device.
GENE FAN: Chip can calculate by simulating the amount of vaping per mouth cigarette through simulation to display the corresponding graph
Software upgrading: Consumers have access to upgrade the software to the latest version on VOOPOO official website (www.voopoo.com), which requires the specific Type-C cable equipped with voopoo product to connect the computer. Meanwhile, the side of Type-C cable marked with "▲" shall face downward.
Status notification
Installation of battery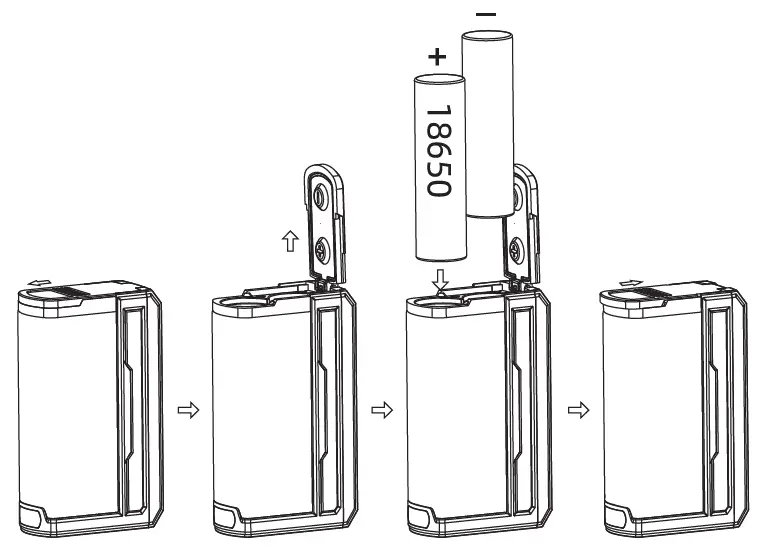 Security Protection
Overtime protection
Over temperature protection
Output over-current protection
Overcharge protection
Low battery protection
Atomizer short-circuit protection
Max Power Protection
Precautions for Daily Use of Leather
Please try to avoid scratches by sharp objects or direct friction against rough articles.
Please try to avoid contact with corrosive substances such as acids and bases, or alcohol or alcoholic liquids from coming into contact with leather surface.
Please use a soft cotton cloth to clean the dirt on the leather surface.
Attention
This product is not recommended for minors, pregnant or breast-feeding women, or anyone at risk of heart disease, depression and asthma.
Please keep the device away from heat, fire and water. This device should be stored ina cool and shady environment.
Please do not drop, throw or immerse the device into the water.
Please turn off or lock the device to avoid accidental firing when you carry it out.
Please rationally use the device according to personal situation. If discomfort occurs, please stop using it immediately.
EEE Recycling: This product should not be treated as household waste, instead it should be handed over to the applicable collection point for the recycling of electrical= and electronic equipment.
Battery Recycling: The battery of this product should not be treated as household waste, instead it should be handed over to the applicable used battery collection= point for recycling.
It is recommended to use the USB cable provided by VOOPOO to charge the device
During the long-term unused period of the device, in order to prevent discharge, it is recommended to charge regularly!
The storage period of the equipment shall be within 3 months: the ambient temperature ranges from -5℃ – 30℃, with humidity 25%±75%RH. Operating temperature of electronic cigarette: 0℃-40℃!
Disassembly is prohibited after product failure!
Only for indoor charging, please use UL-certified USB charger to charge the Device to avoid the danger of fire and explosion!
Warm Prompt
By Air
There is a possibility of e-liquid leakage at high pressure when you travel by air.
Therefore, please separate your pods from other important objects.
Deal with Condensate
There may be slight condensation of fluid due to the difference between indoor and outdoor temperature when you use the device. It is advisable to take out the pod, and shake it downwards.