WAKA WAKA POWER+ MANUAL
SOLAR-POWERED CHARGER + LIGHT
GRID CHARGING
Use a micro-USB charging cable to charge the WakaWaka via the grid. For best results use a WakaWaka micro-USB cable and the 2.1A USB-port in a WakaWaka World Charger.
An empty WakaWaka Power+ needs about 3 hours to fully recharge from the grid via the micro-USB adapter.
When grid charging the battery status indicator lights turn off when the WakaWaka is fully charged.
If your WakaWaka Power+ had been stored for a longer period it can go into hibernation. Charge the WakaWaka Power+ via the grid or put it in the sun to wake it up and give it a power boost.
SOLAR CHARGING
In direct sunlight it can take up to 18 hours to fully charge the WakaWaka.
Position the WakaWaka Power+ facing the sun at an angle of 90 degrees for maximum charge speed. It charges from UV light, so depending on the weather, charging time can be affected. Double glazing increases the charging efficiency dramatically (up to 70%).
CHARGING EXTERNAL DEVICE

ERROR LED on: the WakaWaka Power+ is too warm or too cold or the battery is over discharged.
The battery of the WakaWaka Power+ has a capacity of 3,000 mAh. External devices with a larger battery cannot be fully charged.
Use a WakaWaka micro-USB or a WakaWaka Lightning cable to charge your device.
USING THE LED LIGHTS

FLEXIBLE POSITIONING

SPECIFICATIONS

CHARACTERISTICS and SPECIAL FEATURES
Fully charged in 3 hours from the grid or 18 hours in the sun*

* Based on optimal sun conditions. Charge speed may vary.
CAUTION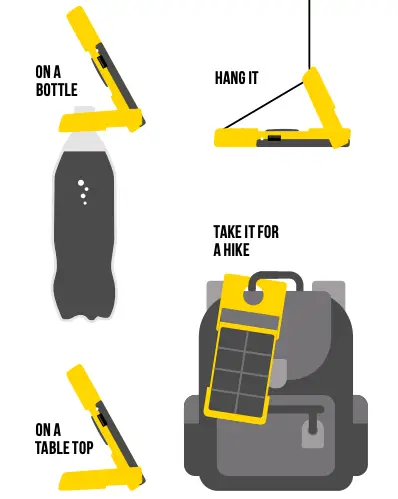 FOLLOW US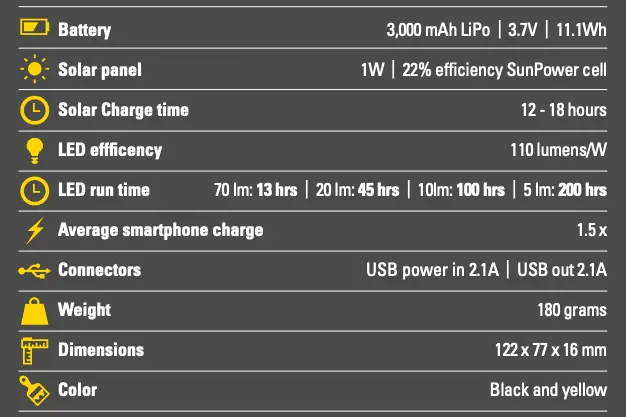 SUPPORT and CONTACT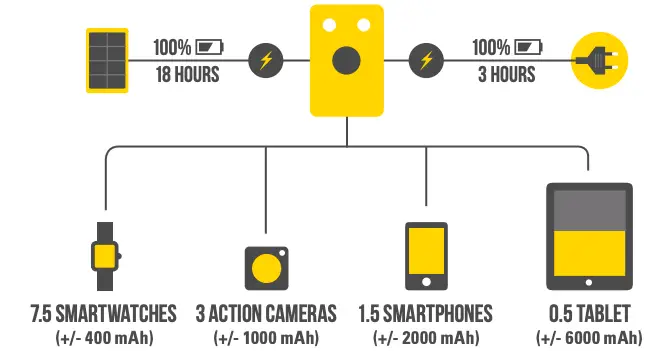 For any questions, returns and/or support check out our FAQ page waka-waka.com/faq/ or send us an email [email protected]
Having problems with your WakaWaka Light? Read the tips & tricks waka-waka.com/tricks/wwp