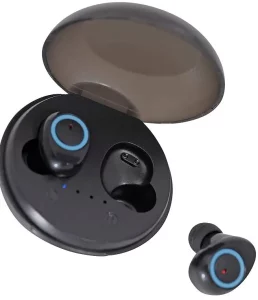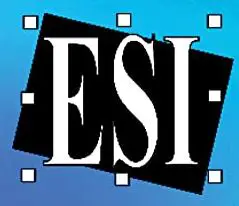 Wireless Gear Bluetooth 5.0 True Wireless Stereo Secure Fit Earbuds
Specifications
BRAND: Wireless Gear
EAR PLACEMENT: In Ear
COLOR: Black with Blue
CONNECTIVITY TECHNOLOGY: Bluetooth
MODEL NAME: Wireless Gear True Wireless Secure-Fit Earhooks – Black with Blue
BLUETOOTH: 5.0
PLAYTIME: 8 hours
COMPATIBILITY: phone, MP3 player, tablet, or laptop
PACKAGE DIMENSIONS: 6.1 x 3.03 x 1.57 inches
ITEM WEIGHT: 2.71 ounces
BATTERIES: 3 Lithium Ion batteries
Introduction
The Wireless Gear Bluetooth True Wireless Secure Fit Earhooks with Charging Case can let you take your music to the next level. These true wireless stereo (TWS) earbuds use Bluetooth 5.0 technology, which enables them to deliver powerful bass and rich audio for up to 8 hours of playback. The cordless design and built-in microphone allow for hands-free calling, and the clever noise cancellation and lossless audio transmission ensure that your favorite music and podcasts will sound their best while you listen. You can quickly change tunes, answer and end calls, and voice-prompt Siri on iOS devices using the handy touch control on the side of each earpiece.
These ear buds offer smooth pairing with your phone, MP3 player, tablet, or laptop thanks to auto pair and auto power on features. The comfortable all-day wear at the office, at home, in the gym, or while travelling is made possible by the secure fit and contoured design. While fully charged, the supplied case can recharge the headphones four to five times, providing up to 40 hours of additional listening time. This allows you to swiftly recharge the headphones while also protecting them in your gym bag or backpack when not in use. You can take your music everywhere you go with this small wireless earbud set, which measures 2.25″ x 2.25″ x 0.75″ when it's in its carrying case.
WHAT'S IN THE BOX
Wireless Two Earbuds
Charging case
USB Charging cable
User manual
HOW TO SETUP
For approximately 5 seconds, press and hold the MF button on both earphones until the LED indicators light red and blue and a voice prompt reads "pairing." Then, double-press the MF button on the other earbud to make it start looking for the first one.
HOW TO USE
The earbuds are automatically paired after you remove them from the charging box and open the top cover. Step 2: Once the left and right earphones have successfully paired with one another, the left and right earbuds will now flash blue and red, and then one earbud will flash blue every few seconds.
HOW TO PAIR
To manually sync them, double-press the left and right earbuds at the same time. NOTE: Give it another shot if it doesn't work the first time. The left earbud's LED will flicker Red/Blue to indicate pairing mode when the earphones are synced. Put the earbuds back in the charging case.
HOW TO CONNECT TO PHONE
From the top of the screen, swipe downward.
Touch Bluetooth and hold it.
To pair a new device, tap. If Pair new device isn't there, go under "Available devices" or hit More. Refresh.
Select the Bluetooth device you want to associate with your device by tapping its name.
Observe any directions displayed on the screen.
Frequently Asked Questions
On wireless earphones, where is the power button located?
Put the earphones in the charging case and click the power button on the case's front to start charging them.
How can I tell when my earbuds have finished charging?
Bluetooth headsets all function differently. However, once your headsets have reached full charge, the earbuds usually start to glow. Red and green lights are most frequently used in headsets. A low battery level is indicated by the red light, while a full charge is indicated by the green light.
Can I charge the case and my earbuds at the same time?
Fortunately, you can charge your case and headphones simultaneously.
Can I charge my earphone case without using the headphones?
No, there isn't enough evidence to charge them.
Why won't my phone and Bluetooth headphones pair?
If your Bluetooth devices aren't connecting, they probably aren't in pairing mode or are out of range. Try rebooting your devices or letting your phone or tablet "forget" the connection if you're experiencing persistent Bluetooth connection issues.
How do I activate my earbuds?
Toggle the listed headphones. Pull down the phone's top shade on an Android device, then long-press the Bluetooth icon. It will immediately take you to the Bluetooth menu, where you may enable it and then start looking for devices. To link a pair of headphones, tap their name.
How can I find out how long my wireless earbuds will last?
Use the BatON app if you have an Android phone. An approximation of the battery level is displayed each time the headphones are connected. When the battery is only 10%, they will also beep.
What does the red Bluetooth light mean?
Your headphones' red or amber flashing usually indicates that the battery is getting low. A medium battery level shown by an orange light may indicate that you need to charge the headphones in the next few hours.
How long are earphones made to last?
Some high-quality earphones have a two- to three-year lifespan. However, if your new pair stops functioning after only a few months, it may be because of one or more of the following: You invested in a subpar item.
Can earbuds be overcharged?
No, it's not possible to overcharge the earbuds. With any lithium ion product, this should not be a problem.