Video Sound Collaboration System for Huddle Rooms
CS-700

Always update the firmware to the latest version.
Please refer to the user's manual that provides detailed information on how to use the product.
You can download the latest firmware and user's manual from the following website: https://uc.yamaha.com/products/video-sound-bar/huddle-room-system/
Content
1 x
CS700-AV, CS700-SP, CS700-DL, CS700-DS
1 x
4 x
1 x
1 x
CS700-DS
CS700-DL
1 x
1 x
1 x
2 x
2 x
Bracket installation
Install the bracket with 4 appropriate screws on the wall, spacing two pairs of screws as far apart as possible. Ensure that the bracket is tight to the wall or the spacers to avoid vibration. If installed below the display ensure that the distance is big enough to fit the CS-700 unit. You can adjust the depth of the installation by using the appropriate number of spacers (0-2) on each side. The maximum mounting height is 2m / 6' 8" from the floor. Always use 4 screws.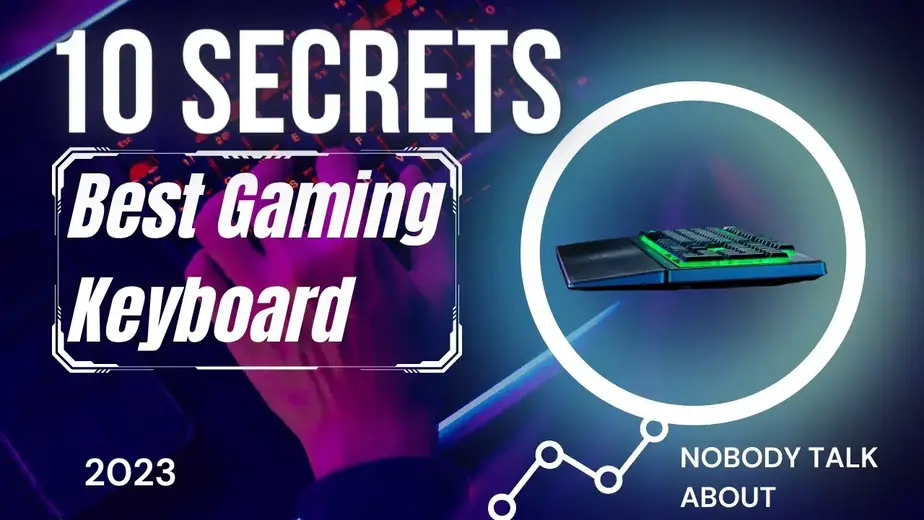 Placing the CS-700 unit on the bracket
Position the CS-700 in such a way that the two hooks in the front of the bracket fit into the cavities on the lower part of the CS-700. Ensure that the CS-700 is safely held by the hooks.
Once the CS-700 is safely positioned on the hooks of the bracket, connect the power cable and the USB cable to the CS-700 as shown. If it is planned to manage the CS-700 using the web browser, also connect the network cable into the corresponding connector.
Secure the cable using the provided cable ties to the CS-700 unit.


Installing unit in Bracket
Once all cables are correctly connected and secured, tilt the CS-700 back on the bracket and push it to pack into the bracket.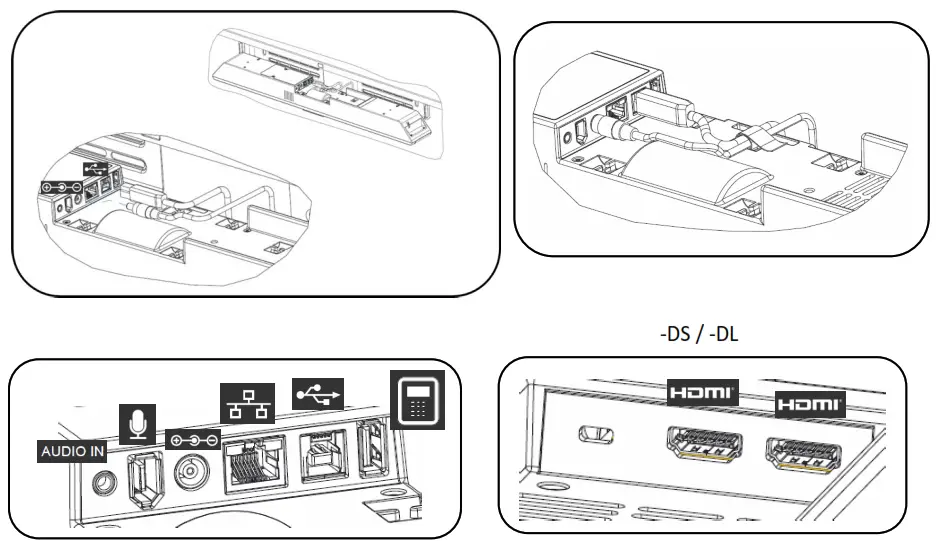 Secure unit
Secure the CS-700 unit in the bracket with the provided machine screws.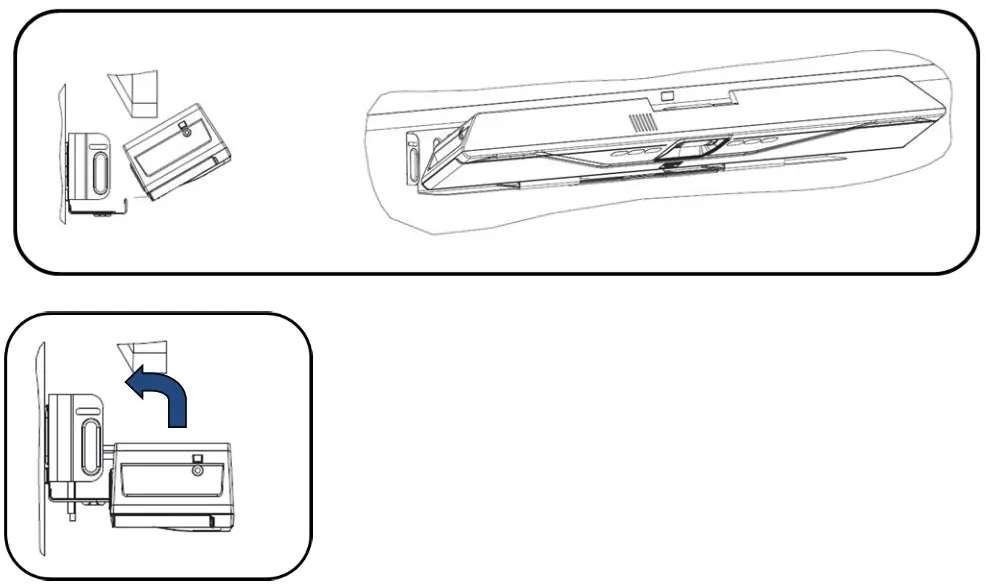 Connect to power and computer
Connect the power cord to the power supply, and plug the power cord into a mains power connector. Connect the USB cable to a USB 3 (USB SuperSpeed) connector on the computer.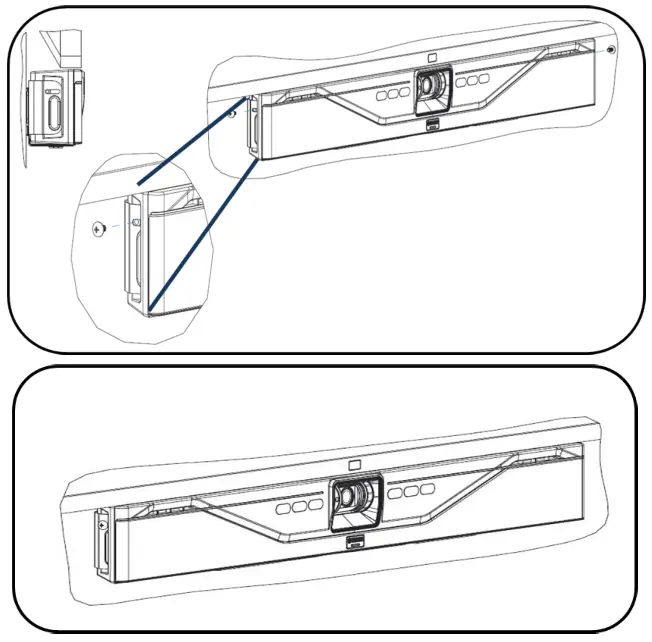 Select device
In your operating system select the "Yamaha AudioVideo Device" as your default audio playback and recording device.
In your unified communications application, select the CS-700 as the Video device.
Manage through IP interface
If an IP connection was made to the CS-700, the unit is configured to receive a DHCP address.
Press the two middle buttons (volume up / Bluetooth) for 5 seconds, and the system will speak the IP address that was assigned to it.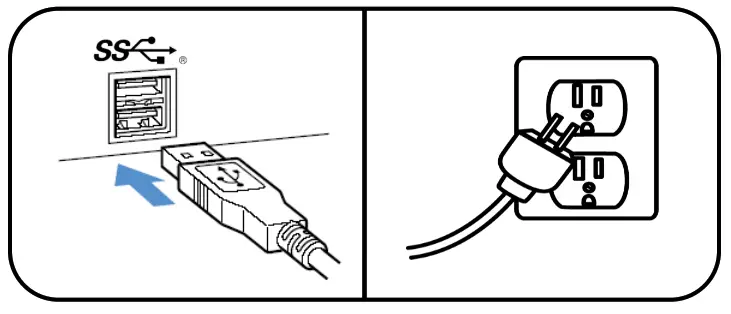 For more information, download the full documentation:
https://uc.yamaha.com/products/video-sound-bar/huddle-room-system/
Specifications
Power adapter
Model Number
Bluetooth Specifications
Bluetooth specification version
2.1 + EDR
Supported profiles
HFP (1.6), A2DP
Supported Codecs
SBC, mSBC, CVSD
Wireless output
Class 2
Maximum communication distance
10 m
Radio frequency (Operational frequency)
2,402 MHz to 2,480 MHz
Maximum output power (EIRP)
4.0 dBm (2.5 mW)
Audio
Speaker Bar
4 Speaker elements with tweeter and mid-woofer on left and right
Speaker Frequency Response
160 – 20,000 Hz
Max SPL
90 dB at 1m
Microphones
4 microphone dynamic beamforming array with human voice activity
detection
Microphone Coverage
180 degrees audio pickup, best results within 12 feet / 3.60m
Microphone Frequency Response
160 – 16,000 Hz
Full Duplex Audio
Yes
Echo Cancellation
Ultra-wideband adaptive AEC
LED indicator
Call activity and microphone mute/unmute
Video
Camera Sensor
High Definition CMOS
Image resolution
1080p, 30 fps (USB 3.0/3.1)
640 x 360, 30 fps (USB 2.0)
Privacy Cover
Digital privacy control
LED Indicators
Camera activity and video stream mute/unmute
UVC Support
UVC 1.5
Field of View
120 degrees diagonally
Interfaces
Mount Connector
Wall Mount Bracket for above or below display mounting
USB Host Port
USB with strain relief
Audio, video, HID and graphics display supported over USB 2.0 and
3.0/3.1
Ethernet
RJ 45, 10M / 100M
Bluetooth®
Yes. HFP and A2DP support
Aux Audio Input
3.5mm Stereo
HDMI (2)
(2) HDMI connectors on CS-700DL and CS-700DS models with Display
Link
SIP (-SP and –DS models only)
Call Handling
Make, Answer, Hold, Resume, Transfer (Blind and Supervised),
Forwarding, Do not disturb, Redial, Call Timer, Call-ID, Speed Dial,
Missed Call Notifications, Voice Mail Notifications (Call Manager
configured)
Call Bridging
Supports Bridging SIP and USB Calls. Join, Split, Hold, Resume, 2+1+1
Lines: Up to 2 SIP calls, 1 USB call, 1 Bluetooth® call, plus the user
Codecs
G.711 (A-law and μ-law), G.722, G.726, G.729
DTMF Support
RTP event, SIP in-band, SIP info package
Security
SRTP/SRTCP Support (RFC 1889), IETF SIP support (RFC 3261 and
companion RFCs), SSIP, Password protected configuration files,
Password-protected login
Network & Provisioning
DHCP or Static IP, Server Based Central Provisioning, Web Portal for
Individual Unit Configuration
Compliance
Safety
IEC60065, IEC60950, IEC62368
EMC
CISPR13/CISPR22/CISPR32/ FCC/J55013/ ETSI EN 300 328 / ETSI EN
302 291-2 / ETSI EN 300 330-2 EN55024/ CISPR24 or 35 and ETSI EN
301 489-1
Environmental
RoHS, Reach, WEEE
Warranty
Global except for EU
1 Year return to factory
European Union
2 Year return to factory
Size, Weight, Power, Operating Temperature
Height
3.9in/98.75mm
Length
2.7in/68.5mm
Width
34.in/861.7mm
Weight (incl. bracket)
7.3 lbs/3.3kg
Input Voltage (power supply)
100-240 VAC
Input Current (power supply)
1A
Input Frequency (power supply)
50-60 Hz
Input Voltage (CS-700)
15V
Input Current (CS-700)
2.4A
Power consumption (max)
36 W
Power consumption (network stand-by) Stand-by time
1.6 W
Stand-by time
20 minutes (user selectable)
Power Cord Length
10ft/3m – Please order correct SKU for regional power cord requirements
Operating Temperature
32 to 104 °F (0 to 40 °C)
Storage Temperature
-22 to 131 °F (-30 to 55 °C)
Operating / Storage Relative Humidity
20%-85% (non-condensing)
Maximum operating altitude
2,000m
Date code
The date code on the CS-700 label indicates when the product was manufactured. The first digit indicates the year.
| | |
| --- | --- |
| First digit | Calendar year |
| 7 | 2017 |
| 8 | 2018 |
| 9 | 2019 |
| 0 | 2020 |
| 1 | 2021 |
The second and third digits indicate the calendar week in that year – from 01 at the beginning of the year to 52 (or 53).
Important Notice: Precautions and legal information for customers in European Economic Area (EEA), Switzerland, and Turkey
Precautions and legal information:
For detailed precaution and legal information about this Yamaha product for customers in EEA*, Switzerland, and Turkey, please visit the website address below or contact the Yamaha representative office in your country.
* EEA: European Economic Area
Important Notice: Guarantee Information for customers in EEA* and Switzerland
For detailed guarantee information about this Yamaha product, and Pan-EEA* and Switzerland warranty service, please either visit the website address below (Printable file is available at the website) or contact the Yamaha Unified Communications representative office for your country.
* EEA: European Economic Area
https://uc.yamaha.com/warranty
For details of products, please contact your nearest Yamaha representative or the authorized importer listed below.
North America
Yamaha Unified Communications, Inc.
144 North Road, Suite 3250, Sudbury, MA
01776, USA
Tel +1-800-326-1088
© Yamaha Corporation. All Rights Reserved.
Published 07/2018
Printed in China
QS-CS700-201807-MUL / 2950267-00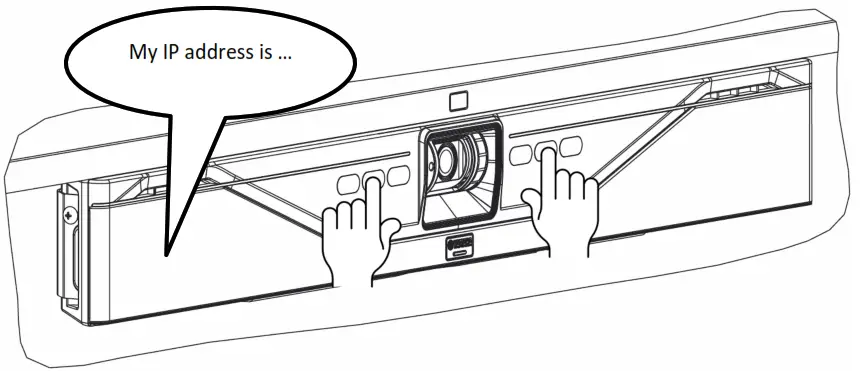 Manufacturer: Yamaha Unified Communications, Inc.
Address: 144 North Road, Suite 3250
Sudbury, MA 01776, USA