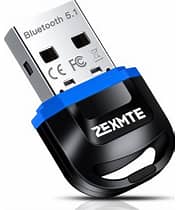 Bluetooth Dongle Instruction
Part1:Most Win 10, Some Win 8
It is plug and play and no need to install the drive
Plug Bluetooth dongle into PC (Front USB port, if possible).
Wait for about 5-10s until the Windows own driver is installed.
Reboot the computer, a Bluetooth icon will appear on the task tray.
Right-click the Bluetooth icon on the task tray, select "Add Bluetooth Device".
Put your Bluetooth device into pairing mode.
Follow on-screen indications to search, pair, and connect.
Part2:Win 7, Vista, XP, Some Win 8
Take Windows 7 as an Example(How to install the CD driver)
Insert Bluetooth adapter into the computer, when message pomp up says 'Installing device software', insert our disk which contains a driver file, and double click 'Setup.exe' to start.

Select corresponding language, then confirm.
Then click 'I accept the terms in the license agreement'; and 'Next' again. Second, assign a destination folder, and click 'Next' afterward


Discovery Mode set as 'Discovery ON', enable/disable SCMST; and then select corresponding computer type. Finally, click 'Next'.

Installation wizard completed.

Reboot your computer after finish installation
Part3:How to connect the cell phone
Find the Bluetooth icon in the toolbar, right-click 'Add Bluetooth Device', then select all devices.

Double click the device you want to pair with, then start pairing.
The computer will appear a pairing code, first confirm pairing on your phone end, then click 'Next' on the computer.

Computer and cell phone pairing is done successfully via Bluetooth

Part 4:Data Transfer
1.Right-click the file which you want to transfer and select 'Send to Bluetooth Device'

2.Select a receiving device, here we take 'HUAWEI P7' as a For example, click 'Next'

3.On your phone end, click 'Accept' to start data transfer.

Part 5: How to connect the Bluetooth headset
Find the Bluetooth icon in the toolbar, right-click 'Add Bluetooth Device', then select all devices.
Start to search for Bluetooth headset, the headset enters pairing mode

Click the headset you want to pair with, then start pairing.
Pairing with the headset is done successfully via Bluetooth

Test with music. If no sound, go to Sound Settings, In the Playback tab select the connected headset and click 'Set Default'.
Troubleshooting
If your Win 7/XP/Vista computer does not have a CD drive, please access zexmte.com or contact customer service for help via:

[email protected]

Why is the audio quality so terrible?
A: Please uncheck "Handsfree telephony" from the services set on your Bluetooth device: Control Panel/Hardware and
Sound/Devices and Printers -> select your device and right-click, open Properties, then go to Services tab and uncheck Handsfree Telephony.
If success installed the driver but cannot search any Bluetooth device.
A: It's most likely because your device is not in pairing mode. The second, you can reboot the computer again
Why can't recognize the Bluetooth adapter when inserting it into a computer USB port?
A: It is possible that the Bluetooth service is disabled: Use "win+R"enter:'Services.msc'.
2. Find the 'Bluetooth Service', and set the startup type to "automatic" mode
Short Range
A: Because Bluetooth is short-range wireless communication technology. The normal range for class 2 devices is a line of sight 510m. It could interfere with other wireless signals(WIFI) or obstacles.
Why is there appear drive error or a yellow exclamation point on the device manage page?
A: Maybe the computer has built-in Bluetooth: Use the shortcut
key 'Win + R" enter "devmgmt.MSC", and then find the built-in Bluetooth and disable
Why do you listen to music intermittently?
A: Please remove the Bluetooth headphones from devices. Then re-pair the headphones and add them back as a device.
If you have received the broken products or meet any the problem, please kindly contact us via the email below with Amazon order ID so we could assist you further: [email protected]
Thanks
Best Regards
ZEXMTE STORE