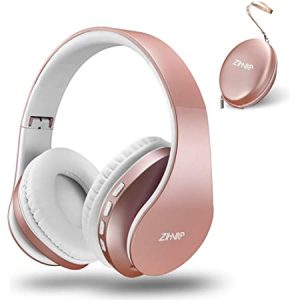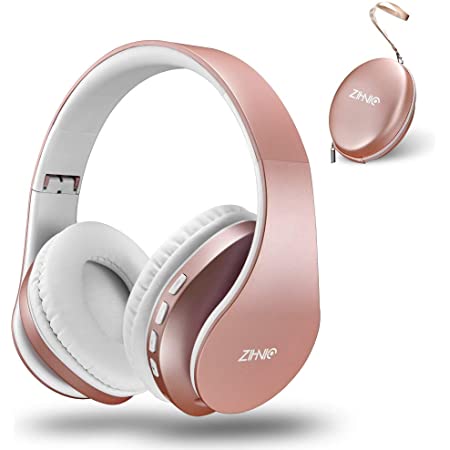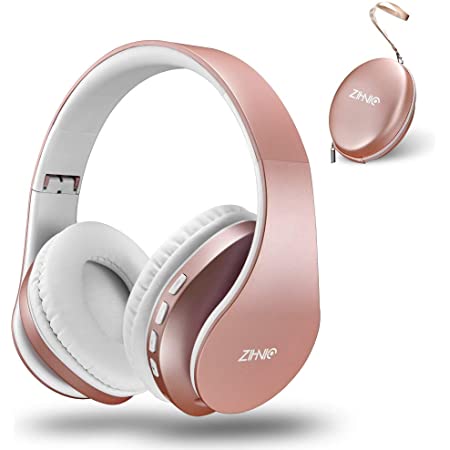 Bluetooth Headphones Over-Ear, Zihnic Foldable Wireless Headset-Complete Features/Instructions Manual
Specifications
PRODUCT MODEL: Headphones Zihnic
SIGNAL TO NOISE RATIO: >90db
FREQUENCY: 20HZ TO 20KHZ
CARRIER FREQUENCY: 2.4 GHz to GFSK
OUTPUT: 20mA
COVERAGE: 10m
IMPEDANCE: 32
SIZE: 40mn
CURRENT: 30mA
VOLTAGE: 3.7V
CHARGING TIME: 2.5h
Introduction
To provide the finest user experience, the Zihnic Folding Headphone offers a foldable design and noise reduction technology for their headphones. To be more specific, you can easily use your headphones on the bus or anywhere else where there is a lot of noise without being bothered by it.
It also has both a Bluetooth and a wired mode, which is useful. This type, in particular, has a tremendously stable Bluetooth connection with a wireless range of up to 30 feet, allowing you to connect it to several devices over a long distance.
Battery
In terms of runtime, Zihnic headphones' 450mAh battery allows you to immerse yourself in your favorite music, films, or other material for up to 15 hours, which is an average period when compared to other manufacturers.
Features
Nonetheless, some customers have expressed dissatisfaction with the delay whether listening to music or streaming movies or videos. Furthermore, the Zihnic Headphones' FM Radio function is underwhelming in terms of stations from which they can receive clear signals, which may disappoint some.
Wired Functions
If you want to connect the Headphones with a wire follow the following step
Connect the 3.5mm stereo wire with the jack of the headphone and the other end with the device which you want to connect.
Price
Zihnic is a good and reliable product in very good and budget friendly price. The performance and the product value make it worth buying.
Product Description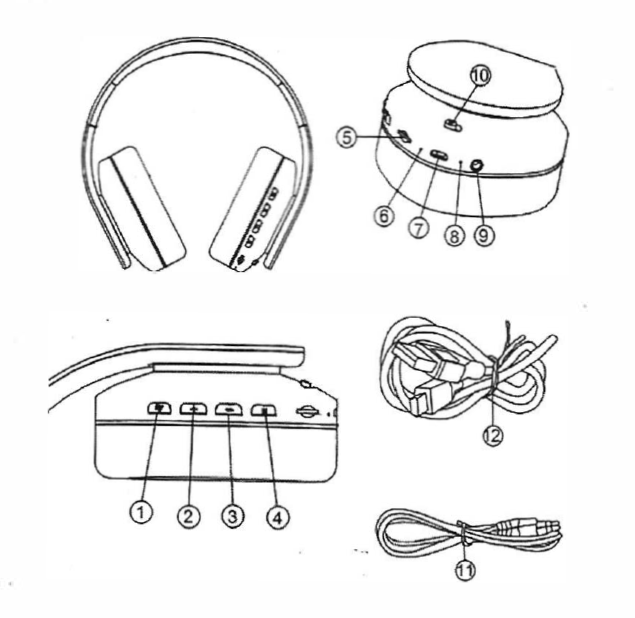 Power on, off button which plays different functions i.e., answer and reject calls, play, pause and stop etc.
(Long Press) Volume Up, (Short Press) Last Song.
(Long Press) Volume Down, (Short Press) Next Song.
Mode can be switched for Bluetooth, Fm Radio and MP3.
32GB micro-SD card Slot.
LED Indication sign.
USB Charging Port. (Micro)
Mic
Headphone Jack.
Power Button.
5 stereo wire.
Charging cable.
Power On and Off
ON
To power on the Zihnic headphone follow the following steps:
Move the power button to right.
Blue indictor light will light.
OFF
To power off the Zihnic headphone follow the following steps:
Move the power button left.
The blue indictor light will turn off.
Pairing with Mobile and other Bluetooth devices
(Your headphone should be off before pairing, otherwise it will be connected to the device which is paired before.)
Turn the Bluetooth on your mobile.
Search the Zihnic headphones to pair on your mobile phone.
When you see the Zihnic, click on the name and enter the code"0000" or "1234" if needed.
When the device is paired, the blue indicator will start blinking.
Pairing with MP3 and FM
Insert TF card.
Press MP3/FM button. MP3 will be played automatically.
Press MP3/FM button twice, FM will be played automatically.
Press MP3/FM button twice, BT will be played automatically.
Answering and rejecting a call
To answer or reject the call, follow the following steps:
Short press the button to answer the call.
Press to reject the call.
If you want to redial press twice
Music will be paused if you receive a call and it will be played automatically when call will end.
Charging
Connect the micro-USB cable to the charging port of Zihnic it will be charged after 2.5 hours.
When the battery will be low: the Zihnic headphones will show a RED indicator light.
PROS
Good design with Bluetooth 5.0
Good Bluetooth and wired connection.
Long time battery life
Good and comfortable design
CONS
Long pauses when playing.
Limited features of FM radio.
Verdict
You can buy these headphones if you want a good and trendy look. The headphone has a very good range of Bluetooth which is a good point to buy the Zihnic headphones. The Zihnic offers good features in very good price.
Frequently Asked Questions
Do Zihnic headphones have microphone?
A built-in microphone on the Zihnic headset guarantees greater sound quality for hands-free calls.
How long does it take to charge Zihnic headphones?
The headset takes 2 to 2.5 hours to completely charge. The battery may be recharged.
How do I know when my Bluetooth headset is fully charged?
The green indicator light will start blinking when the device is fully charged.
How do I extend the battery life on my Bluetooth headset?
Avoid putting your phone on charging when the battery is full 100%.
Do wireless headphones use more battery?
Headphones deplete battery power since they require electricity to operate. Normally, the sum is insignificant. The battery will be partially depleted by high-quality headphones with a higher bass setting. Wireless headphones and earphones use more power than corded headphones and earbuds.
FAQS
does it work with outgoing calls?
Yes. outgoing and incoming calls.
Is there a mute button for the microphone on the headset? I see conflicting information in the reviews.
There is no mute button. There are volume +/- buttons. There is a button labeled "M" but it disconnects the Bluetooth, it does not mute.
What type of usb cable does it use? mini? micro?
Micro USB on the headset
Will they work with a firestick tv?
As long as it's bluetooth, it should work.
Do you know if is is compatible with iPhone 11 please??
It's compatible with anything that has bluetooth, as are every other bluetooth device.
Are they compatible with I podnano with bluetooth
Yes, zihnic Bluetooth headphone can pair with any Bluetooth devices.
Does the volume control merely change the device settings or is it independent of the source output?
The volume control is independent.
Would the wireless microphone work with computers? i need a headset that would work for both my pc (for discord mainly) and android phone.
Undoubtedly your laptop has bluetooth, thus that would work. If your phone has bluetooth, it will also work.
does this headset work for an iphone 12 pro max?
Yes, perfectly.
Will Bluetooth shut off when audio stops for awhile, even though mobile device still connected?
No…blutooth remains connected, but the headphones will power off if there is no activity/ audio for I believe 10 minutes.
Does the microphone work in both the wired and wireless modes?
yes our Bluetooth headphones work in both mode.
do these have or come with a microphone to talk while on phone or gaming?
It does have a crap microphone
Can the rechargeable batteries be replaced? If so, what kind of battery?
Yes if you know how to safely do a tear down of the Right headphone find the volt and amp match the battery type. You should be able to order a replacement after you see the battery. But the warrent is VOID after you open the headphone
Is the headband metal or plastic?
Headband is sturdy metal and plastic hinged to fold up.
Is this Bluetooth version 5
Yes. The manual specifically says Bluetooth V 5.0+BR+EDR+BLE.