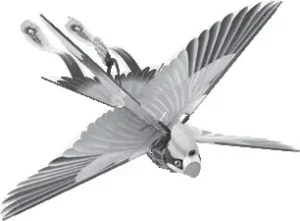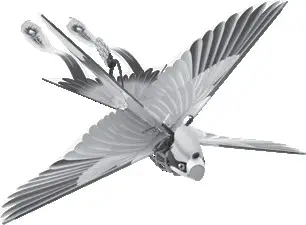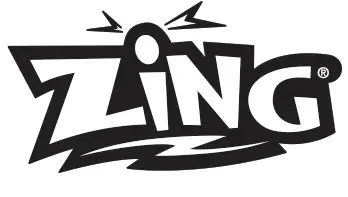 User Manual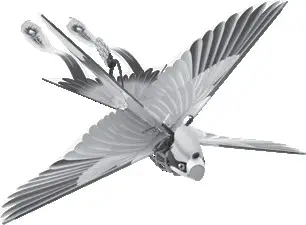 Go Go Bird and Accessoriess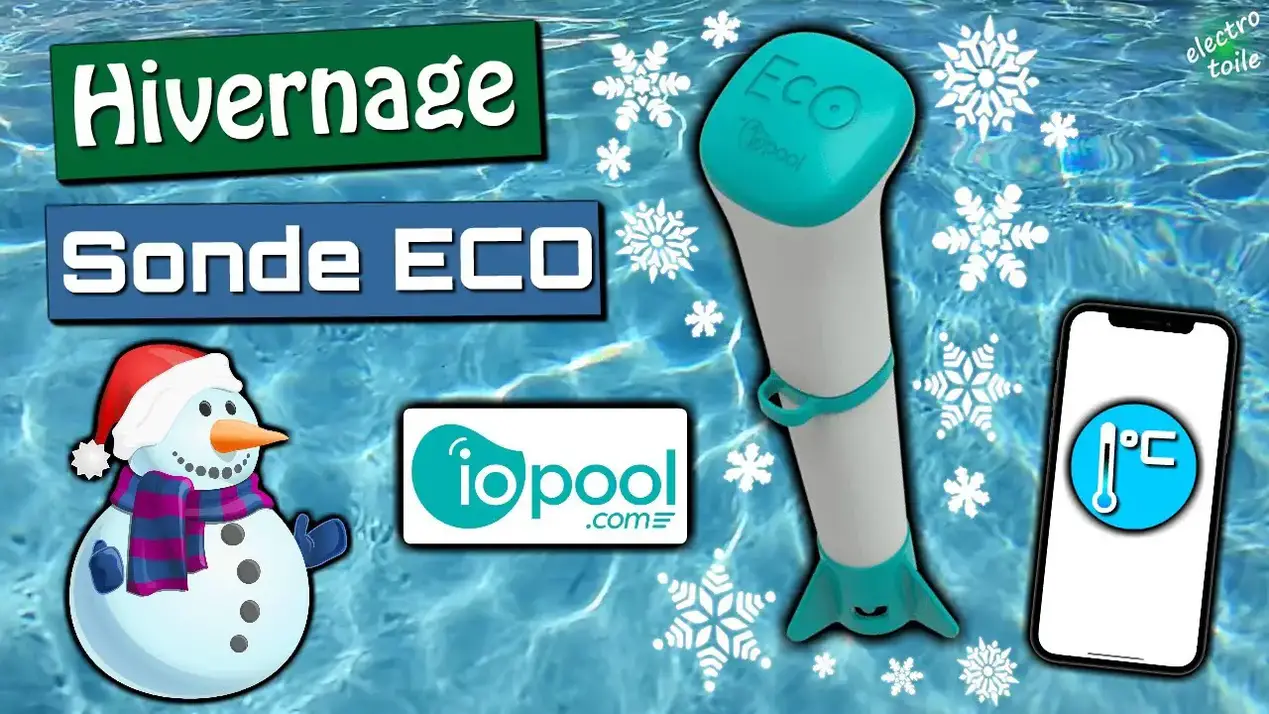 A. Go Go Bird Lithium Battery
Plug the lithium battery directly into the USB charger (Figure 1-1). Connect the charger to an adaptor, computer, or any DC 5.0V USB charging port.
Two LED indicator lights will Illuminate. The green light indicates that the power source is working and the red light indicates that the battery is charging.
When charging is complete, the red light will turn off. Unplug the USB charger from the power source and remove the lithium battery promptly. (Charging time is around 20 mins, flight duration is around 10 mins.)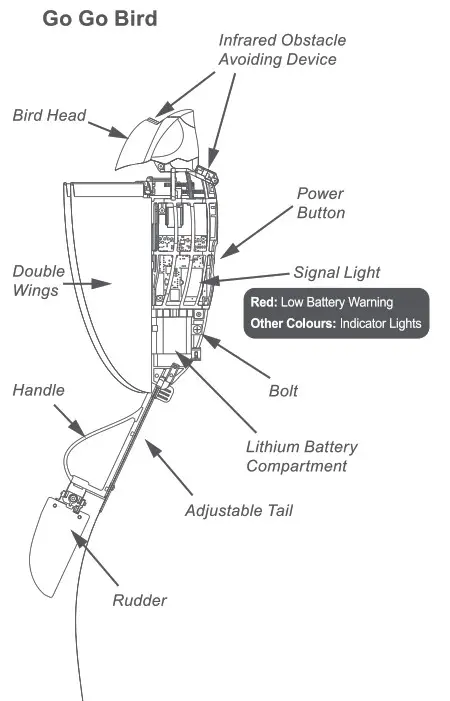 When Go Go Bird's signal light turns red, the lithium battery is running low. Replace the exhausted lithium battery as soon as possible. (Figure 1-2)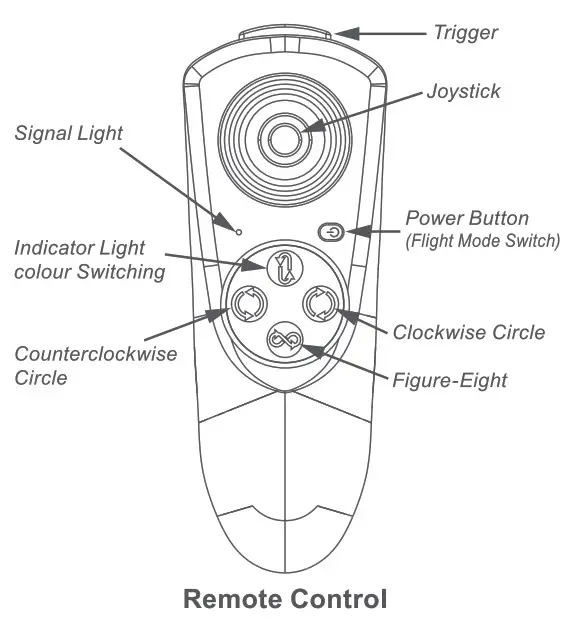 How to remove the lithium battery from Go Go Bird: First, use the screwdriver to loosen the bolt of the battery compartment near the back of Go-Go Bird and lift up the cover (Figure 2-1). Then, carefully pull the lithium battery straight out, away from Go Go Bird's head until it is loose (Figure 2-2). Pull the battery out from the side (Figure 2-3).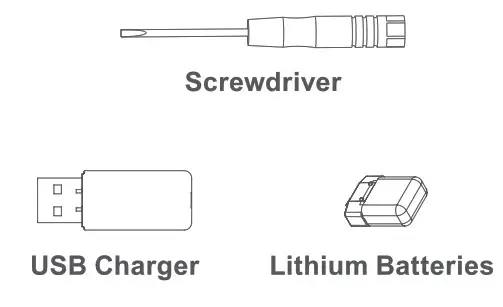 B. Remote Control Use the screwdriver to remove the battery compartment cover (Figure 3) and install 2 AAA batteries (batteries sold separately). Replace the cover and tighten the screw afterward.
Press the power button to turn the remote on. Hold the power button until the signal light turns off to turn the remote off. The remote will turn off automatically if there is no input for 12 minutes.
The signal light will start to flash when the batteries are running out of power. If Go Go Bird is currently flying, land it before replacing the batteries. The signal light will flash for 30 seconds before the remote turns off automatically.
Exhausted batteries are to be removed from the remote control battery compartment immediately.

C. Pairing Go-Go Bird with the Remote Control Your Go-Go Bird should already be paired with the remote control, but if you are experiencing connectivity issues, please refer to the steps below.
Turn Go-Go Bird on and check to see that the green indicator light is on.
Place the remote next to Go-Go Bird.
Start with the remote control off, then holding the trigger button and the buttons at the same time, push the power button to turn the remote control on (Figure 4).
Go Bird's signal light should begin flashing indicating that the pairing was successful.
If it fails to pair, repeat the steps above. If the remote turns off, Go Go Bird will automatically stop flapping its wings.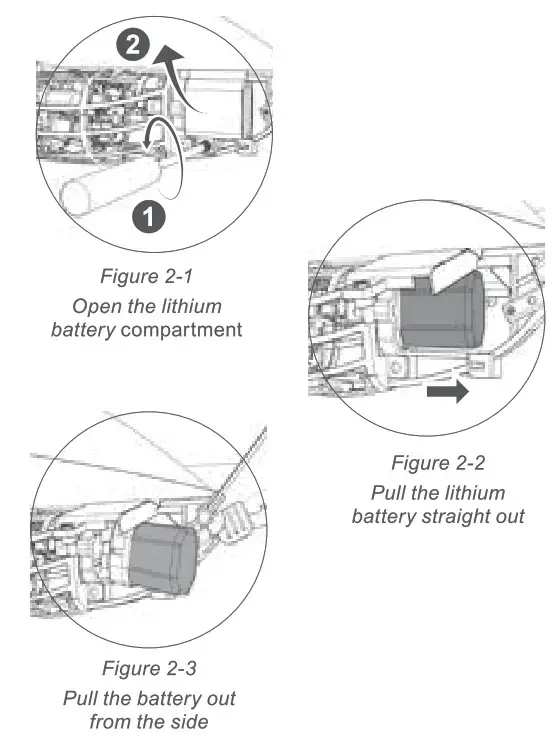 Flight Operation
A. 2 Methods to Begin Flight
Method 1: Gyroscopic Sensor Turn on the Go-Go Bird and the remote. Hold Go-Go Bird horizontally and quickly drop your arm about 30cm (Figure 5-1) until the wings start to flap. Repeat if Go Go Bird doesn't start flapping. Gently toss Go-Go Bird forward to begin flight.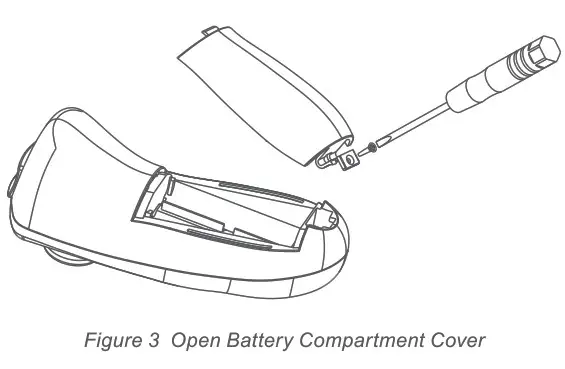 Turn Go-Go Bird off by turning it upside down (Figure 5-2). The wings will immediately stop flapping.

Method 2: Remote Control
Turn on the Go-Go Bird and the remote. Hold Go-Go Bird horizontally (Figure 6-1) and press the trigger button on the remote (Figure 6-2) to make the wings begin to flap. Gently toss Go-Go Bird forward to begin flight.
Press the trigger button again (Figure 6-2) to make the wings stop flapping.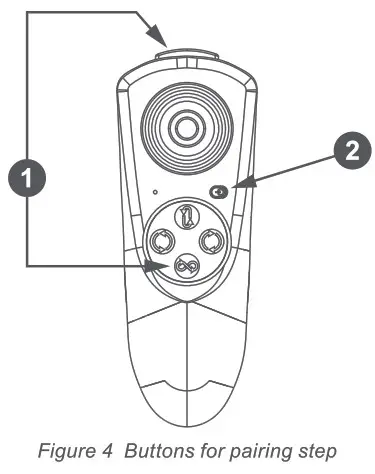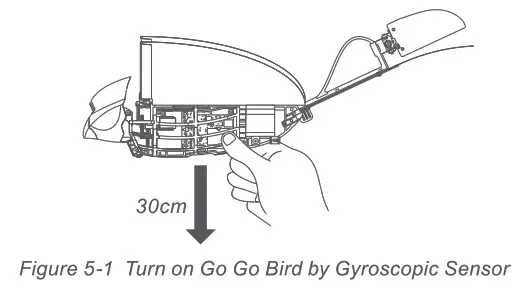 B. Signal Light
You can assign your Go-Go Bird signal light a unique color when flying with other Go-Go Birds to help distinguish them from each other. Press the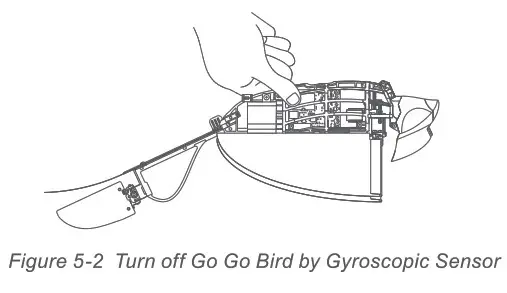 button on the remote control to change the signal light color (Figure 7-2). Press it again until you arrive at the color you want.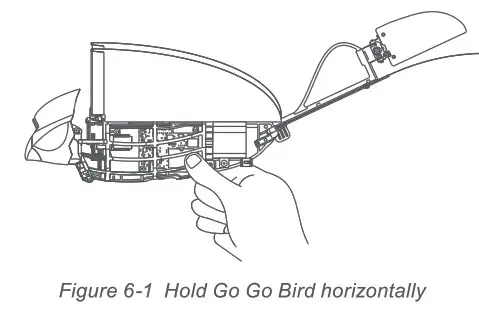 C. How to use Remote Control
(Refer to Figure 8)
| | |
| --- | --- |
| Trigger Button | Start/Stop flapping wings |
| Move Joystick Upwards | Speed Up |
| Move Joystick Downwards | Slow Down |
| Move Joystick Left/Right | Move Left/Right |
| Button | Fly in a clockwise circle until another command is given |
| Button | Fly in a counterclockwise circle until another command is given |
| Button | Switch indicator light color |
| Button | Fly in a Figure-Eight |
| Power Button | Hold to turn ON/OFF Tap to switch flight modes |

The default setting for Go-Go Bird is to fly straight and at the same altitude at which it was released. Move the joystick in any direction to control the flight.
Go Bird's flight speed can be set by manually adjusting the tab near Go Go Bird's tail. Push the tab all the way for high-speed flight (Figure 9-1). Pull the tab back until you hear a click for low sneer flight(Figure 9-2)

Troubleshooting
No response when turning on the remote control
Double-check whether AAA batteries are installed correctly or replace them with new batteries.
No response or weak performance when turning on Go Go Bird
Make sure the lithium battery is installed correctly and. fully charged.
Remote control fails to control Go-Go Bird
Turn Go-Go Bird and remote control off and repeat the pairing steps.
Wireless Control Specifications
Declaration for EU Compliance
Frequency Bands:
2424-2472 MHz
Max. Output Power:
-0.56dBm (Remote Control)
3.64dBm (Bird)
Tips and Tricks
Get longer flight times by increasing altitude then slowing down to maintain level flight.
Spirals are fun, you can also keep spinning to lower your
Swoop there it is! While flying, turn off the wings to watch the Go-Go Bird start to glide to the ground, turn it on quickly again and it will swoop!
Turning any direction after a swoop prevents a stall and looks super cool.
The best way to gain height is to fly straight and at full speed.
Remember the controls seem reversed when the bird is flying toward you.
When launching Go Go Bird into the sky don't throw it, gently push it away from you.
Table Launch! place the Go-Go Bird upside-down on the edge of a table and double-tap the trigger button to watch the Go-Go Bird flip over and fly off the table!
When your Go-Go Bird's red light starts blinking the battery is low, it's best to land it and grab that extra battery.
When you play outdoor, it is not recommended to use when wind speed outside Level 3 (12-19 km/h).
Additional Information
When removing Go-Go Bird from the box, try not to grab the wings and tail (Figure 10). Keep Go-Go Bird away from sources of heat and sharp objects.
When playing with multiple Go-Go Birds, pair each one Do not turn on the switch for two or more Go-Go Birds and pair with the remote controls at the same time.
Please keep Go-Go Bird insight when flying. Avoid water, trees, power lines, etc.
Press the power button or trigger button in an emergency to make Go Go Bird stop flying and land immediately. Check the wires, battery, shell, and other parts regularly. If there is damage, do not use it until it is repaired.
This product is not suitable for children under 3 years old. Please keep the user manual and package as they contain important information.
Please use the customized lithium batteries that come with Go Go Bird only. Do not match with other lithium Rechargeable batteries are only to be charged under adult supervision. Rechargeable batteries are to be removed from the toy before being charged.
AAA batteries are to be inserted into the remote control with the correct polarity. Non-chargeable batteries are not to be Different types of batteries or new and used batteries are not to be mixed. Exhausted batteries are to be removed from the toy. The supply terminals are not to be short-circuited. Do not mix old and new batteries. Do not mix alkaline, standard (carbon-zinc), or rechargeable batteries.
For lithium battery, kindly pay attention to below
Keep small cells and batteries which are considered swallowable out of reach of children.
Swallowing may lead to burns, perforation of soft tissue, and death. Severe burns can occur 2 h of ingestion. In case of ingestion of a cell or battery, seek medical assistance promptly.
Do not disassemble. Do not short circuit.
Do not dispose of in fire.
Do not expose to high temperature (60°C/140°F).
Do not open. Do not crush.
FCC Compliance
This device complies with Part 15 of the FCC Rules. Operation is subject to the following two conditions: (1) this device may not cause harmful interference, and (2) this device must accept any interference received, including interference that may cause undesired operation.
Note: This equipment has been tested and found to comply with the limits for a Class B digital device, pursuant to Part 15 of the FCC Rules. These limits are designed to provide reasonable protection against harmful interference in a residential installation. This equipment generates, uses and can radiate radio frequency energy and, if not installed and used in accordance with the instructions, may cause harmful interference to radio communications. However, there is no guarantee that interference will not occur in a particular installation.
If this equipment does cause harmful interference to radio or television reception, which can be determined by turning the equipment off and on, the user is encouraged to try to correct the interference by one or more of the following measures:
Reorient or relocate the receiving antenna.
Increase the separation between the equipment and receiver.
Connect the equipment to an outlet on a circuit different from that to which the receiver is connected.
Consult the dealer or an experienced radio/TV technician for help.
Caution: Changes or modifications not expressly approved by the party responsible for compliance could void the user's authority to operate the equipment.
IT Regulatory Compliance
This device contains license-exempt transmitter(s) / receiver(s) that comply with Innovation, Science, and Economic Development Canada's license-exempt RSS(s). Operation is subject to the following two conditions: (1) This device may not cause interference. (2) This device must accept any interference, including interference that may cause undesired operation of the device.
RF Exposure Compliance
This equipment complies with FCC/IC radiation exposure limits set forth for an uncontrolled environment. This transmitter must not be co-located or operating in conjunction with any other antenna or transmitter.
CAN ICES-3 (B)/NMB-3(B)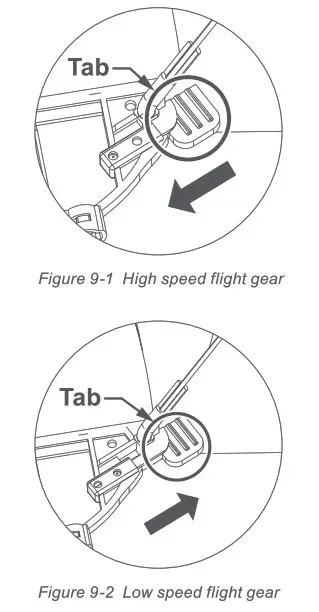 www.gogobird.toys

©2020 ZING GLOBAL LTD. Trade Marks pending and Patent Pending.
Product style and colors may vary from the package.
Please retain the package for future reference.
MADE IN CHINA AU KA ZG789 IM 01