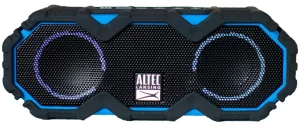 Altec Lansing LifeJacket Mini Waterproof Bluetooth Speaker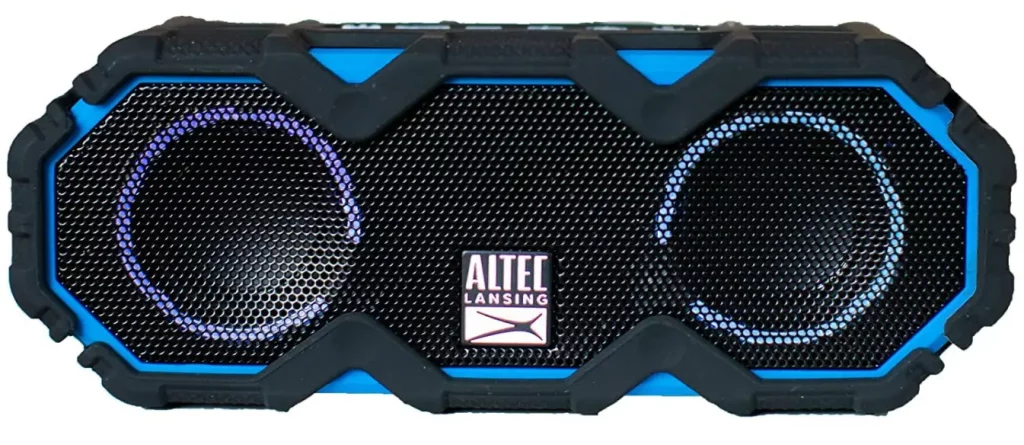 Specifications
SPEAKER TYPE: Outdoor
Special Feature: Waterproof
CONNECTIVITY TECHNOLOGY: Bluetooth
POWER SOURCE: Battery Powered
BATTERY LIFE: 16 Hours
PRODUCT DIMENSIONS: 7.6 x 8.3 x 3.4 inches
ITEM WEIGHT: 1 pounds
BATTERIES: 1 Lithium-Ion battery
NEODYMIUM DRIVERS: 2 x 1.5″
PASSIVE RADIATOR: 86mm x 36mm
WATERPROOF: IP67
PLAYTIME: 16 hours
COMPATIBILITY: Android and IOS smartphones, laptops, PCs, tablets, and any other device that supports Bluetooth
RANGE: 100 feet
Introduction
With its two 1.5″ Neodymium Drivers and one 86mm x 36mm Passive Radiator, our portable Bluetooth speaker is modest in size yet packs a powerful punch that will enhance your listening experience. Our portable party speaker with lights may be utilized in the rain, snow, and other weather conditions because of the sturdy construction and waterproof design. The speaker floats to the top when thrown into water, making it perfect for pool parties. For whichever outdoor activity you have in mind, our IP67 waterproof speakers for parties and travel are ideal. They are ideal for beach getaways, pool parties, camping, and many other activities because they are lightweight, strong, and float in water. Our Bluetooth wireless tiny speaker has a built-in rechargeable battery that enables up to 16 hours of playback time and can be recharged using any USB power outlet. It has LED lighting fixtures that move and pulse in time with the music.
All Bluetooth-enabled devices, including laptops, PCs, tablets, and smartphones running Android and iOS, are compatible with our little outdoor speaker. Up to 100 feet, the speaker can keep a steady connection with your smartphone.
HOW TO RESET
Bluetooth can be disconnected by pressing and holding for five seconds. Press and hold for 10 seconds to reset all connections. The gadget will beep twice.
HOW TO CONNECT TO BLUETOOTH
Navigate to your Bluetooth device's Bluetooth Manager. To connect, look for Bluetooth devices and choose "JH2O Mini." – Whenever a PIN is required, enter "0000" and then confirm the entry. You will audibly hear your speaker say, "You are now paired, enjoy," when you pair the devices.
HOW TO CONNECT PHONE TO ALTEC LANSING SPEAKER
Turn on Bluetooth on your Android device and search for the Altec Lansing Speaker if your Altec Speaker is flashing. It ought to appear; if it does, simply click on it on your phone, and the speaker system will be instantly connected.
Frequently Asked Questions
How can I tell whether my Altec Lansing speaker has enough juice?
Connect to a power source using the provided charging wire. A red LED light will be seen on the front of your speaker when it is charging. The LED will stop shining after your speaker has been fully charged.
How long does it take to charge an Altec Lansing speaker?
The charging process takes around 4 hours. The power button on the device will become orange when the charging cord is connected. When the item is fully charged, the orange light will go out.
Why is the blue LED on my Altec Lansing speaker blinking?
The speaker is prepared to establish a connection when a blue light on the front of the device begins to blink. The speaker is paired when the blue light remains steady. Verify that there isn't another device connected to the speaker already.
Exactly why won't my Altec Lansing speaker pair?
Restart your computer if your speaker is still unable to establish a Bluetooth connection with a smartphone. Press and hold the volume up and volume down keys on top of the speaker for 5-7 seconds to restart the system. The speaker's factory settings will be reinstated as a result.
Why are the blue and red LEDs on my Altec Lansing speaker blinking?
Start by pressing and holding the power button while the speaker is turning on for about 5-8 seconds. When your speaker is turned on, a flashing red and blue LED light will appear to show that pairing mode is active.
Why isn't my Bluetooth working?
Go to Settings > System > Advanced> Reset Options > Reset Wi-fi, mobile, & Bluetooth on Android devices. For iOS and iPadOS devices, you'll need to unpair every device first, then restart your phone or tablet by going to Settings > Bluetooth, selecting the info icon, then selecting Forget This Device for each device.
My Altec Lansing life jacket needs to be reset.
Bluetooth can be disconnected by pressing and holding for five seconds. Press and hold for 10 seconds to reset all connections. The gadget will beep twice.
Is using a Bluetooth speaker while it's charging, okay?
Yes. Without endangering the battery, you can use your Bluetooth speaker while it is charging. When using the speaker for the first time, you should fully charge it while it is off so that you may check the battery life.
My Altec speakers need to be connected.
For around 2 seconds, or until the LED light on the Bluetooth button turns green, press and hold the Bluetooth button on the parent speaker. 4. Quickly press the child speaker's Bluetooth button. Its Bluetooth button's LED light will also become green.
How can I link my TV to my Altec Lansing speakers?
To the HDMI ARC port on the back of your speaker, attach one end of a premium "High-Speed" or "Ultra High Speed" HDMI cable. NOTE: ARC will not function with lesser-quality cables that are not marked as high-speed. The HDMI cable's other end should be connected to your TV's ARC-enabled HDMI input.