Find out how to plug you Amazon Echo Show 8 in and get started wit it right away with this user guide. These instructions also contain an FAQs section that can help answer your query about the tablet much faster.

Amazon Echo Show 8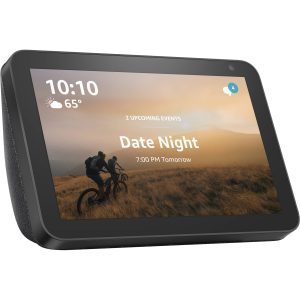 Getting to know your Echo Show 8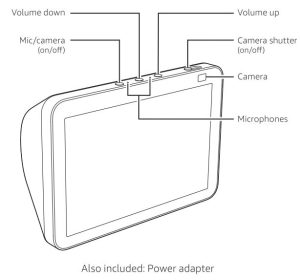 Alexa is designed to protect your privacy
Wake word and indicators
Alexa doesn't begin listening until your Echo device detects the wake word (for example, "Alexa").A blue light lets you know when audio is being sent tn Amazon's secure cloud.

Microphone and camera controls

Voice History
Plug in your Echo Show 8
Plug your Echo Show 8 Into an outlet using the Included power adapter. In about a minute, thedisplaywill turn on and Alexa will greet you.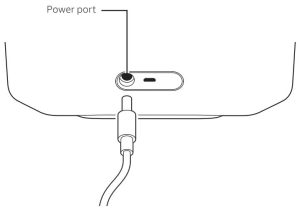 Set up your Echo Show 8
Follow the on-screen Instructions to set up your Echo Show B. Before setting up your device, have your wifi network name and password ready. During sebJp, you will connect to the internet so you can have access to Amazon services.
Log in with an existing Amazon account username and password, or create a new account.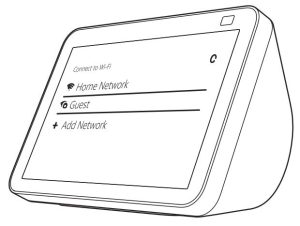 For help and troubleshooting, go to Help & Feedback In the Alexa app or visit: www.amazon.com/devicesupport.
Explore your Echo Show 8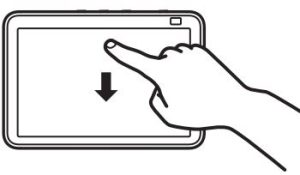 Swipe left to access your shortcuts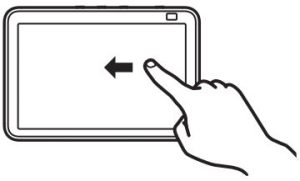 FAQs
Can I move it wherever I want?
It requires a WiFi connection to access the net. If you go outside the range of your home WiFi it won't work, even with the battery base attached.
Does the ring stick up cam work with the show?
Yes it does.
Can this show 8 be used without cables or any sockets?
No, it comes with a power cable, so it needs to remain plugged in for it to work.
Can you watch youtube tv on an echo device?
Yes, using Silk and navigating to the YouTube TV Web GUI.
Can you leave it on all the time or do you have to turn it on?
You cannot turn it off. It is always on displaying messages from Amazon. The screen dims if the room is dark.
Can I communicate with someone in the house using the Show and using my phone when I'm out of the house?
yes you can as long as you link them together. Just ask Alexa and she will guide you all the way.
Can additional streaming apps be added, or is it limited to what is preloaded? for instance, frndlytv or youtube tv ?
Yes. You can do this.
Can you leave the battery base plugged in so that it charges while Echo show is attached, and then just unplug base from wall when you want portable?
Yes you can.
Can I charge it and bring the Echo Show 8 with me?
no, Echo Show 8 needs to be always connected to energy.
Can you use this even if you have a regular Alexa set up int the same house? Will they interfere with each other?
I changed wake word via app. TV fire cube Is Alexa and dot is Echo. You can use any word you want to get device to listen to you.
Does this work with arlo cameras
Works with any camera that is Alexa compatible. Check Arlo site.
Can the Echo Show set to only recognize my Voice alone?
It does, but if someone in the house says the name you gave it, it'll respond to it.
Can you connect this to an echo studio (or other model/brand) to improve the music quality? Or does that interfere?
No
Can i watch CNN on this?
Yes, just ask Alexa to play CNN. It plays just about any and everything you want.