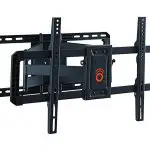 Dual Arm Full Motion TV Mount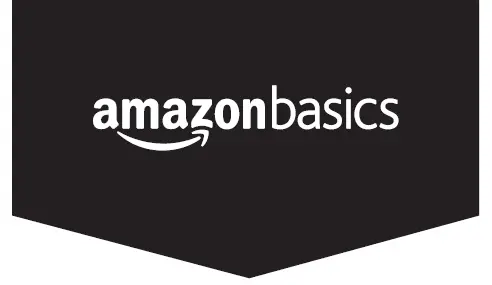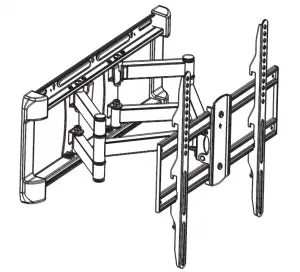 Dual Arm Full Motion TV Mount, 32″ to 65″ Support Mouvement Complet à Deux Bras pour Téléviseur, 81 à 165 cm (32 à 65 po) Voll Bewegliche TV-Aufhängung mit Doppelarm, 81 bis 165 cm (32 bis 65 Zoll) Supporto TV Full Motion a Doppio Braccio, da 81 a 165 cm (da 32 a 65 Pollici) Soporte de TV con Movimiento Completo y Doble Brazo, 81 a 165 cm (de 32 a 65 Pulgadas) TV-beugel met dubbele arm en volledig beweegbaar, 81,3 cm tot 165,1 cm TV 81 165 cm (32 65 )
B07MR4GRQP
Welcome Guide
IMPORTANT SAFEGUARDS
Read these instructions carefully and retain them for future use. If this product is passed to a third party, then these instructions must be included.
When using the product, basic safety precautions should always be followed to reduce the risk of injury including the following:
CAUTION This product is for indoor use only! Never use the mount outdoors!
CAUTION This product is for private household use only and therefore may not be used in public places like restaurants or hotels.
Read these instructions before you begin. If you are unsure about any part of the process, contact a professional contractor or installer for assistance. Only use the correct tools as noted in these instructions. Improper installation can result in personal injuries and/or damage.
At least two people with technical knowledge are required for installing the mount and TV. Keep children and pets away during installation, as they might swallow small parts or packaging resulting in danger of choking/suffocation.
Check carefully to ensure that there are no missing or damaged parts. Never use defective parts.
Use and install this product only according to the intended use as described within these instructions. Misuse may lead to hazards resulting in potential damage and personal injuries. Do not modify the structure of this product in any way. Manufacturer cannot be liable for direct or indirect damage or personal injuries caused by incorrect mounting, incorrect use, modification to the structure, or incorrect assembly. Keep the instruction manual in a safe place.
Refer to the instruction manual provided with the TV you are going to install on this product. It includes additional information for the mounting, ventilation and suitable mounting location. Compare the technical data and requirements to make sure that this product is suitable for your TV.
IMPORTANT! Choose the right place to install the wall plate.
For safety reasons make sure the wall can support at least 4 times the weight of the TV and mount. The manufacturer takes no responsibility for failure caused by walls of insufficient strength.
The maximum wall covering thickness; such as gypsum drywall, lath, plastic, etc. should not be greater than 0.63″ / 16 mm (wood stud walls) or 0.4″ / 10 mm (masonry walls). · Do not mount to drywall alone.
Examine the wall you want to install the mount to before you start installation. Make sure that there are no hidden power supply cables, gas pipes, water pipes or other objects hidden in the wall that might be hit by the drill, screws or other hardware.
For wood stud walls: This mount is designed to be mounted to 2″ x 4″ (51 mm x 102 mm) and Grade No. 2, wood studs that are spaced 16″ (406 mm) on center. Wood studs should be 2″ x 4″ (51 mm x 102 mm), at minimum: 1.5″ x 3.5″ (38 mm x 89 mm).
For concrete walls: The bracket must be installed into a solid concrete wall. Make sure the concrete wall is suited for Standard Test Method for Compression Strength of Cylindrical Concrete Specimens, ASTM C39, or equivalent.
This product should never be mounted to metal framing studs or bricks.
If the mounting bracket will be attached to any structure other than specified in this manual, only a licensed professional contractor/installer should perform this installation. The supporting structure must support, at minimum, four times the combined weight of the mounting bracket and TV. It is the responsibility and liability of the installer to ensure the suitability of the supporting structure.
Never install into furniture! This can lead to instability resulting in personal injuries and/or damage.
Always support the TV with your hands when making adjustments. Make sure to tighten screws and other connections well, but do not over-tighten them. Never use an electric tool to tighten screws and nuts.
Once you have mounted the bracket and TV, ensure they are sufficiently secure and safe to use.
Before First Use
Check for transport damages.
DANGER Risk of suffocation! Keep any packaging materials away from children ­ these materials are a potential source of danger, e.g. suffocation.
Cleaning and Maintenance
Periodically clean your mount with a dry cloth. Inspect all screws and hardware at regular intervals to ensure that no connections have become loose over time. Re-tighten as needed.
Users should check and maintain the product frequently to ensure the TV and mount work normally, safely and securely. Make sure the screws are tightened every two months.
FCC ­ Supplier's Declaration of Conformity
FCC Compliance Statement
This device complies with Part 15 of the FCC rules. Operation is subject to the following two conditions:
(1) this device may not cause harmful interference, and
(2) this device must accept any interference received, including interference that may cause undesired operation.
Changes or modifications not expressly approved by the party responsible for compliance could void the user's authority to operate the equipment.
FCC Interference Statement
This equipment has been tested and found to comply with the limits for a Class B digital device, pursuant to part 15 of the FCC Rules. These limits are designed to provide reasonable protection against harmful interference in a residential installation. This equipment generates, uses and can radiate radio frequency energy and, if not installed and used in accordance with the instructions, may cause harmful interference to radio communications. However, there is no guarantee that interference will not occur in a particular installation. If this equipment does cause harmful interference to radio or television reception, which can be determined by turning the equipment off and on, the user is encouraged to try to correct the interference by one or more of the following measures:
Reorient or relocate the receiving antenna.
Increase the separation between the equipment and receiver.
Connect the equipment into an outlet on a circuit different from that to which the receiver is connected.
Consult the dealer or an experienced radio/TV technician for help.
Canada IC Notice
This Class B digital apparatus complies with Canadian CAN ICES-3(B) / NMB-3(B) standard.
Disposal
The Waste Electrical and Electronic Equipment (WEEE) Directive aims to minimize the impact of electrical and electronic goods on the environment, by increasing re-use and recycling and by reducing the amount of WEEE going to landfill. The symbol on this product or its packaging signifies that this product must be disposed separately from ordinary household wastes at its end of life. Be aware that this is your responsibility to dispose of electronic equipment at recycling centers in order to conserve natural resources. Each country should have its collection centers for electrical and electronic equipment recycling. For information about your recycling drop off area, please contact your related electrical and electronic equipment waste management authority, your local city office, or your house hold waste disposal service.
Specifications
Warranty Information
To obtain a copy of the warranty for this product:
US: amazon.com/AmazonBasics/Warranty UK: amazon.co.uk/basics-warranty
US: +1-866-216-1072 UK: +44 (0) 800-279-7234
Feedback and Help
Love it? Hate it? Let us know with a customer review. AmazonBasics is committed to delivering customer-driven products that live up to your high standards. We encourage you to write a review sharing your experiences with the product.
US: amazon.com/review/review-your-purchases
US: amazon.com/gp/help/customer/contact-us
Contents
You will need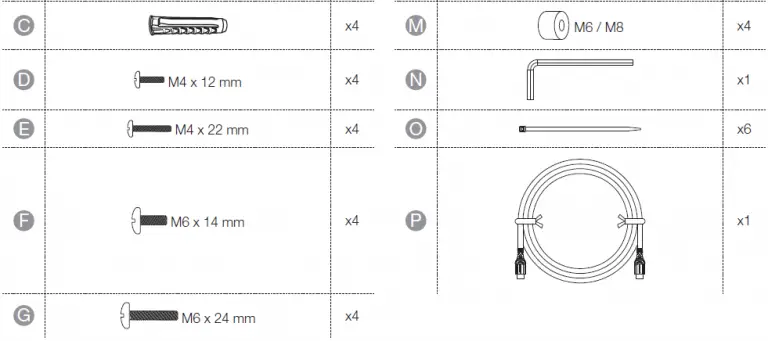 Assembly
Mounting to the wall (Drywall)
1:

CAUTION
For safety reasons, this mount must be secured to at least two wood studs no less than 16″ (406 mm) apart. The studs must be capable of supporting the combined weight of the mount and display.
2:
Use a high-quality stud finder to locate two adjacent studs. Mark both edges of each stud to help identify the exact center.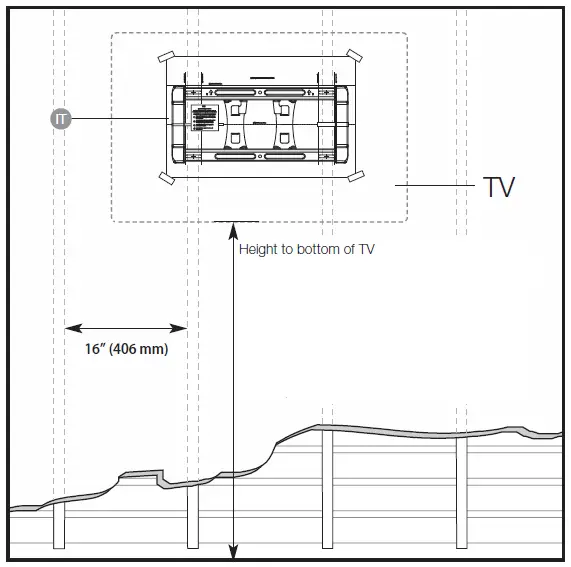 3: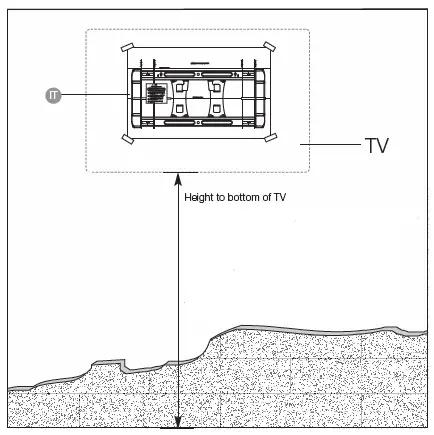 4: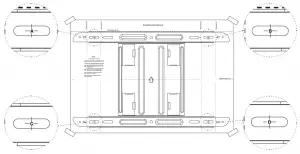 5: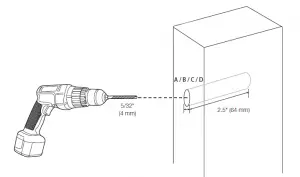 Assembly
Mounting on Concrete Wall
1: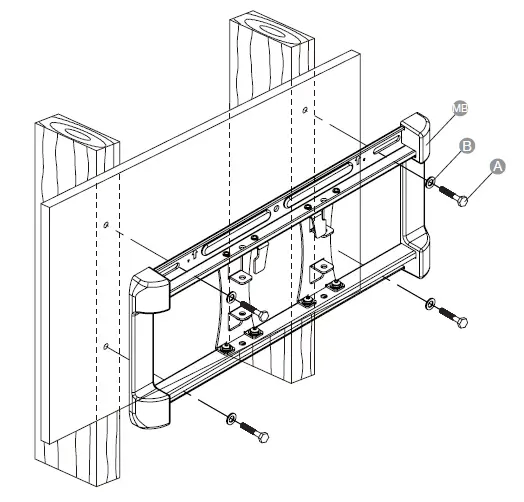 CAUTION
For safety reasons, the concrete wall must be capable of supporting the combined weight of the mount and the display. The manufacturer takes no responsibility for failure caused by walls of insufficient strength.
2: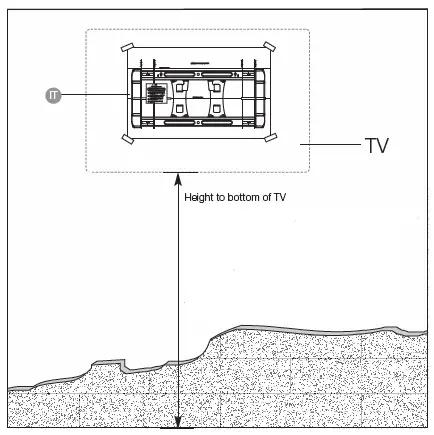 3: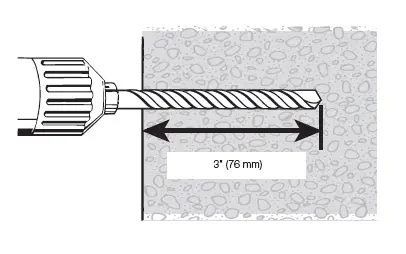 4: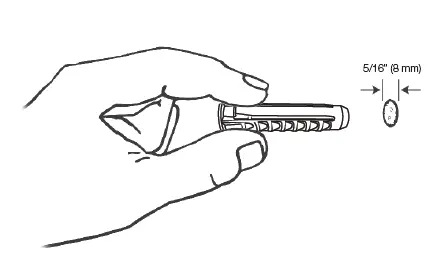 5: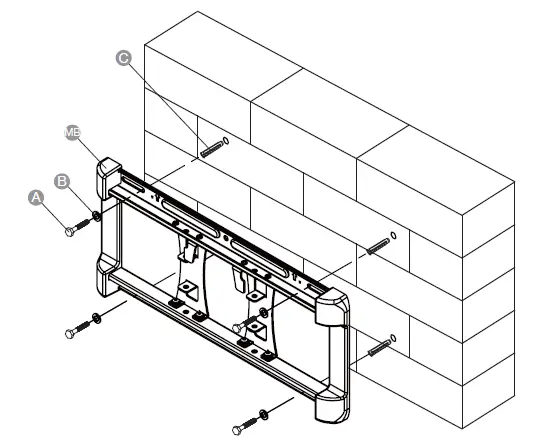 NOTICE
If the concrete wall is covered by a layer of plaster or drywall, the concrete anchor must pass completely through the layer to rest flush with the concrete surface.
Assembly
Attaching the Mount Arms to Display
1: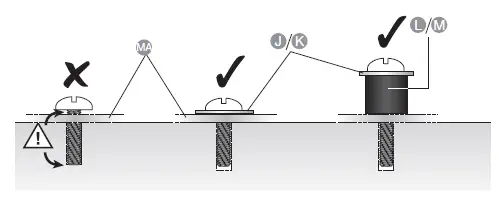 NOTICE
Determine the correct length of screw to use by examining the back of your display.
Determine the correct diameter of screw to use by carefully trying one of each size (M4, M6 and M8) from the hardware kit. Do not force any of the screws ­ if you feel resistance stop immediately and try a smaller diameter screw.
2: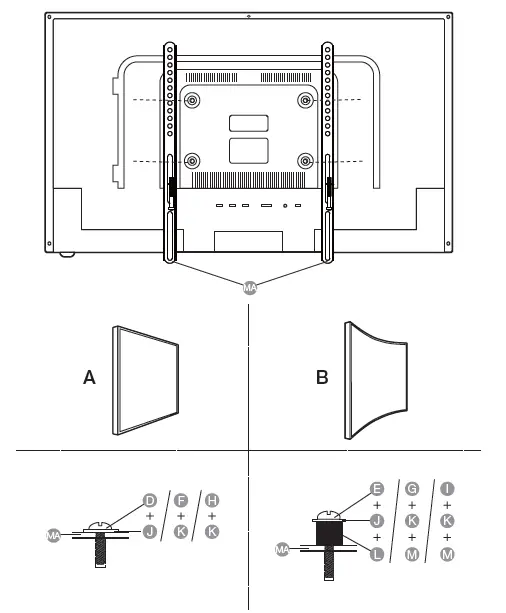 Assembly
Installation
1: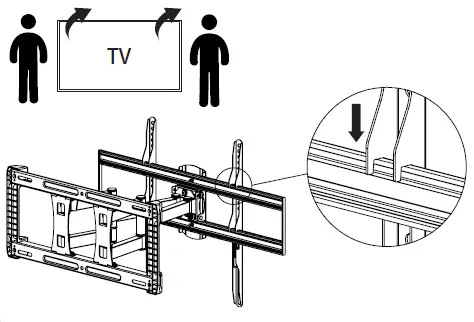 2: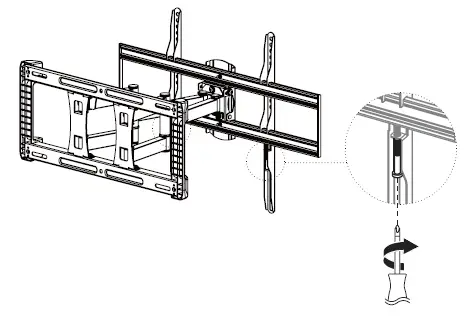 3: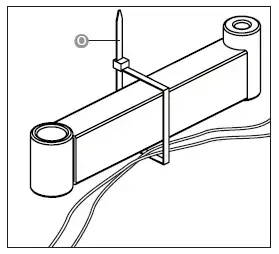 Assembly
Operation and Adjustment
1: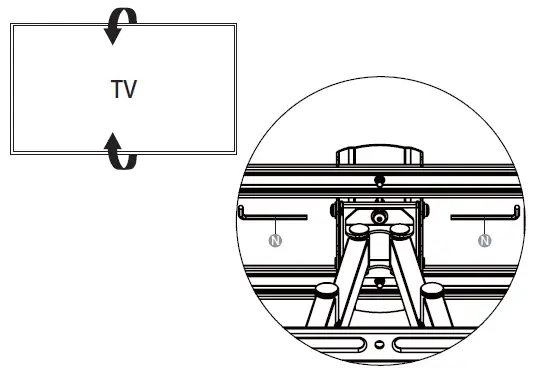 2: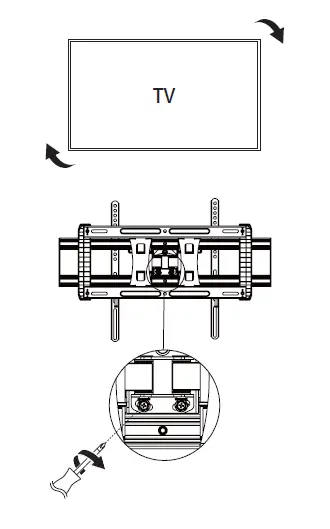 amazon.com/AmazonBasics
MADE IN CHINA