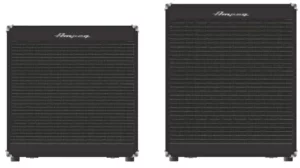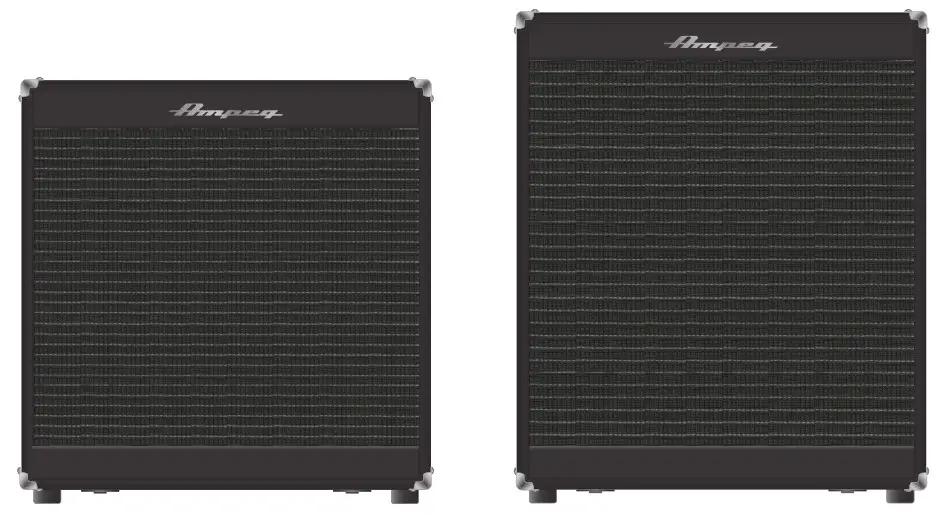 PF-115LF & PF-410HLF
Speaker Cabinets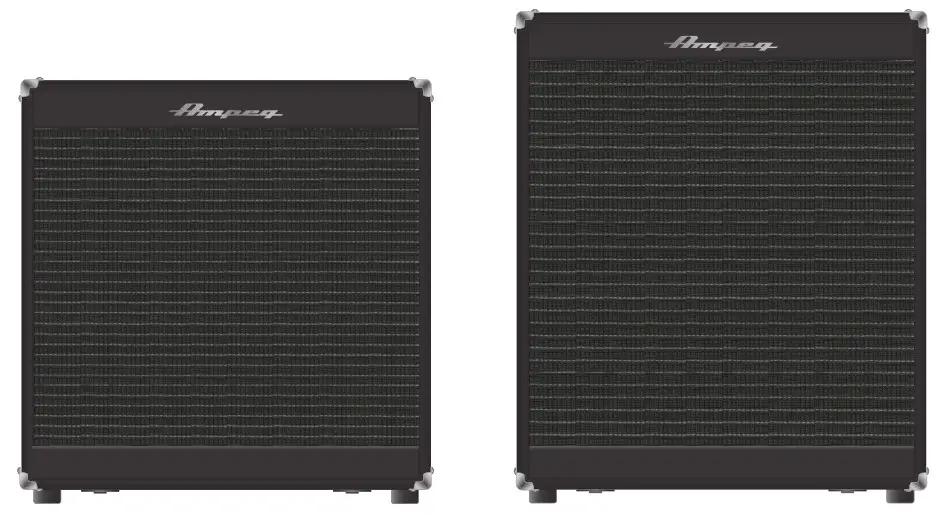 Owner's Manual
What's in the Box
PF-115LF or PF-410HLF Speaker Cabinet, Quick Start Guide.
Introduction
Portable. Powerful. Sexy. Ampeg designed and built the original Portaflex ® Series products over 50 years ago. Today, we unveil two new Portaflex extension cabinets to meet all of your low-end needs. Embrace the rumble!
Featuring Eminence ®Portaflex drivers, four removable casters, integrated side handles, black, diamond pattern Tolex, and low-frequency shelf ports, these Portaflex cabinets are ideal companions for any high-powered Ampeg bass head (available separately).
Like all Ampeg products, your Portaflex cabinet is designed by musicians and built using only the best of components. Each cabinet is tested to confirm that it meets our specifications, and we believe that this cabinet is the absolute best that it can be. In order to get the most out of the cabinet, please fully read this Owner's Manual, as well as the Important Safety Instructions included with your cabinet, before playing.
And thank you for choosing Ampeg!
Features
Ideal companion for any high-powered Ampeg bass head (available separately)
Loaded with Eminence speaker(s) for high-quality sound
Equipped with a high frequency horn and a 3-position switch (PF-410HLF)
Two paralleled, 1/4″ TS Input and Output jacks
Nominal impedance: 8 Ω
Power handling: 400W RMS (PF-115LF) and 800W RMS (PF-410HLF)
Four removable casters
Integrated side handles and black, diamond pattern tolex
15 mm poplar plywood construction
Rear shelf ported for low-frequency extension
1/4″ TS Full Range Input / Output Jacks: The jack plate features two 1/4″ jacks wired in parallel, allowing easy daisy-chaining from one cabinet to another. Each of the jacks may be used either as an input or a through connection. Connect the Speaker Output of your amplifier to the cabinet's Input jack using a good quality (non-shielded) speaker cable. Never use (shielded) instrument cable to connect speakers to an amplifier.
You can optionally utilize the unused jack as an output/through jack to connect a second 8 Ω speaker cabinet in parallel. This will present a total load of 4 Ω to the amplifier.
High-Frequency Horn Level Switch (PF-410HLF only) The 3-position HF Horn switch allows for:
• Full high frequency output (0 settings)
• High frequencies reduced by 6 dB (–6 setting)
• Horn shutoff (Offsetting)
System Block Diagrams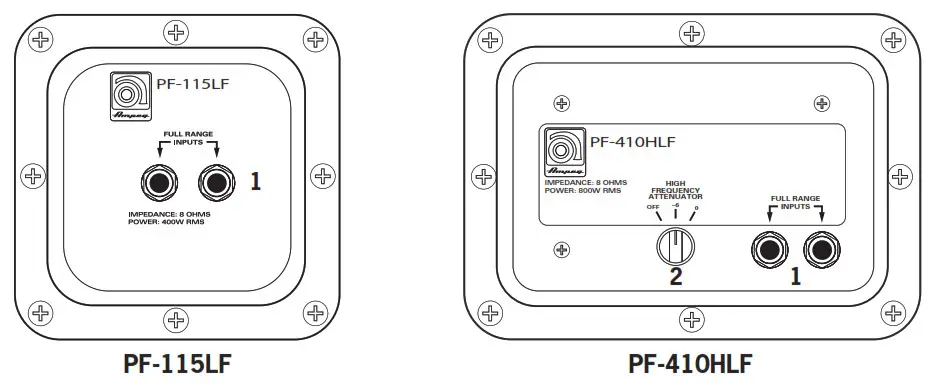 Technical Specifications
Frequency Response (+/–3 dB)
PF-115LF: 57 Hz – 3.7 kHz
PF-410HLF: 55 Hz – 17 kHz
Usable Low Frequency (–10 dB)
PF-115LF: 32 Hz
PF-410HLF: 30 Hz
Impedance
8 Ω
Power Rating
PF-115LF: 400W RMS, 800W Peak
PF-410HLF: 800W RMS, 1600W Peak
Sensitivity
PF-115LF: 99.5 dB SPL 1W/1m)
PF-410HLF: 101.0 dB SPL 1W/1m
Maximum SPL
PF-115LF: 125.5 dB
PF-410HLF: 130.0 dB
Cabinet Construction
Poplar plywood
Speaker Specs
PF-115LF: 1 x 15″ Eminence Speaker
PF-410HLF: 4 x 10″ Eminence Speakers and
1 HF Horn with 3-position Switch
Inputs/Outputs
Dual 1/4″ Parallel Jacks
Size (H x W x D)
PF-115LF: 23.5 in/598 mm x 22.75 in/578 mm x 17.5 in/445 mm
PF-410HLF: 27.3 in/693 mm x 22.75 in/578 mm x 17.5 in/445 mm
Weight
PF-115LF: 55.8 lb / 25.4 kg (approximately)
PF-410HLF: 73.4 lb / 33.3 kg (approximately)
The cabinet is covered with a durable, fabric-backed vinyl material. Clean with a dry, lint-free cloth. Never spray cleaning agents onto the cabinet. Avoid abrasive cleansers which would damage the finish. Ampeg continually develops new products and improves upon existing ones. For this reason, the specifications and information in this manual are subject to change without notice.
Warranty and Support
Visit WWW.AMPEG.COM to…
(1) …identify WARRANTY coverage provided in your local market. Please keep your sales receipt in a safe place.
(2) …REGISTER your product.
(3) …CONTACT Technical Support, or call 818-575-3600.
www.ampeg.com
Yamaha Guitar Group, Inc.
26580 Agoura Road, Calabasas, CA 91302-1921 USA
Rev. A
© 2019 Yamaha Guitar Group, Inc. All rights reserved.
Ampeg, the Ampeg logo, and Portaflex are trademarks or registered trademarks of Yamaha Guitar Group, Inc. in the
The U.S. and/or other jurisdictions. Eminence is a registered trademark of Eminence Speaker, LLC.