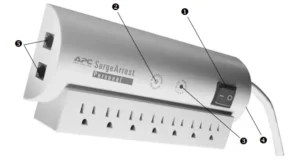 APC SurgeArrest™ User Guide
Thank you for selecting the APC by Schneider Electric SurgeArrest! Fill out an on-line warranty card at www.apc.com.

Before beginning with your installation, read and understand the following safety instructions.
The SurgeArrest is intended for indoor use only. The internal components are not sealed from the environment.
Install the SurgeArrest away from heat emitting appliances such as a radiator or heat register. Do not install it where excessive moisture is present. Do not plug extension cords into it.
Plug the SurgeArrest into a three wire, grounded outlet only. If the SITE WIRING FAULT indicator is illuminated, a qualified electrician should be summoned to correct the service wiring.
Never install electrical, telephone, network or CATV wiring during a lightning storm.
SurgeArrest models with telephone protection are designed to help provide maximum protection from surges present on standard two wire "dial up" telephone service. Other communications networks which happen to use modular jacks may not benefit from this protection.
CAUTION: The telephone protection feature of this product could be rendered inoperable if improperly installed (only for PRO7T and PER7T models).
SurgeArrest models with CATV protection are designed to help provide protection when used in conjunction with an antenna grounding system installed according to Section 810 or 820 of the National Electric Code, ANSI/NFPA No. 70-1993. CATV coaxial cable should be properly grounded by the cable TV company per National Electric Code Art. 820-40. If you have any doubt about your antenna or CATV cable system being correctly installed, contact a licensed electrician.
CAUTION: This product is intended for use where the antenna or CATV system is properly grounded. To reduce the risk of electric shock, inspect your premises carefully. Do not use this product if proper grounding cannot be verified (applicable for PRO7T and PER7T models).
When adding telephone, communication or CATV protectors, first connect the cabling directly to the equipment to be
protected and verify that the system is operating properly.
CAUTION: Do not install this device if there is not at least 10 meters (30 feet) or more of wire between the electrical outlet and the electrical service panel.
Description and Operation
On/Off Control (corded models only) – Controls power to the "On/Off" outlets. This control can be used as a master on/off control for the system.
Protection Working Indicator – This indicator illuminates when the SurgeArrest is switched on, and is supplying conditioned utility power to the outlets. In the event of a sustained, high-energy surge (such as a lightning strike), this indicator will switch off. If this occurs, first check the Circuit Breaker and On/Off Control to ensure the SurgeArrest is on and receiving utility power. If it still does not operate, return the unit to APC for repair or replacement.
Site Wiring Fault Indicator – This indicator illuminates when there is no ground circuit, a reversed polarity in the building wiring, or the neutral circuit is overloaded. If it lights, consult a qualified electrician to examine the building wiring. Note: When the SurgeArrest is fully loaded, this indicator may flicker. This is normal and may not be indicative of a fault.
Circuit Breaker (corded models only) – If the SurgeArrest is overloaded, this circuit breaker will trip to disconnect from utility power. When this occurs, the black button will pop out, and none of the outlets will provide power. Remove one piece of equipment, and reset the circuit breaker by pressing the button back into place. Note: The circuit breaker is rated to trip at the same overload as most home and office utility service branch protectors (15 Amps).
Modem/Fax/Telephone Surge Protection (not all models) – The SurgeArrest helps provide protection from surges on modem, fax, and telephone wiring. Use the supplied cable to connect the jack marked "IN" to the phone or network wall outlet. Connect the telephone, modem, computer, workstation, etc. to the jack marked "OUT".
Cable Protection (not all models) – The SurgeArrest helps provide protection from surges on cable and cable modem installations. Use the supplied cable to connect the jack marked "IN" to the wall outlet. Connect the cable modem or cable to the jack marked "OUT".
Wall Mounting Template – Use the Wall Mounting Template to mount the SurgeArrest to a wall. Hold the template over the desired area and insert a push pin through each keyhole cross. Install two #6 pan head screws (not supplied) into the wall until ¼" (0.5cm) of screw threads are exposed. Mount the SurgeArrest over the screw heads and slide down into place.
Limited Product Warranty
Schneider Electric warrants to the original purchaser that Surge Protector shall be free of defects in material and workmanship, and Schneider Electric will repair or replace, at its option, any defective Surge Protector free of charge. More details can be found by visiting www.apc.com.
© 2021 APC by Schneider Electric. APC, and the APC logo are owned by Schneider Electric Industries S.A.S., or their affiliated companies. All other trademarks are property of their respective owners.
EN 990-0066E
05/2021