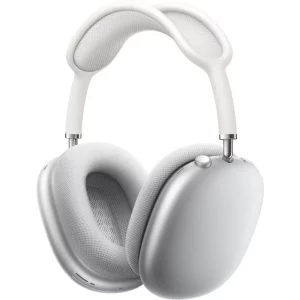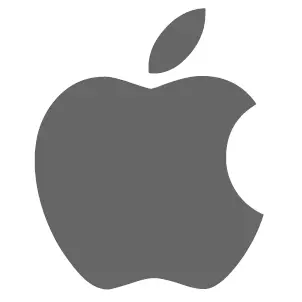 Apple AirPods Max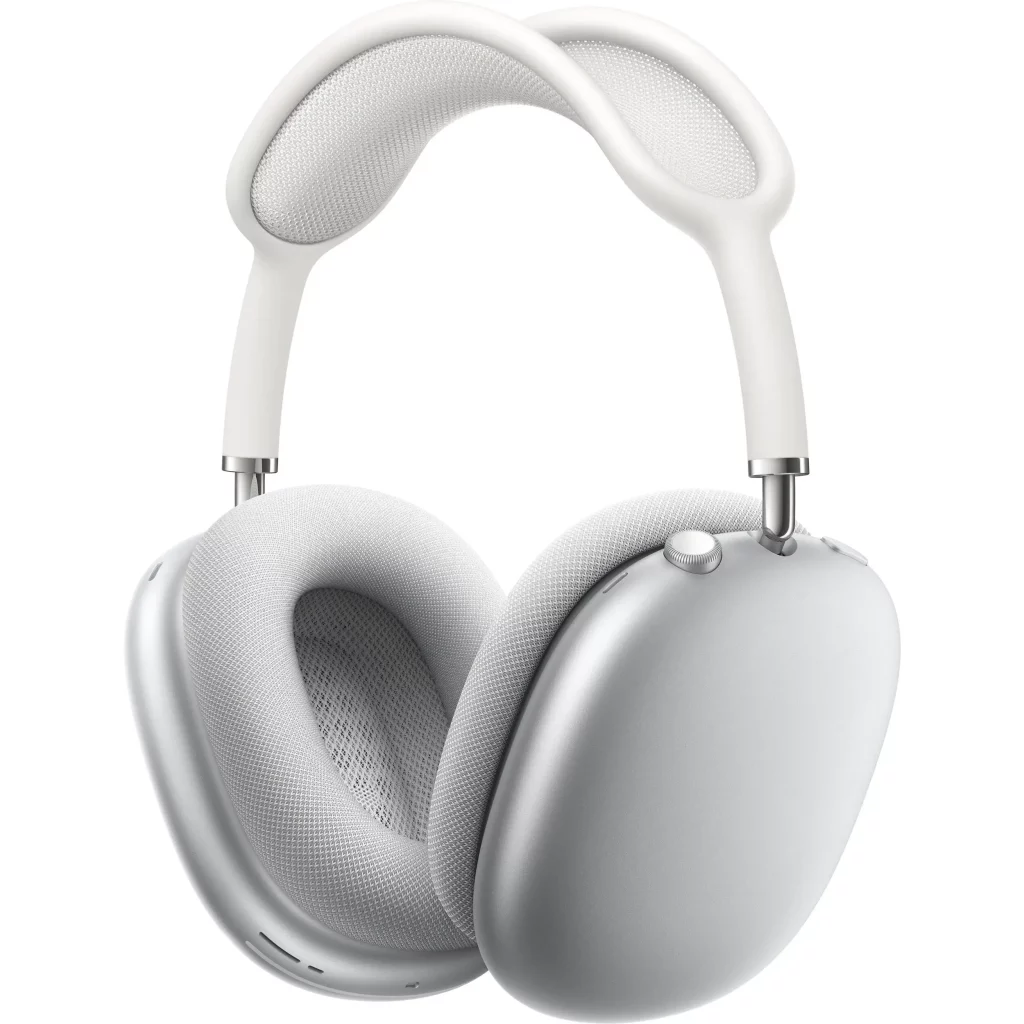 Simple to Use
People adore Apple's in-ear AirPods headphones because of how nicely they operate. The pairing technique, in particular. You open the case, place them next to any Apple device you have on hand, everything syncs, and you're ready to go. That's also true with the AirPods Max: I had music from my iPad playing through them in seconds after sliding the rounded rectangular ear cups out of their bra-like soft cover.
Exciting LEDs
When pushing the power button while the AirPods Max are charging, an LED light on the bottom of the right ear cup can be used to determine charge level. The light shows green when the charge is above 95 percent, and amber when the charge is below 95 percent. When you press the button on the AirPods Max when they're not charging, a green light appears if there's more than 15 percent battery life left, and an amber light appears if there's less than 15 percent charge.
Apple's Classic Design
Those stainless steel earcups make the AirPods Max quite weighty, weighing in at 385g compared to the Sony WH-1000XM4's 254g. Sure, the increased weight makes the AirPods Max feel more solid and well-made, but it's still a lot of weight to carry around on your head all day.
Inventive Smart Case
Apple includes a soft Smart Case with AirPods Max that wraps around the ear cups but does not protect the headband. Using magnets, the case is supposed to put the AirPods Max into an ultra low power mode, preserving battery life.
Set up your AirPods Max on your iOS or iPadOS smartphone
If you're pairing your AirPods Max for the first time, check sure the device you're pairing them with is current. Then take the following steps:
Return to the main menu.
Remove your AirPods Max from the Smart Case and hold them adjacent to the device you want to pair with your AirPods Max for 60 seconds, or until you see a setup animation on the device you want to link with your AirPods Max. If you don't see the animation, make sure your iOS or iPadOS device is up to date, or go to Settings > Bluetooth to manually pair your AirPods Max with your iOS or iPadOS device. If the status light on your AirPods Max does not flash white, press and hold the noise control button until the light flashes white.
If you haven't already, tap Connect to link your AirPods Max with your device and set up functions like Hey Siri.
To get started with the setup for spatial audio, tap See & Hear How It Works.
Don't forget to tap Done. Your AirPods Max are immediately set up with any of your supported devices that are signed in to iCloud with the same Apple ID if you're signed in to iCloud.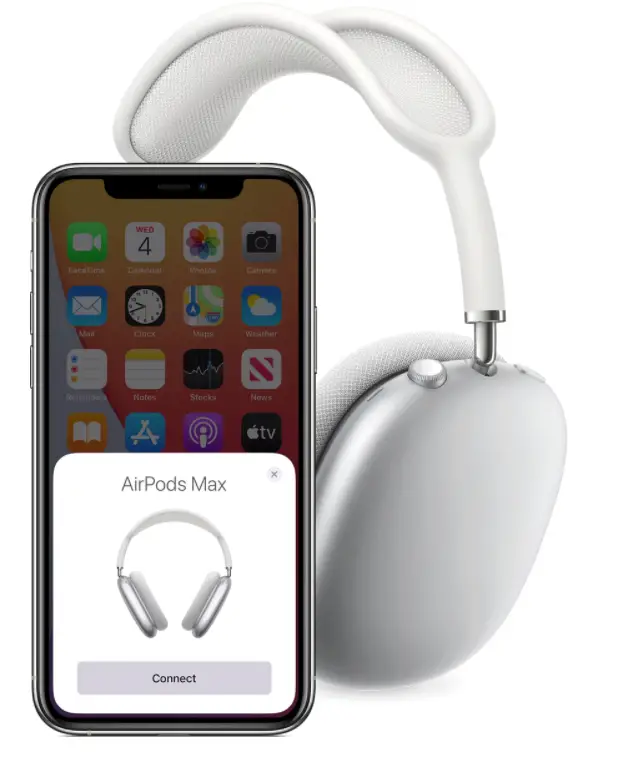 With the AirPods Max, you can listen to music and control it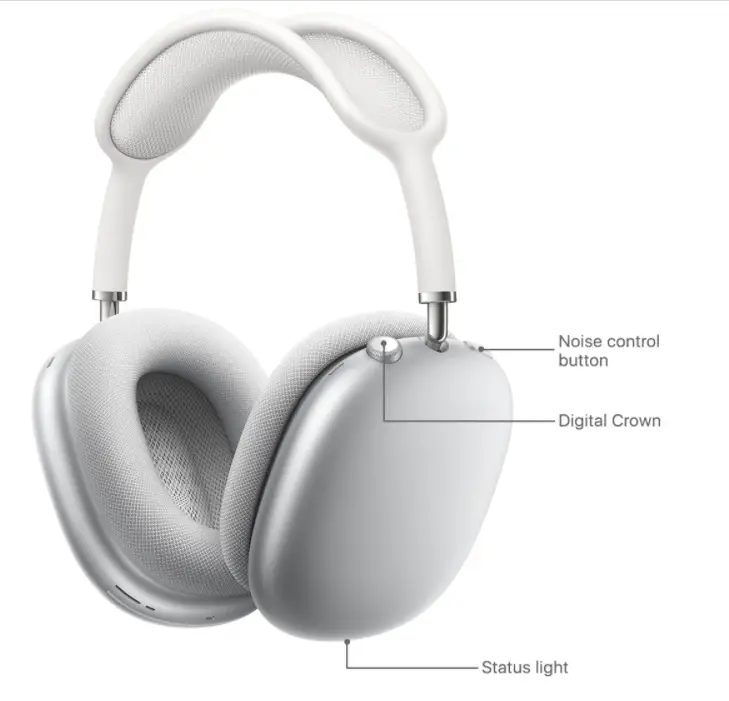 When you place your AirPods Max on your head while listening to music on your device, the audio from your device is automatically played by your AirPods Max. When you take your AirPods Max out of your ears, the audio stops. Play resumes automatically if you place them back on your head within 15 seconds. If you take one of your AirPods Max from your head, audio will be paused.
The ear cushions on your AirPods Max are labelled L and R. To get the best sound quality and performance, put the left earphone in your left ear and the right earphone in your right ear.
To help save battery life, keep your AirPods Max in the Smart Case. It's possible to damage AirPods Max if you keep them loose in your bag.
Plug a Lightning to 3.5 mm Audio Cable into your AirPods Max to use them in wired mode and connect to the in-flight entertainment system on a plane.
To control the volume, use the Digital Crown to increase it. Adjust the volume on your phone if it doesn't seem to become louder. Go to Settings > Bluetooth > AirPods Max > Digital Crown to change the direction in which you turn the Digital Crown to increase or decrease volume.
If you have Hey Siri set up, you can ask inquiries, make phone calls, and manage your music by saying "Hey Siri." You may also utilise Siri by pressing and holding the Digital Crown.
Switch between Transparency and Active Noise Cancellation modes
With AirPods Max, you can choose whether or not you hear what's going on around you. Toggle between Active Noise Cancellation and Transparency mode by pressing the noise control button. Settings > Bluetooth > AirPods Max > Button Cycles Between lets you choose which modes the press action switches between.
Automatically switch
For your AirPods Max to transition between devices automatically, you'll need iOS 14.3 or later, iPadOS 14.3 or later, or macOS Big Sur 11.1 or later.
2 Two-factor authentication must be enabled on all of your devices using the same Apple ID. You may, for example, answer a call on your iPhone while listening to music on your iPad. Your AirPods Max automatically switch from music on your iPad to a phone call on your iPhone.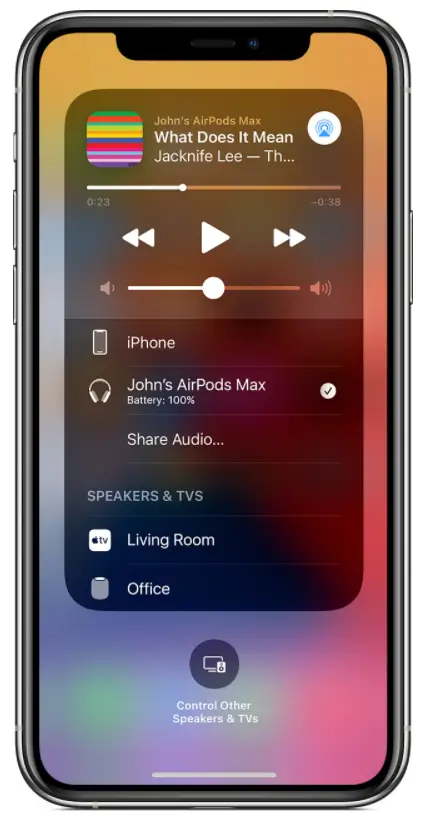 Control the sound
Use the Digital Crown to adjust audio:
Press the Digital Crown once to play and pause your audio material. Press it once again to resume playback.
Press the Digital Crown twice to advance.
Press the Digital Crown three times to go back in time.
Use the phone to send and receive messages
Use the Digital Crown to manage your phone calls:
To answer or end a call, press once.
To reject an incoming call, press the button twice.
To answer a second incoming call and put the previous one on hold, press once.
When two calls are active at the same time, tap twice to end one and switch to the other.
To reject a second incoming call, press and hold.
To stop listening through your headphones and transfer the call to your phone, press twice.
When you're wearing your AirPods Max and a call comes in, Siri can announce it. Through the AirPods Max, Siri can also read your incoming texts.
PROS
Design with a high level of luxury
Excellent, well-balanced sonic quality
Noise cancelling that is really effective
Controls that are dependable and foolproof
Immersive entertainment with spatial audio
CONS
Heavier than many rivals.
There is no 3.5mm jack.
Frequently Asked Questions
Is it better to use AirPods Max or AirPods Pro?
The AirPods Max sound better than the AirPods Pro, which is unsurprising. I've listened to a wide range of music genres on several apps and keep going back to the AirPods Max for music listening. They have a deeper bass response and great frequency definition across the board.
What is the battery life of AirPods Max?
The AirPods Max are rated for 20 hours of battery life, which seems about right; like other over-the-ear noise-cancelling headphones these days, you'll easily get that from active use. Everything is OK once you go over the 20-hour battery life advertised for headphones, as I've previously stated.
Is the Airpod Max too cumbersome?
Because of all that metal, the AirPods Max is quite substantial, weighing in at 386 grammes. That's a lot heavier than the other best noise cancelling headphones we've tried, and you definitely tell.
How long until your ears begin to sweat or become hot and uncomfortable?
My ears never felt irritated, but I had to return two pairs because humidity crept into the right cup and killed it. It's a shame, though, because these are fantastic headphones.
Is there a volume control on each earcup?
No. The controls are just on the right side.