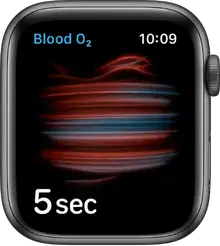 Measure blood oxygen levels on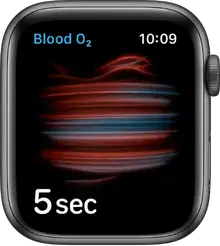 Use the Blood Oxygen app

on Apple Watch Series 6 to measure the percentage of oxygen your red blood cells carry from your lungs to the rest of the body. Knowing how well oxygenated your blood is can help you understand your overall health and wellness.
Note: The Blood Oxygen app is not available in all regions. Blood Oxygen app measurements are not intended for medical use.
Set up Blood Oxygen
Open the Apple Watch app on your iPhone (iPhone 6s or later with iOS 14).
Tap My Watch, tap Blood Oxygen, then turn on Blood Oxygen Measurements.
Turn off background measurements in sleep mode and theater mode
Blood oxygen measurements use a bright red light that shines against your wrist, which may be more visible in dark places. You can turn off measurements if you find the light distracting.
Open the Settings app on your Apple Watch.
Tap Blood Oxygen, then turn off In Sleep Mode and In Theater Mode.
Measure your blood oxygen level
The Blood Oxygen app

periodically measures your blood oxygen level throughout the day if background measurements are turned on, but you can also take an on-demand measurement at any time.
Open the Blood Oxygen app on your Apple Watch.
Rest your arm on a table or in your lap, and make sure your wrist is flat, with the Apple Watch display facing up.
Tap Start, then hold your arm very still during the 15-second countdown.
At the end of the measurement, you receive the results. Tap Done.
Note: For best results, the back of your Apple Watch needs skin contact. Wearing your Apple Watch not too tight or too loose, with room for your skin to breath, helps ensure successful Blood Oxygen measurements. For more information, see the Apple Support article Measuring your blood oxygen levels with the Blood Oxygen app on Apple Watch Series 6.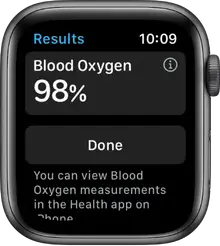 View your Blood Oxygen measurements history
Open the Health app on your iPhone.
Tap Browse, tap Respiratory, then tap Blood Oxygen.