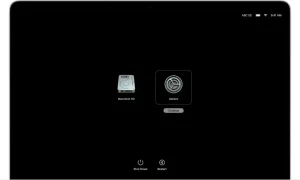 How to erase a Mac with Apple silicon
Erase (format) the built-in startup disk of a Mac with Apple silicon.
Before erasing your Mac
---
Use Disk Utility to erase your Mac
Turn on your Mac and continue to press and hold the power button until you see the startup options window. Select Options, then click Continue.

If asked, select a user you know the password for, then enter their administrator password.
If asked, enter the Apple ID and password previously used with this Mac. Forgot your Apple ID?
From the utilities window, select Disk Utility and click Continue.

In the Internal section of the Disk Utility sidebar, make sure that you see the volume named Macintosh HD. Don't see Macintosh HD?
If you previously used Disk Utility to add internal volumes, select each additional internal volume in the sidebar, then click the delete volume (–) button in the toolbar to delete that volume.
Now select Macintosh HD in the sidebar.
Click the Erase button in the toolbar, then specify a name and format:

Name: Macintosh HD
Format: APFS

Click Erase Volume Group.

If asked, enter your Apple ID. Forgot your Apple ID?
When asked whether you're sure you want to erase this Mac, click Erase Mac and Restart.
When your Mac restarts, follow the onscreen instructions to choose your language.
Your Mac will now attempt to activate, which requires an internet connection. Use the Wi-Fi menu in the menu bar to choose a Wi-Fi network, or attach a network cable.
After your Mac activates, click Exit to Recovery Utilities.
If you want to start up again from the disk you just erased, select Reinstall macOS in the utilities window, then click Continue and follow the onscreen instructions to reinstall macOS.
---
If you don't see Macintosh HD in Disk Utility
Your built-in startup disk should be the first item listed in the Disk Utility sidebar. It's named Macintosh HD, unless you changed its name. If you don't see it there, choose Apple menu  > Shut Down, then unplug all nonessential devices from your Mac and try again.
If your disk still doesn't appear in Disk Utility, or Disk Utility reports that the erase process failed, your Mac might need service. If you need help, please contact Apple Support.
---
Learn more
Published Date: