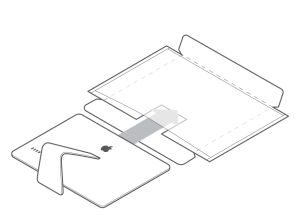 How to prepare your iMac for Apple Trade In
If you opted to trade in your iMac when you purchased a new Apple product, you'll get a trade-in kit in the mail with everything you need to ship your iMac to Apple. Here's everything you need to know about preparing and packing your iMac to trade it in.
Before you ship your iMac
Pack your product using the included packaging materials
Remove the upper and lower cardboard inserts from the box.
Place your iMac under the plastic in the lower cardboard insert with the stand sticking through the hole in the bottom of the insert.

Fold down the sides of the cardboard insert with your iMac to create tension on the plastic. Fold up the top and bottom flaps.

Place your power cord into the bag and close the bag.

Place the insert with your iMac back into the packing box. Place the power cord next to your iMac stand in the box.

Place the upper cardboard insert into the box to hold the insert with your iMac securely in place.

Close the box and seal it with the tape provided.*

Ship your product to Apple
Find the name of the courier on the return shipping label.
Get a receipt from the courier.
Check your new device shipment email for a link to check the status of your trade-in.
Published Date: