Send messages from
Ask Siri. Say something like: Then lower your wrist to send.
Create a message on Apple Watch
Open the Messages app on your Apple Watch.
Scroll to the top of the screen, then tap New Message.
Tap Add Contact, tap a contact in the list of recent conversations that appears, then choose an option:

Tap to search for someone in your contacts or to dictate a phone number.
Tap to choose from your full list of contacts.
Tap to enter a phone number.
Turn the Digital Crown to scroll to the bottom of the message, then choose how to reply.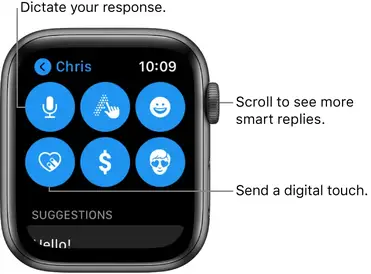 To quickly respond with a Tapback, double-tap a specific message in a conversation, then tap a Tapback—like thumbs-up or a heart.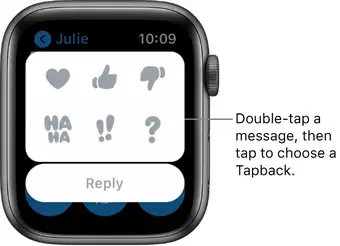 In a group conversation, you can respond to a specific message inline to help keep conversations organized.
In a Messages conversation, touch and hold a specific message to reply to, then tap Reply.
Create your response, then tap Send.Only the person you reply to sees the message.
Compose a message on Apple Watch
There are many ways to compose a message on your Apple Watch.
Send a smart reply: Scroll to see a list of handy phrases that you can use—just tap one to send it.To add your own phrase, open the Apple Watch app on your iPhone, tap My Watch, go to Messages > Default Replies, then tap Add Reply. To customize the default replies, tap Edit, then drag to reorder them or tap to delete one.

If the smart replies aren't in the language you want to use, scroll down, tap Languages, then tap a language. The available languages are those you enabled on your iPhone in Settings > General > Keyboard > Keyboards.

Dictate text: Tap say what you want to say, then tap Done. You can speak punctuation, too—for example, "did it arrive question mark."


Create an audio clip: Open the Apple Watch app on your iPhone, tap My Watch, go to Messages > Dictated Messages, then tap Transcript, Audio, or Transcript or Audio. If you tap Audio, the recipient gets your dictated text as an audio clip to listen to, not a text message to read. If you tap Transcript or Audio, you can choose the format of your message when you send it.
Scribble a message: Tap then write your message. As you write, turn the Digital Crown to see predictive text options, then tap one to choose it. Tap Send to send the message.

Note: Scribble is not available in all languages.

If you've set up your Apple Watch to use more than one language, tap Language, choose a language, tap or then create your message.

Send emoji: Tap tap a category, then scroll to browse available images. When you find the right symbol, tap it to send.
Send a Memoji sticker: Tap tap an image in the Memoji Stickers collection, then tap a variation to send it.
Send a sticker: Tap scroll to the bottom, then tap More Stickers. Tap one to send it. To create new stickers or see all your stickers, use Messages on your iPhone.
Use Apple Pay to send and receive money
Open the Messages app on your Apple Watch.
Start a new conversation or continue an existing conversation.
Tap
Select an amount to send using the Digital Crown, then tap Pay.
Double-click the side button to send.
See Send, receive, and request money with (U.S. only).
Note: Apple Cash is not available in all regions.
Share your location
To send someone a map showing your current location, scroll down, then tap Send Location.
On your paired iPhone, make sure Share My Location is turned on in Settings > [your name] > Find My > Share My Location. Or, on your Apple Watch with cellular, open the Settings app go to Privacy > Location Services, then turn on Share My Location.

Contact the person you're messaging
While viewing a conversation, scroll down.
Tap Details, then tap or