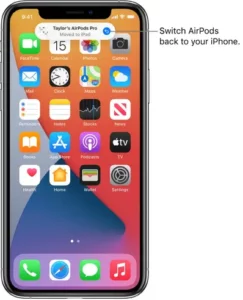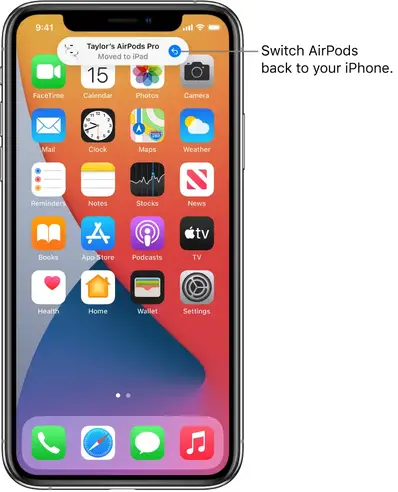 Switch AirPods between iPhone and other devices
When your other iOS and iPadOS devices are signed in with the same Apple ID as your iPhone, your AirPods seamlessly connect to whichever device you're listening to. (On supported AirPods and Beats headphones; iOS 14, iPadOS 14, or later required; iOS 14.3, iPadOS 14.3, or later required for AirPods Max.)
For example, if you're listening to your iPad with AirPods but you want to listen to your iPhone instead, start playing music, a podcast, or other audio on your iPhone—your AirPods switch to iPhone. Your AirPods also switch to iPhone when you make or answer a call on iPhone.
Switch AirPods back to your iPhone
If your AirPods switch from your iPhone to another device but you want them to stay connected to your iPhone, tap

(in the "Moved to" notice at the top of the iPhone screen).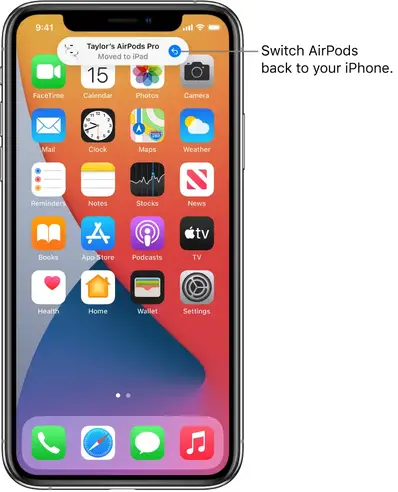 To stop AirPods from automatically switching between devices, go to Settings

> Bluetooth, tap

next to the name of your AirPods, tap Connect to This iPhone, then tap When Last Connected to This iPhone.
Choose between AirPods and other playback devices for your iPhone audio
Tap in Control Center, on the Lock Screen, or on the Now Playing screen for the app you're listening to.
Select your AirPods or another device.