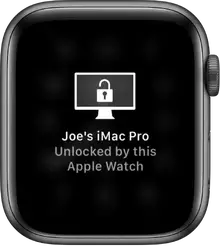 Unlock your Mac with
If you have a Mac (mid-2013 or later) with macOS 10.13 or later, your Apple Watch can instantly unlock your Mac when it wakes from sleep. You need to be signed in to iCloud using the same Apple ID on both your Mac and Apple Watch.
Tip: To find the model year of your Mac, click the Apple menu in the top-left corner of your computer screen, then choose About This Mac. The year your Mac was made is listed next to the model—for example, "MacBook Pro (15-inch, 2018)."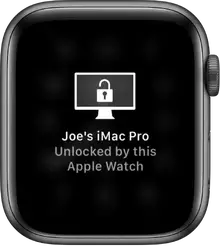 Turn on Auto Unlock
Make sure that your devices are set up as follows:

Your Mac has Wi-Fi and Bluetooth turned on.
Your Mac and Apple Watch are signed in to iCloud with the same Apple ID, and your Apple ID is using two-factor authentication.
Your Apple Watch is using a passcode.

On your Mac, choose Apple menu > System Preferences.
Click Security & Privacy, then click General.
Select "Use your Apple Watch to unlock apps and your Mac" or "Allow your Apple Watch to unlock your Mac."If you have more than one Apple Watch, select the watch you want to use to unlock your apps and Mac.
If you don't have two-factor authentication turned on for your Apple ID, follow the onscreen instructions, then try selecting the checkbox again. See the Apple Support article Two-factor authentication for Apple ID.
Unlock your Mac
While wearing your watch, just wake up your Mac—no need to type in your password.
Tip: Make sure your Apple Watch is on your wrist and unlocked and you're near your Mac.