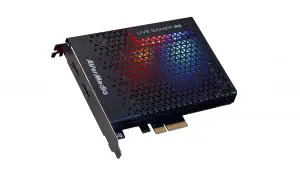 AVerMedia Live Gamer 4K GC573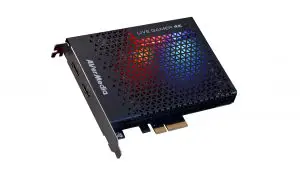 Important Safety Instructions
Read these instructions.
Keep these instructions.
Follow all instructions.
Heed all warnings.
Do not use the apparatus on uneven or unstable surfaces.
Do not use this apparatus in a wet environment or near water.
Unplug the apparatus before cleaning. Clean only with a dry cloth.
Use in a well ventilated environment. Do not block any ventilation openings.
Use the apparatus within ambient temperatures 32–104°F (0–40°C).
Use power sources within the specified voltage range.
Do not place heavy objects on the apparatus.
Do not install near heat sources such as radiators or stoves.
Do not defeat the safety purposes of the polarized or grounding-type plug.
Protect the power cord from being walked on or pinched, particularly where the cord connects with plugs or adapters.
Only use the attachments and accessories specified by the manufacturer.
Unplug this apparatus during lightning or when unused for prolonged periods of time.
Do not modify or disassemble the apparatus in any way.
Refer all servicing to AVerMedia Customer Service.
Do not dispose the apparatus as general household waste. Dispose in accordance with local environmental laws.
PREPARATION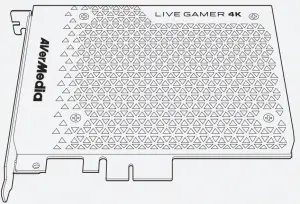 Live-Gamer-4K-Diagram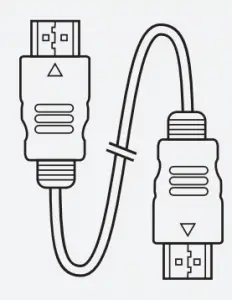 HDMI 2.0 Cable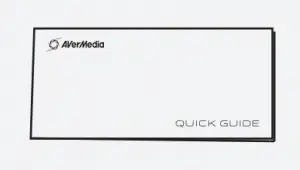 Quick Guide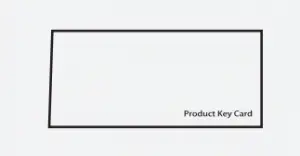 PowerDirector 15 Product Key Card
HDMI Output Port (Pass-Through)
HDMI Input Port
LED Indicator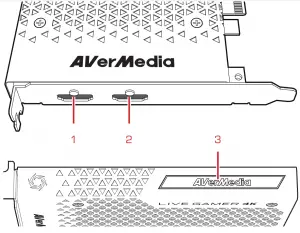 INSTALLATION
Insert LG4K to a PCIe x4 Gen 2 slot in your PC
Connect your monitor to the HDMI-OUT port for passthrough of captured content
Connect your video source (console / graphics card / another PC) to the HDMI-IN port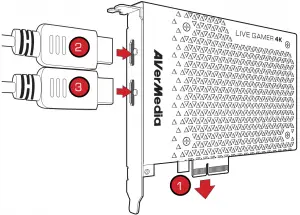 RECentral is the default streaming/recording software designed for Live Gamer capture cards. It also includes settings for the LG4K's lighting effects.
Download it from: q.avermedia.com/gc573-RECentral
LED INDICATIONS
Solid Blue / RGB: Effects Ready
Slow Flashing Red: Recording
Slow Flashing Blue: Streaming
Fast Flashing Red Disk: Almost Full
Solid Red: Disk Full
Error: Streaming or Recording Stopped
Flashing Red: Error: Device Anomaly
SPECIFICATIONS
Interface :PCI Express x4 Gen 2
Input & Output (Pass-Through): HDMI 2.0
Max. Capture Resolution: 2160p60 HDR/1440p120/1080p240
Supported Resolution: 2160p, 1440p, 1080p, 1080i, 720p, 576p, 480p
Max. Pass-Through Resolution: 2160p60 HDR/1440p144/1080p240
Record Format: MPEG 4 (H.264 + AAC) or (H.265 + AAC)*
Dimensions (W x D x H): 125 x 151 x 21.5 mm
Weight: 208 g
*H.265 compression and HDR recording are supported by RECentral
Note: Specifications are subject to change without notice. Please refer to our website for the latest details.
Disclaimer
All pictures contained in this documentation are example images only. The images may vary
depending on the product and software version. Information presented in this documentation has been carefully checked for reliability; however, no responsibility is assumed for inaccuracies. The information contained in this documentation is subject to change without notice.
Copyright and Trademark Information
© 2018 by AVerMedia Technologies, Inc. All rights reserved. No part of this publication, in whole or in part, may be reproduced, transmitted, transcribed, altered or translated into any language in any form by any means without the written permission of AVerMedia Technologies, Inc. Information and specification contained in this manual are subject to change without notice and
Do Not represent a commitment on the part of AVerMedia. For more information, please visit www.avermedia.com.
AVerMedia and RECentral are trademarks or registered trademarks of AVerMedia Technologies, Inc.
Headquarters
Address No.135, Jian 1st Rd., Zhonghe Dist., New Taipei City 23585, Taiwan
Website www.avermedia.com
Support www.avermedia.com/gaming/technical_support
Telephone: +886-2-2226-3630
US Office
Address 47358 Fremont Blvd., Fremont, CA 94538, United States
Website www.avermedia-usa.com
Telephone +1 (510) 403 0006
Head Office EU (AVT Solutions GmbH)
Address: Hanauer Landstrasse 291 B, 60314 Frankfurt Hessen, Germany
Website: www.avermedia.com/gaming/inquiry