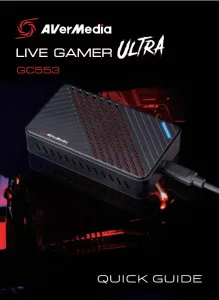 AVerMedia LIVE Gamer Ultra 
Capture Device User Guide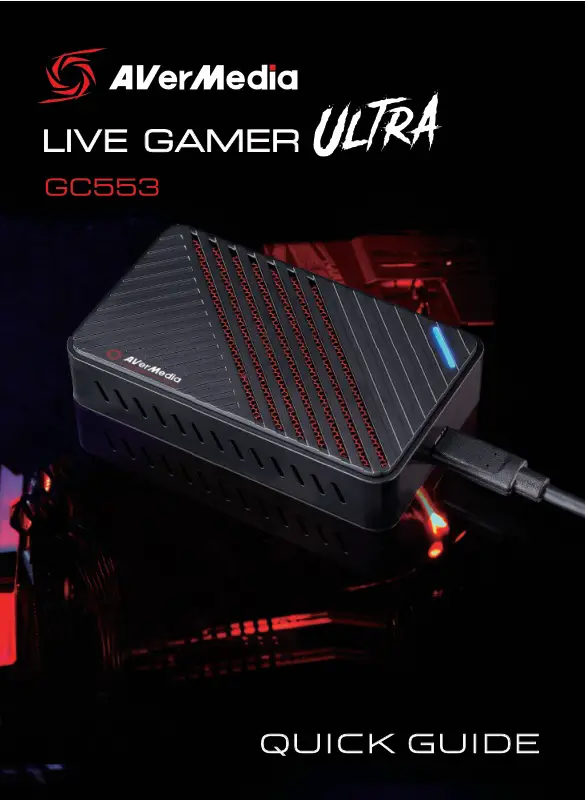 Disclaimer
All pictures contained in this documentation are example images only. The images may vary depending on the product and software version. Information presented in this documentation has been carefully checked for reliability; however, no responsibility is assumed for inaccuracies. The information contained in this documentation is subject to change without notice.
Copyright and Trademark Information
© 2018 by AVerMedia Technologies, Inc. All rights reserved. No part of this publication, in whole or in part, may be reproduced, transmitted, transcribed, altered or translated into any language in any form by any means without the written
permission of AVerMedia Technologies, Inc. Information and specification contained in this manual are subject to change
without notice and do not represent a commitment on the part of AVerMedia.
For more information, please visit www.avermedia.com
AVerMedia and RECentral are trademarks or registered trademarks of AVerMedia Technologies, Inc.
Headquarters
Address No.135, Jian 1st Rd., Zhonghe Dist., New Taipei City 23585, Taiwan
Website www.avermedia.com
Support www.avermedia.com/gaming/technical_support
Telephone +886-2-2226-3630
US Office
Address 47358 Fremont Blvd., Fremont, CA 94538, United States
Website www.avermedia-usa.com
Telephone +1 (510) 403 0006
Head Office EU (AVT Solutions GmbH)
Address Hanauer Landstrasse 291 B, 60314 Frankfurt Hessen, Germany
Website www.avermedia.com/gaming/inquiry
Read these instructions.
Keep these instructions.
Follow all instructions.
Heed all warnings.
Do not use the apparatus on uneven or unstable surfaces.
Do not use this apparatus in a wet environment or near water.
Unplug the apparatus before cleaning. Clean only with a dry cloth.
Use in a well ventilated environment. Do not block any ventilation openings.
Use the apparatus within ambient temperatures 32–104°F (0–40°C).
Use power sources within the specified voltage range.
Do not place heavy objects on the apparatus.
Do not install near heat sources such as radiators or stoves.
Do not defeat the safety purposes of the polarized or grounding-type plug.
Protect the power cord from being walked on or pinched, particularly where the cord connects with plugs or adapters.
Only use the attachments and accessories specified by the manufacturer.
Unplug this apparatus during lightning or when unused for prolonged periods of time.
Do not modify or disassemble the apparatus in any way.
Refer all servicing to AVerMedia Customer Service.
Do not dispose the apparatus as general household waste. Dispose in accordance with local environmental laws.
PREPARATION
Inside the Box
Check that all these items are included.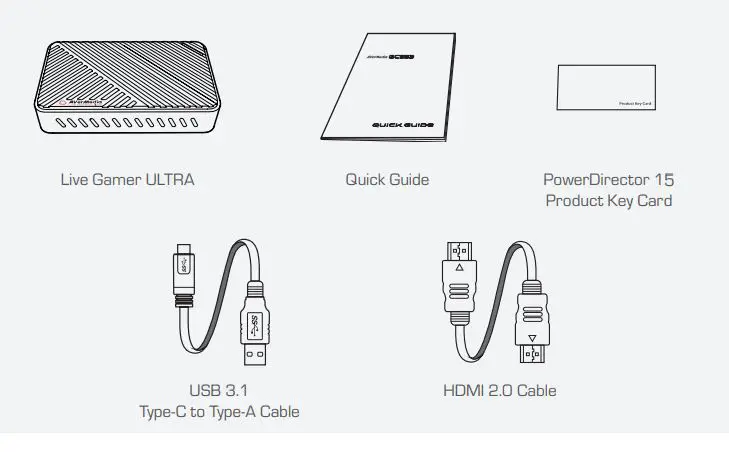 RECentral
RECentral is the default streaming/recording software designed for Live Gamer capture cards.
Download it from: q.avermedia.com/gc553-RECentral
Parts and Ports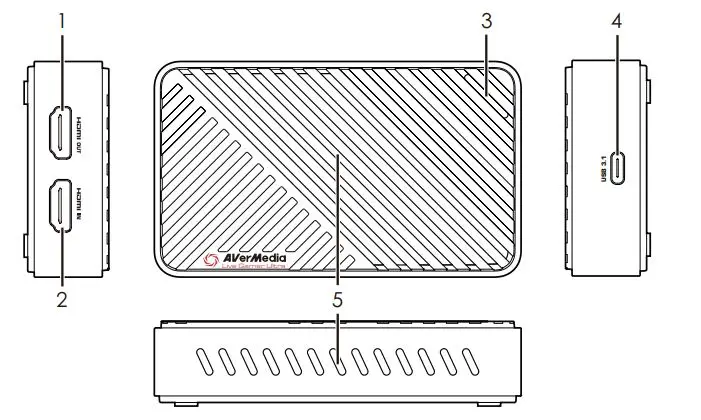 HDMI Output
HDMI Input
LED Indicator
USB 3.1 Type-C Port
Air Vents
LED INDICATIONS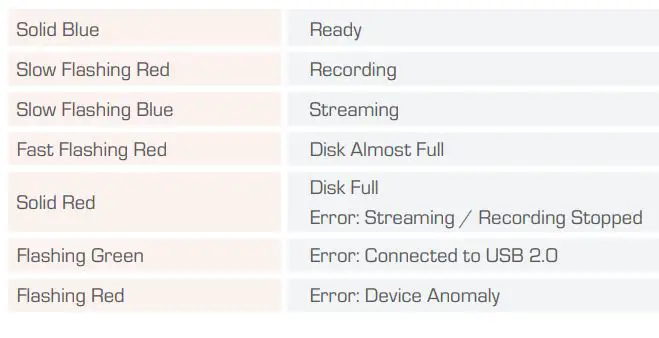 INSTALLATION
Capture and Stream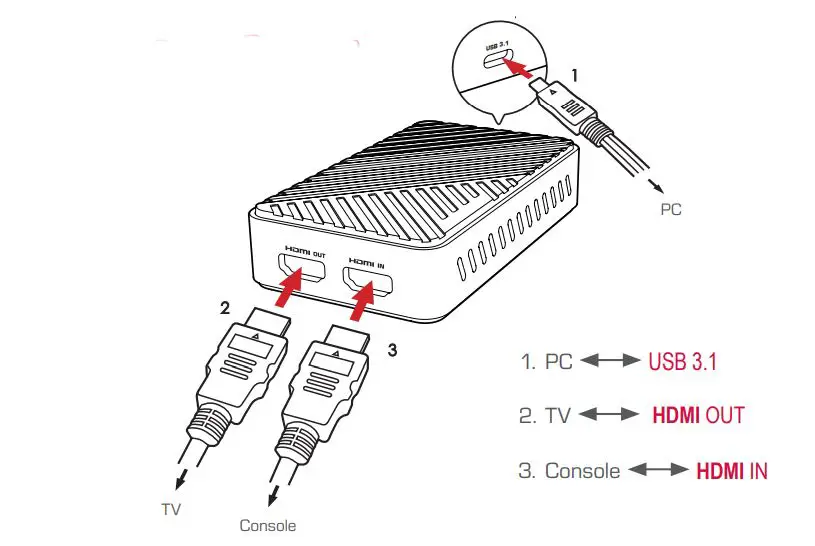 SPECIFICATIONS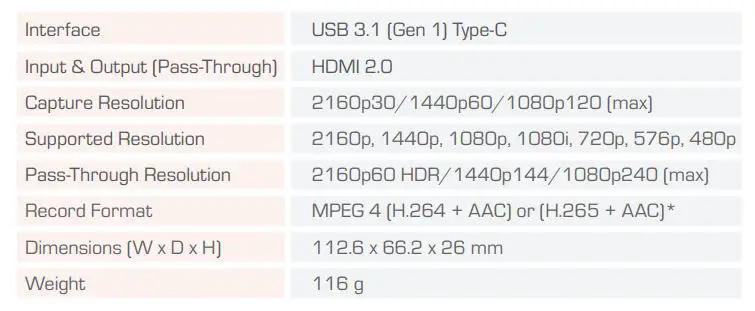 * H.265 compression is supported by RECentral
Note: Specifications are subject to change without notice. Please refer to our website for the latest details

Federal Communications Commission Statement
Class B
This device complies with Part 15 of the FCC Rules. Operation is subject to the following two conditions: (1) this device may not cause harmful interference, and (2) this device must accept any interference received, including interference that may cause undesired operation.
NOTE – This equipment has been tested and found to comply with the limits for a Class B digital device, pursuant to Part 15 of the FCC Rules. These limits are designed to provide reasonable protection against harmful interference in a residential installation. This equipment generates, uses and can radiate radio frequency energy and, if not installed and used in accordance with the instructions, may cause harmful interference to radio communications. However, there is no guarantee that interference will not occur in a particular installation. If this equipment does cause harmful interference to radio or television reception, which can be determined by tuning the equipment off and on, the user is encouraged to try to correct the interference by one or more of the following measures:
Reorient or relocate the receiving antenna.
Increase the separation between the equipment and receiver.
Connect the equipment into an outlet on a circuit different from that to which the receiver is connected.
Consult the dealer or an experienced radio/television technician for help.
CAUTION ON MODIFICATIONS
To comply with the limits for the Class B digital device, pursuant to Part 15 of the FCC Rules, this device must be installed in computer equipment certified to comply with the Class B limits. All cables used to connect the computer and peripherals must be shielded and grounded. Operation with non-certified computers or non-shielded cables may result in interference to radio or television reception.
Changes and modifications not expressly approved by the manufacturer or registrant of the equipment can void your authority to operate the equipment under Federal Communications Commission rules.

European Community Compliance Statement
Class B
This product is herewith confirmed to comply with the requirements set out in the Council Directives on the approximation of the laws of the Member States relating to Electromagnetic Compatibility Directive (EMC) 2014/30/EU, Low Voltage Directive (LVD) 2014/35/EU.

Waste Electrical and Electronic Equipment Directive
The mark of crossed-out wheeled bin indicates that this product must not be disposed of with your other household waste. Instead, you need to dispose of the waste equipment by handing it over to a designated collection point for the recycling of waste electrical and electronic equipment. For more information about where to drop off your waste equipment for recycling, please contact your household waste disposal service or the shop where you purchased the product.
CAN ICES-3 (B)/NMB-3(B)
Canada – Canada Industry Canada (IC) Labelling Requirements
Every manufacturer or importer shall ensure import or before offering for sale, as appropriate, that each unit of the type that they offer for sale bears, in alocation convenient for inspection, a permanent label or marking containing (in French and English), the following statement:
ICES-003 (Interference – Causing Equipment Standards)
"This class B digital apparatus complies with Canadian ICES-003.

Technical Regulations of the Customs Union
TR CU 020/2011
TR CU 004/2011

BSMI Registration of Product Certification (Taiwan)
http://www.avermedia.com/tw/about_us/social

MSIP Class B Statement (Korea)

Regulatory Compliance Mark
300AGC553EAS
GC553
Live Gamer ULTRA
Capture Box
Made in Taiwan