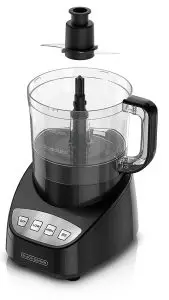 BLACK DECKER FP4100B 8-Cup Food Processor Instruction Manual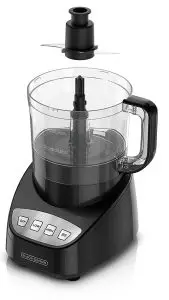 IMPORTANT SAFEGUARDS
When using electrical appliances, basic safety precautions should always be followed, including the following:
Read all instructions.
To protect against risk of electrical shock, do not put food processor base, cord or plug in water or other liquid.
Close supervision is necessary when any appliance is used by or near children.
Turn the appliance OFF then unplug from outlet when not in use, before putting on or taking off parts, and before cleaning. To unplug, grasp the plug and pull from the outlet. Never pull from the power cord.
Avoid contacting blades and moving parts.
Do not operate any appliance with a damaged cord or plug, or after the appliance malfunctions, or has been dropped or damaged in any manner. Contact the consumer service number listed in this manual. This appliance has important markings on the plug blade. The attachment plug or entire cordset is not suitable for replacement. If damaged, the appliance must be replaced.
The use of attachments not recommended by the appliance manufacturer may cause fire, electric shock or injury.
Do not use outdoors.
Do not let cord hang over the edge of table or counter, or touch hot surfaces.
Keep hands and utensils out of container while processing to reduce the risk of severe injury to persons or damage to the food processor. A scraper may be used but must be used only when the processor is not running.
Never feed food by hand. Always use food pusher.
Blades are sharp. Handle carefully.
To reduce the risk of injury, never place blades or discs on base without first putting workbowl properly in place.
Be certain the workbowl cover is securely locked in place before operating appliance.
This appliance has a protection system. The unit will not operate unless the workbowl is on the base and the workbowl cover is securely locked onto workbowl.
Do not place on or near a hot gas or electric burner or in a heated oven.
Do not attempt to defeat the lid interlock mechanism.
Do not fill the bowl above the marked maximum fill line to avoid risk of injury due to damage to the cover or bowl.
Do not use appliance for other than intended use.
This product is designed for household use only.
Do not open lid until blade or disc stops completely.
The maximum rated wattage for this product was obtained with the chopping blade.
This appliance is not intended for use by persons (including children) with reduced physical, sensory or mental capabilities, or lack of experience and knowledge, unless they have been given supervision or instruction
concerning use of the appliance by a person responsible for their safety.
Children should be supervised to ensure that they do not play with the appliance.
Note: Processing items with low moisture content may dull the finish of the bowl.
SAVE THESE INSTRUCTIONS.
This product is for household use only.
POLARIZED PLUG (120V models only)
This appliance has a polarized plug (one blade is wider than the other). To reduce the risk of electric shock, this plug is intended to fit into a polarized outlet only one way. If the plug does not fit fully into the outlet, reverse the plug. If it still does not fit, contact a qualified electrician. Do not attempt to modify the plug in any way.
TAMPER-RESISTANT SCREW
Warning: This appliance is equipped with a tamper-resistant screw to prevent removal of the outer cover. To reduce the risk of fire or electric shock, do not attempt to remove the outer cover. There are no user-serviceable parts inside. Repair should be done only by authorized service personnel.
ELECTRICAL CORD
A short power-supply cord is provided to reduce the risks resulting from becoming entangled in or tripping
over a longer cord.
Extension cords are available and may be used if care is exercised in their use.
If an extension cord is used:

The marked electrical rating of the extension cord should be at least as great as the electrical rating of the appliance;
If the appliance is of the grounded type, the extension cord should be a grounding-type 3-wire cord; and
The cord should be arranged so that it will not drape over the counter top or tabletop where it can be pulled on by children or tripped over.
Note: If the power cord is damaged, please contact the warranty department listed in these instructions.
PARTS AND FEATURES
Workbowl cover
(Part # 2050201951)
Slicing/shredding disc
(Part # 2050201481)
Chopping blade
(Part # 2050201301)
Center shaft
(Part # 2050201311)
Workbowl
(Part # 2050201491)
Control panel
Food pusher
(Part # 20102000003802)
Feed chute
Handle
Base

Product may vary slightly from what is illustrated.
GETTING STARTED
Remove all packing material, any stickers, and the plastic band around the power plug.
Remove and save literature.
Please go to www.prodprotect.com/blackanddecker to register your warranty.
Wash all removable parts.
CAUTION: Handle blade and disc carefully. They are very sharp.
Select a level, dry countertop where the appliance is to be used allowing air space on all sides to provide proper ventilation for the motor.
Important: Always make sure your food processor is unplugged and placed on a flat, level surface before starting to assemble.
Important: For your protection this appliance has an interlock system. The processor will not operate unless the cover is properly locked in place.
Caution: Never use your fingers to direct food through the feed chute.
Important: Make sure the chopping blade or slicing/shredding disc has completely stopped before removing the cover or workbowl from the processor.
Note: Remove workbowl from appliance before removing the chopping blade to prevent food from leaking through the center opening of the workbowl.
Do not use the processor to:

Grind coffee beans, bones, grains or hard spices
Slice or chop warm meat
HOW TO USE
With unit unplugged from outlet, place workbowl on base and put the center shaft in workbowl.

Select tool:

Shredding side of disc
Slicing side of disc
Chopping blade


Place either the chopping blade or the slicing/shredding disc onto the center shaft.

Make sure unit is OFF and plug the processor into an outlet.

If using chopping blade: put food into work bowl below the max food level. Place cover on work bowl as shown and rotate clockwise. Put the food pusher in place.

To puree: Press the LOW or HIGH button and press OFF when done. To chop: press PULSE button ((P)) for short bursts.

If using disc: place cover on work bowl as shown and rotate clockwise. Place food in feed chute.

Press LOW button. Gently guide food through tube with pusher. Press OFF when done.

WHAT SPEED TO USE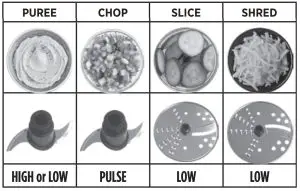 GENERAL TIPS FOR USING THE PROCESSOR
Organize processing tasks to avoid multiple cleanups of the bowl; process dry before wet.
Do not process foods that are so frozen or hard that the tip of a knife cannot be inserted into the food.
If a piece of hard food, such as a carrot, becomes wedged or stuck on the blade, stop the processor and unplug, then remove the blade. Gently remove food from the blade.
Meat and cheese should be well chilled before slicing or shredding.
TIPS FOR USING THE CHOPPING BLADE
The processor works very quickly. Watch carefully to avoid over processing foods.
For best results, process foods that are about the same size.
The processor will be more efficient if filled no more than 1/2 to 2/3 full.
Processing nuts or other hard foods may scratch the surface finish on the inside of the bowl.
Never walk away from the processor while it is on.
Use hot, but never boiling liquids.
The PULSE feature offers the best control.
TIPS FOR SLICING OR SHREDDING
Before slicing round fruits and vegetables through the processor cut a thin slice from the bottom so food will be more stable. Place food cut side down in the feed chute.
Always remove seeds, core and pits before processing
Select foods that are firm and not over ripe.
When slicing thinner vegetables cut them just short of the length of the feed chute; stand them vertically in the feed chute so they are solidly packed and cannot turn or tilt.
Soft and semi hard cheeses should be well chilled before shredding.
Do not let the food accumulate too high (over 2/3 full); stop and empty the workbowl.
CARE AND CLEANING
Important: Always unplug your processor from the outlet before cleaning.
CLEANING
Completely disassemble processor parts before washing.
Rinse parts immediately after processing for easier cleaning.
Wipe base and feet with a damp cloth and dry thoroughly. Do not immerse base in liquid.
All removable parts can be washed by hand in hot water with dish soap or in the dishwasher, top rack only. Hand-washing of plastic parts will help to maintain the food processor's appearance.
Do not use rough scouring pads or cleansers on any plastic or metal parts to clean.
Do not allow blade or disc to soak in water for long periods of time.
Remember to clean the internal shaft of the chopping blade. Use a brush to remove any residual food particles.
TROUBLESHOOTING
PROBLEM
SOLUTION
Food Processor doesn't run
• Make sure the workbowl and workbowl cover are properly aligned and in place.

• Check to make sure the food processor is plugged in.

• If you have a circuit breaker box, be sure the circuit is closed.

• Unplug the food processor, and then plug it back into the outlet.

Food processor not shredding or slicing properly
• Make sure the disc or blade is installed properly.

• Make sure ingredients are suitable for slicing or shredding.

If workbowl cover won't close
• Make sure the disc or blade is installed correctly.
If the problem is not due to one of the above items, see the "Warranty and Service" section of this Use and Care Manual. Do not return the food processor to the retailer. Retailers no not provide service.
STORAGE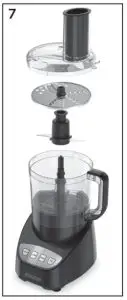 Caution: Blades and discs are sharp. Handle carefully.
Wrap cord under base.
There are two ways to store your food processor.
(Fig. 7) Assemble the parts onto the base in this order: workbowl, center shaft, chopping blade, slicing/ shredding disc, workbowl cover, food pusher.
(Figs. 8-11) To save space: put the workbowl onto the base. Put in the chopping blade first and then at a diagonal angle, the center shaft (Fig. 8). Turn workbowl cover upside down and nestle on top of workbowl (Fig. 9). Insert the food pusher into the feed chute (Fig. 10). Place the slicing/ shredding disc on top (Fig. 11).


Need Help?
For service, repair or any questions regarding your appliance, please call our Customer Service Line at 1-800-465-6070. Please DO NOT return the product to the place of purchase. Also, please DO NOT mail product back to manufacturer, nor bring it to a service center. You may also want to consult the website listed on the cover of this pamphlet.
Warranty Information
(Applies only in the United States and Canada)
What does it cover?
Any defect in material or workmanship provided; however, Spectrum Brands' liability will not exceed the purchase price of product.
For how long?
Two years from the date of original purchase with proof of such purchase.
What will we do to help you?
Provide you with a reasonably similar replacement product that is either new or factory refurbished.
How do you get service?
Save your receipt as proof of date of sale.
Visit the online service website at www.prodprotect.com/blackanddecker, or call toll-free 1-800-465-6070, for general warranty service.
If you need parts or accessories, please call 1-800-738-0245.
How does state law relate to this warranty?
This warranty gives you specific legal rights. You may also have other rights that vary from state to state or province to province.
What does your warranty not cover?
Damage from commercial use
Damage from misuse, abuse or neglect
Products that have been modified in any way
Products used or serviced outside the country of purchase
Glass parts and other accessory items that are packed with the unit
Shipping and handling costs associated with the replacement of the unit
Consequential or incidental damages (Please note, however, that some states do not allow the exclusion or limitation of consequential or incidental damages, so this limitation may not apply to you.
Are there additional warranty exclusions?
This warranty shall not be valid where it is contrary to U.S. and other applicable laws, or where the warranty would be prohibited under any economic sanctions, export control laws, embargos, or other restrictive trade measures enforced by the United States or other applicable jurisdictions. This includes, without limitation, any warranty claims implicating parties from, or otherwise located in, Cuba, Iran, North Korea, Syria and the disputed Crimea region.
At the end of this product's life, you can mail it to Spectrum Brands at 507 Stokely Drive, Deforest, WI 53532 marked "Product Takeback: Please Recycle!"
BLACK+DECKER and the BLACK+DECKER logos are trademarks of The Black & Decker Corporation, used under license by Spectrum Brands, Inc. for its manufacturing and sale of this product. All rights reserved.
Made in China.
© 2020 The Black & Decker Corporation and Spectrum Brands, Inc., Middleton, WI 53562 All rights reserved.