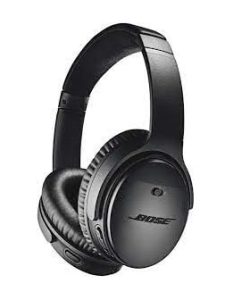 Bose QuietComfort 35
BOSE CONNECT
Enhance your headphones with the Bose® Connect app Gør dine hovedtelefoner endnu bedre med Bose® Connect-app'en Atemberaubende Klangerlebnisse mit der Bose® Connect App Verbeter uw hoofdtelefoon met de Bose® Connect-app Mejore sus auriculares con la aplicación Bose® Connect Bose® Connect -sovelluksella saat enemmän irti kuulokkeistasi Tirez le meilleur profit de votre casque avec l'application Bose® Connect Migliori prestazioni delle cuffie con l'app Bose® Connect Javítsa fejhallgatója teljesítményét a Bose® Connect alkalmazással.


©2016 Bose Corporation, The Mountain,
Framingham, MA 01701-9168 USA
AM761787 Rev.00
Please read and keep all safety and use instructions.
Refer to the owner's guide (online) for more information about your headphones (including a ccessories and replacement parts). To request a printed copy, use the phone numbers provided.
Owner's Guide: global.Bose.com or owners.Bose.com/QC35
Pairing a Bluetooth® device
1. Slide the Power/Bluetooth® button ( ) to the Bluetooth symbol ( ) and hold until you hear, "Ready to pair" or the Bluetooth indicator blinks blue.
2. On your device, turn on the Bluetooth feature and select your Bose® QuietComfort® headphones from the device list.
Tip: The Bluetooth feature is usually found in the Settings menu.
OR, if your device supports Bluetooth® pairing via NFC:
1. Slide to the right to power on the headphones.
2. Unlock your device and turn on the Bluetooth and NFC features.
3. Tap the NFC touchpoint on your device to the NFC touchpoint on your headphones. Your device may prompt you to accept pairing.
Once paired, you hear "Connected to <device name>" or the Bluetooth indicator glows solid white.
Choosing a language
1. Press and hold and simultaneously for three seconds.
2. Press or to scroll through the languages.
3. Press and hold



to select language.
Note: To check for additional languages, please visit: updates.Bose.com/QC35
Using the headphones
Headphone controls
Note: Some features may not work for some devices or applications.
Managing multiple connections
• The headphones connect to two Bluetooth devices and store eight devices in the pairing list.
• With the headphones on your head, slide to and release to hear which device(s) are connected; repeat to connect to the next device.


Green solid: Medium to full charge
Amber solid: Low charge
Red blinking: Need to charge

Blue blinking: Ready to pair
White blinking: Connecting
White solid: Connected
Charging
Plug the small end of the USB cable into the USB charging connector on the right earcup. Plug the other end into a USB wall charger or computer that is powered on.
Using noise reduction only
Noise reduction is activated when you power on the headphones.
Note: If the headphone battery is depleted, you cannot use noise reduction.
Using the back-up audio cable
Use the supplied back-up audio cable to connect a ­non-Bluetooth device, or if the ­headphones battery is depleted.
Troubleshooting
Headphones do not pair with Bluetooth® device
• On your Bluetooth device:
—— Turn the Bluetooth feature off and then on.
—— Delete your Bose® ­QuietComfort® headphones from the Bluetooth list on your device. Pair again.
• Pair a different Bluetooth device.
• Visit YouTube.com/Bose to see how-to videos.
• Clear the headphones pairing list:
—— Slide

to
and hold for 10 seconds. Delete your Bose® ­QuietComfort® ­headphones from the Bluetooth list on your device. Pair again.
Headphones do not pair with NFC-enabled device
Make sure your device supports Bluetooth pairing via NFC.
Unlock your device and turn on the Bluetooth and NFC features.
Tap the NFC touchpoint on the back of your Bluetooth device to the NFC touchpoint­ on the headphones.
No sound
Power on the headphones and charge the battery.
Increase the volume on your headphones, your device, and music source.
Slide to and release to hear the connected device. Make sure you are using the correct­ device.
Use a different music source.
Pair a different Bluetooth
Poor sound quality
Move your Bluetooth device closer to the headphones, and away from any interference.
The warranty information provided with this product does not apply in Australia and New Zealand. See www.Bose.com.au/warranty or www.Bose.co.nz/warranty for details.
"Made for iPod," "Made for iPhone," and "Made for iPad" mean that an electronic accessory has been designed to connect specifically to iPod, iPhone, or iPad, respectively, and has been certified by the developer to meet Apple performance standards. Apple is not responsible for the operation of this device or its compliance with safety and regulatory standards. Please note that the use of this accessory with iPod, iPhone or iPad may affect wireless performance.
iPad, iPhone, and iPod are trademarks of Apple Inc., registered in the U.S. and other countries. The trademark "iPhone" is used with a license from Aiphone K.K.
Apple and the Apple logo are trademarks of Apple Inc., registered in the U.S. and other countries. App Store is a service mark of Apple Inc.
Android, Google Play, and the Google Play logo are trademarks of Google Inc.
The Bluetooth® word mark and logos are registered trademarks owned by Bluetooth SIG, Inc. and any use of such marks by Bose Corporation is under license.
The N-Mark is a trademark or registered trademark of NFC Forum, Inc. in the United States and in other countries.
© 2016 Bose Corporation. No part of this work may be reproduced, modified, distributed, or ­otherwise used without prior written permission.
FAQs
What is the difference between the QC®35 and the QC®35 II?
The QC®35 II has a new, more comfortable headband, a repositioned microphone and a new charging case. The QC®35 II also has updated Bose® Connect app features.
How do I update my headphones?
To update your headphones, download the latest software from www.Bose.com/support/downloads and follow the on-screen instructions to install it on your computer. Then plug your headphones into your computer using the USB cable that came with your headphones to update them. If you have trouble updating your headphones, contact Bose customer service at 1-800-444-2673 (U.S.) or 1-866-237-7355 (Canada).
Why does my music sound distorted or broken up when I use Bluetooth?
There are many possible reasons for this problem, including interference from other devices in close proximity to your headphones or obstructions between your device and your headphones like walls or doors. Move away from these obstructions or try to eliminate them if possible. You might also try relocating your device closer to your headphones if they are not already close together. You can also try changing channels on your device if available, or moving to another open channel on your device if you are using an older Bluetooth device that does not support multiple channels (for example, some older Bluetooth devices only support channel 1). If none of these suggestions help, contact Bose customer service at 1-800-444-2673 (U.S.) or 1-866-237-7355 (Canada).
Can I use my QuietComfort 35 wireless headphones with my TV?
Yes! If you have an Apple TV®, select "TV Audio" as the output option in the Bose Connect app settings menu for Apple TV® audio devices under "Audio Settings" > "Audio Device" > "Audio Device for TV" > "TV Audio" > "Apple TV" > "
How is series 2 different from series 1
QuietComfort 35 headphones II offer the same unmatched combination of acclaimed noise reduction technology, wireless freedom, audio performance, dual-microphone system and 20-hour battery life as QuietComfort 35 headphones. However, QuietComfort 35 wireless headphones II also have a new Action button on the left earcup. In countries where the Google Assistant is available, that button gives you instant access to the Google Assistant, your own personal Google. In countries where the Google Assistant is not available, it lets you quickly toggle through three different ANR settings for optimal performance wherever you go. We hope this helps!
When using them for a call, do you need a mic on a cord or do the headphones have a built in microphone to pick up your voice?
You do not need an additional inline cable with a microphone. To confirm, the headset has the mic built into the earcup and is active when on phone calls.
I work on trains with loud noise it excess of 90 db. with these headphones work in that environment???
Human hearing is very fragile. Noise levels above 85 dba for extended periods can be harmful to your hearing. Human hearing on average can't distinguish changes in sound pressure level less than ~3db. A 5db change, up or down, is clearly noticeable and a 10db change, up or down, will be perceived as a doubling or halving of the volume respectfully. If the unit does not provide specifications on noise reduction across a band I would not use as hearing protection in a noisy environment. There are bluetooth enabled over the ear muffs, or in the ear buds that provide greater than 20 db of noise reduction.
How long does the battery last if you turn off the noise cancellation (wireless)?
When the headphones are turned on and being used wirelessly, you will get up to 20-hours of battery life. If you turn off the headphones while they are being used wirelessly, this turns off both the Bluetooth and noise-cancellation. With the headphones turned on and the backup audio cable connected, Bluetooth will be disabled however you will get up to 40-hours of noise-cancellation.
My question is a bit dumb but.. can I use them with the 3.5mm wire even though they are out of battery?
QuietComfort wireless headphones II! These headphones do come with an audio cable, USB charging cable, and carrying case. You can absolutely connect the audio cable to continue enjoying your favorite music once the battery life has ended.
With a hearing loss in one ear, is there a balance control to boost the sound on one side?
Having 100% hearing loss on one ear myself, the best course of action I found is to go to Settings – General – Accessibility and turn on "Mono Audio". This will not change the quality of the sound since one ear is deaf anyway and it will allow all sounds to be routed to both speakers of your headset. Just a note for consideration, I had the Apple AirPods tested and if you just put on one of them, iOS changes the sound to Mono automatically and sends it to the AirPod earpiece that you are wearing only. Of course, the AirPods do not do noise cancelling but having a hearing problem, this may be information you would like to know.
Do you have to download the app in order to use these headphones?
You do not have to use the Bose Connect app in order to use these headphones.
Can I jog outside with these headphones in the winter? Can I workout with them in general?
I recently did a 40-minute walk with these on and it was fine. It was cold out (well, cold to use Southern Californians – it was probably 50 to 55 degrees). In fact, it was great because it helped keep my ears warm, but not too hot. I won't be trying this in warm weather though.
Are these comfortable if you wear eye glasses?
Not only do I at times wear glasses, but I also wear Behind the Ear hearing aids in both ears and the Bose QuietComfort 35 II headphones are EXTREMELY comfortable.
Do these support calls over skype/hangout/webex?
The QC35 II works on both computers and mobile devices for all types of calling applications.
Does it work with android phones?
Yes, our QuietComfort 35 wireless headphones II will be able to pair with your Android phone over Bluetooth. The included backup audio cable will also work with your device.
How well do these stay on such as for household cleaning and vacuuming?
I use them all the time for that. They stay on my ears very well while cleaning and vacuuming. But the top bar does tend to slide forward a bit when I am looking down for a long period. I adjust them once or twice in a 2 hour cleaning session. Regardless, one of the many reasons why I love these headphones is because they block out the sound of the vacuum while I'm listening to music.
Can I watch tv with these headphones??
We recommend that you check with TV if it has Bluetooth audio out. Otherwise, the headset will come with a 3.5mm audio cable you can plug into the headphone jack on the TV.
Why are they 100 dollars cheaper Is this a scam or is it fake. Because that makes no sense I hope they are real tho?
Yes these are real they are cheaper because they are from the international market. They come in the original Bose sealed box. We have been in business for over 40 years and on Amazon since 2014 so we do have a reputation to maintain
What version of bluetooth does the qc35 currently use in november 2017?
Our QuietComfort 35 wireless headphones II are engineered with Bluetooth version 4.1.