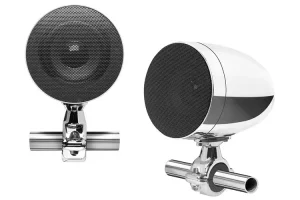 BOSS® MC625BA USER'S MANUAL
BLUETOOTH® | 3″ (76 mm)
WEATHERPROOF 2SPEAKER SYSTEM
FEATURING BUILT-IN AMPLIFIER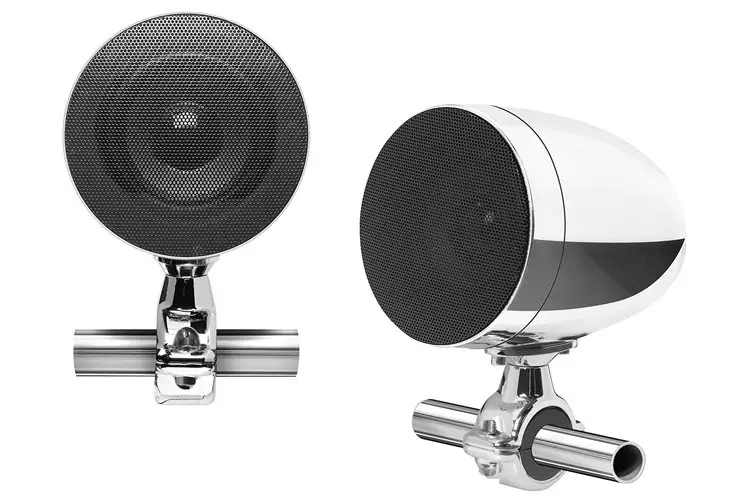 BOSS Audio Systems
3451 Lunar Court • Oxnard, CA 93030
www.bossaudio.com
805-751-4853 Customer Service
Tech Support: www.bossaudio.coin/support
Congratulations on your purchase of a BOSS Audio Systems amplified speaker system. It has been designed, engineered and manufactured to bring you the highest level of performance and quality, for years of listening pleasure.
Thank you for making BOSS AUDIO SYSTEMS your choice for entertainment!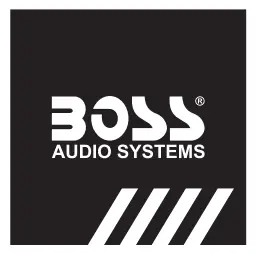 Features:
Aux-In (3.5 mm)
Speaker Clamp Mounts
Weatherproof Media Control
High-Impact, High Temp Speaker Enclosures
Weatherproof Speakers
Bluetooth® Audio Streaming
Installation
Unscrew the brackets from the bottom of the speakers.
Find a safe, ideal mounting location and fit the brackets over the chosen mounting bars.
Fasten the mounting screws after you review the safety of the mounting location.
Wiring
Remove the seat.
Route the fused power leads to the battery, (keep away from moving parts and/or hot exhaust)
Connect the RED ring terminal to the +12V post of the battery.
Connect the BLACK ring terminal to ground post of the battery.
Connect the power connector to the white mating connecter leading to the speaker
Bluetooth
To pair and connect your Bluetooth device to the MC625BA" Enter Settings > Bluetooth Menu > Search > " Boss Audio MC625BA" > If Prompted to enter a passcode enter: "0000"
Connections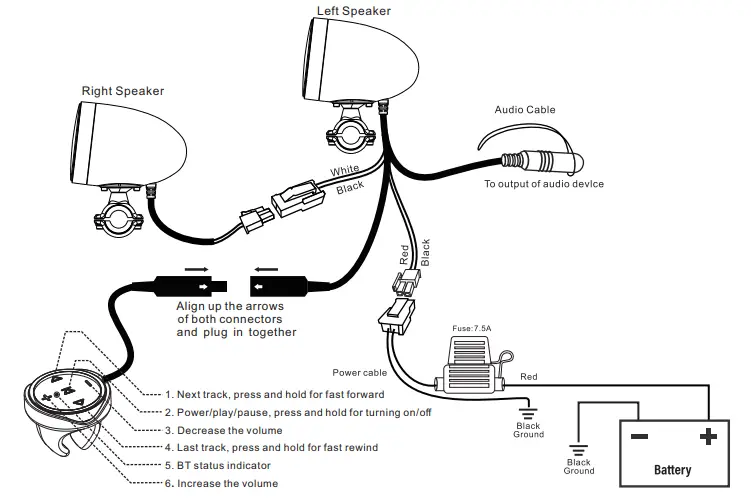 Amplifier and Loudspeaker Mounting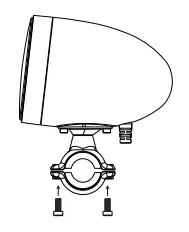 Install Reminder
The components and wiring should not be installed around any moving parts, keep away from ignition parts, fuel lines, or any hot exhaust
Speakers should not be installed where they might inhibit safety features on the vehicle (i.e. lights, horns, brake levers, etc…)
Specifications
Operation Voltage: 10~16V
THD: <0.1%
S/N: >75 dB
Channel Separation: >50 dB
Frequency Response: 50Hz-15KHz
Speaker Wires: 5.5′
Volume Control Wire: 4.9′
Audio Input Cable: 0.8′
Power Cable: 5.5′
In-Line Fuse/Power Cable: 4.9′
Bracket Size Range: 0.75″ ~1.25″
Fuse Rating: 7.5A