This Braun Series 9 user guide contains information on how to correctly use the shaver as well as clean and maintain it.

Braun Series 9
Braun Infolines Lignes d'assistance Braun
Thank you for purchasing a Braun product. We hope you are completely satisfied with your new Braun shaver.
If you have any questions, please call:
US residents 1-800-BRAUN-11
1-800-272-8611
Canadian residents 1-800-387-6657
What's In The Box?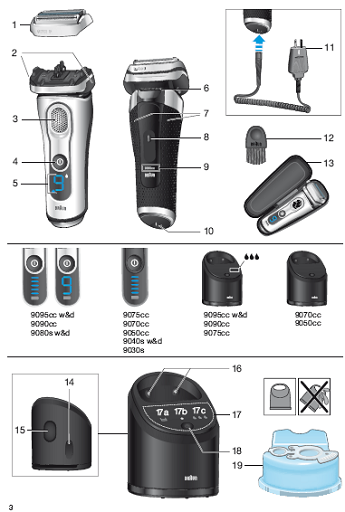 Foil & Cutter cassette
Cassette release buttons
MultiHeadLock switch
On/off switch
Shaver display
Long hair trimmer
Shaver-to-station contacts
Release button for long hair trimmer
Model number of shaver
Shaver power socket
Special cord set
Brush
Hard travel case
Station power socket
Lift button for cartridge exchange
Station-to-shaver contacts
Clean&Charge Station display
a) Level indicator
b) Status light
c) Cleaning program indicator (models 9095cc w&d/ 9090cc/9075cc only)
Start button
Cleaning cartridge
Turning on the Shaver and Cleaning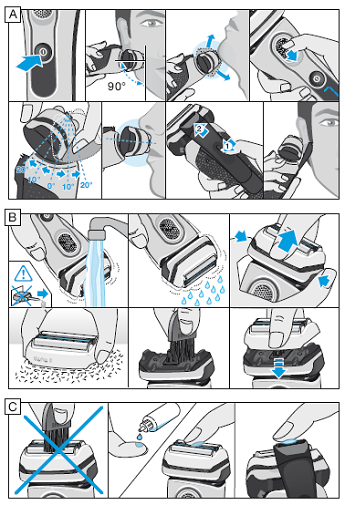 Manual cleaning of the shaver
(see fig. B/C)
Cleaning under running water
Switch on the shaver (cordless) and rinse the shaver head under hot running water until all residues have been removed. You may use liquid soap without abrasive substances. Rinse off all foam and let the shaver run for a few more seconds.
Next, switch off the shaver, press the release buttons (2) to remove the Foil & Cutter cassette (1) and let it dry completely.
If you regularly clean the shaver under water, then apply once a week a drop of light machine oil on top of the Foil & Cutter cassette. Models 9080s w&d/9040s w&d only: The shaver should be cleaned after each foam usage.
Cleaning with a brush
Switch off the shaver. Remove the Foil & Cutter cassette (1) and tap it out on a flat surface. Using the brush, clean the inner area of the pivoting head. Do not clean the cassette with the brush as this may damage it! The Foil & Cutter cassette can be attached either way. There is no impact on the shaving performance.
The Clean&Charge Station has been developed for cleaning, charging, lubricating, disinfecting, drying and storing your Braun shaver.
Plugging Shaver Into Base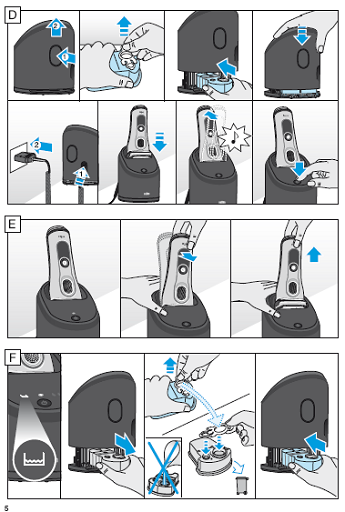 Remove the protection foil if any from the Clean&Charge Station display.
Press the lift button (15) at the rear side of the Clean&Charge Station to lift up the housing.
Hold the cleaning cartridge (19) down on a flat, stable surface (e.g. table).
Carefully remove the lid from the cartridge.
Slide the cartridge from the rear side into the base of the station until it snaps into place.
Slowly close the housing by pushing it down until it locks.
Connect the station to an electrical outlet by snapping the special cord set (11) into the power socket (14).
Charging the shaver in the CleanandCharge Station (see fig. D)
Insert the shaver head with the front showing and released head lock into the cleaning station.
Important: The shaver needs to be dry and free from any foam or soap residue!
The contacts (7) on the back of the shaver need to align with the contacts (16) in the station. Push the shaver in the correct position. A beep sound confirms that the shaver sits properly in the station. Charging will start automatically.
Cleaning Cartridge / Replacement (see fig. F)
When the level indicator (17a) lights up permanently red, the remaining fluid in the cartridge is sufficient for about 3 more cycles. When the level indicator blinks red, the cartridge needs to be replaced (about every 3 weeks when used daily).
After having pressed the lift button (15) to open the housing, wait for a few seconds before removing the used cartridge to avoid any dripping. Before discarding the used cartridge, make sure to close the openings using the lid of the new cartridge, since the used cartridge will contain contaminated cleaning solution.
The hygienic cleaning cartridge contains denatured ethanol (specification see cartridge), which once opened will naturally evaporate slowly. Each cartridge, if not used daily, should be replaced after approximately 8 weeks to ensure optimal disinfection.
The cleaning cartridge also contains lubricants for the shaving system, which may leave residual marks on the outer foil frame and the cleaning chamber of the Clean&Charge Station. These marks can be removed easily by wiping gently with a damp cloth.
Accessories
Braun recommends changing your shaver's Foil & Cutter cassette every 18 months to maintain your shaver's maximum performance.
Available at your dealer or Braun Service Centres:
Foil & Cutter cassette: 90S/90B
Cleaning cartridge Clean&Charge Station: CCR
Braun Shaver cleaner spray
IMPORTANT SAFETY INSTRUCTIONS
(models 9090cc/9075cc/9070cc/9050cc/9030cc)
When using an electrical appliance, basic precautions should always be followed,
including the following:
Read all instructions before using this appliance.
When disconnected, the hand-held part of this shaving appliance may be cleaned under water.
DANGER
To reduce the risk of electric shock:
Use only in dry condition.
Do not submerge in water.
Do not reach for an appliance that has fallen into water. Unplug immediately.
Do not use while bathing or in a shower.
Do not place, store or charge the appliance where it can fall or be pulled into a tub or sink. Do not place in or drop into water or other liquid.
Except when charging, always unplug this appliance from the electrical outlet immediately after using.
Unplug this appliance before cleaning.
This appliance is provided with a special cord set with integrated Safety Extra Low Voltage power supply. Do not exchange or manipulate any part of it.
Do not use an extension cord with this appliance.
SAVE THESE INSTRUCTIONS
WARNING (all models)
To reduce the risk of burns, fire, electric shock, or injury to persons:
Close supervision is necessary when this appliance is used by, on, or near children or persons with disabilities.
Use this appliance only for its intended use as described in this manual. Do not use attachments not recommended by the manufacturer.
Never operate this appliance if it has a damaged cord or plug, if it is not working properly, if it has been dropped or damaged, or if the power supply has been dropped into water. Return the appliance to a service center for examination and repair.
Keep the cord away from heated surfaces.
Never drop or insert any object into any opening of the appliance.
Do not use outdoors or operate where aerosol (spray) products are being used or where oxygen is being administered.
Do not use this appliance with a damaged or broken foil, as serious skin injuries may occur.
Always attach plug to appliance first, then to outlet. To disconnect, turn all controls off, then remove plug from outlet.
When plugging to an electrical outlet outside North America, use a plug adapter to match the outlet's pin configuration.
Caution: The battery used in this device may present a fire or chemical burn hazard if mistreated. Do not disassemble, heat above 100 °C (212 °F), or incinerate.
Only use the special electric cord set provided with the appliance.
Oil bottle (models 9080s/9040s/9030s only) Keep out of reach of children. Do not swallow. Do not apply to eyes. Dispose of properly when empty.
Our products are designed to meet the highest standards of quality, functionality and design.
Thank you for your trust in Braun's quality, and we hope you enjoy your new Braun shaver.
Only models 9080s/9040s w&d can be used with foam or gel.
Clean&Charge Station (models 9095cc w&d/9090cc/9075cc/9070cc/9050cc)
To prevent the cleaning fluid from leaking, ensure that the Clean&Charge Station is placed on a flat surface. When a cleaning cartridge is installed, do not tip, move suddenly or transport the station in any way as cleaning fluid might spill out of the cartridge. Do not place the station inside a mirror cabinet, nor place it on a polished or lacquered surface.
The cleaning cartridge contains a highly flammable liquid so keep it away from sources of ignition. Do not expose to direct sunlight and cigarette smoking nor store it over a radiator. Do not refill the cartridge and use only original Braun refill cartridges.
Environmental notice
This appliance contains rechargeable batteries. To protect the environment, do not dispose of the appliance in the household waste at the end of its useful life.
The disposal can take place at a Braun Service Center or appropriate collection sites.
The cleaning cartridge can be disposed of with regular household waste.
Subject to change without notice. For electric specifications, see printing on the special cord set.
Please note down the suggested replacement date (in 18 months from now) below replacement part reference number.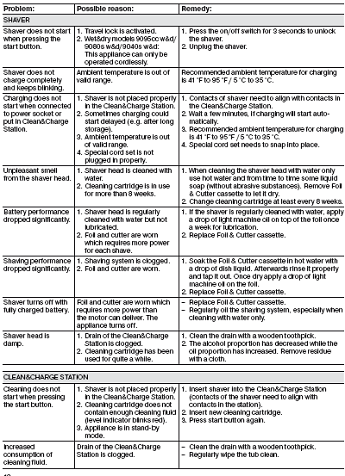 FAQs
How long does it take to charge?
It takes about an hour and a half to charge the shaver.
How long does the battery last?
The battery can last up to 50 minutes.
How do I clean the shaver?
You can rinse the shaver under running water.
What is the cleaning dock for?
The cleaning dock is for charging, cleaning, and lubricating the shaver.
What is the SmartPlug for?
The SmartPlug is for automatic voltage adjustment in different countries.
Can I use this shaver with shaving cream?
Yes, you can.
Can I use this shaver with shaving gel?
Yes, you can.
What is the difference between Braun Series 7 and Braun Series 9?
While the Series 7 was quite good with longer hairs, the Series 9/Pro is even better and will easily get those stray, wiry hairs that would normally require repetitive strokes and often cause your shaving sessions to take longer. Winner: the Braun Series 9/Series 9 Pro.
Can you use Braun Series 9 in the shower?
Is it waterproof? All Braun shavers are watertight which means the shaver head can be rinsed under running water for easy cleaning. However, ONLY Braun shavers that are specifically designated as Wet & Dry (W&D) models can be used in the shower or bath.
Should I wet my face before shaving with an electric razor?
A dirty, oily face can gum up an electric razor, making it more difficult to get a proper shave. Wash your face with water and a skincare product prior to shaving. This will help to keep the shaver from pulling out hair, as opposed to cutting it.
How do I know if my electric shaver is dull?
Well, there are a few signs that usually signal precisely that: The closeness of the shave starts to suffer. If you find yourself constantly going over the same area repeatedly and pressing harder in order to get a close shave, it probably has something to do with the blades becoming dull.
How do you know if your razor is sharp enough?
Hanging Hair Test.
Either hold the hair hanging down and simply tap the hair with the blade or hold the blade up right and drop the hair onto the blade. If the hair "pops" from a simple touch on the edge then your blade is sharp.