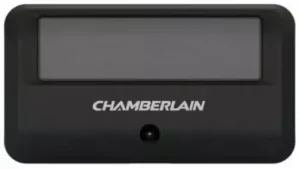 CHAMBERLAIN 950ESTD Remote Control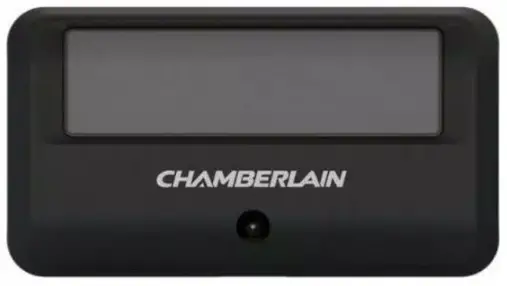 For use with MyQ™ Garage Door Openers. The code between the remote control and the receiver changes with each use, randomly accessing over a billion new codes. Refer to your product manual for the location of the learn button.
NOTE: Your product may look different than the products illustrated in this manual.

WARNING: To prevent possible SERIOUS INJURY or DEATH from a moving gate or garage door:
ALWAYS keep remote controls out of reach of children. NEVER permit children to operate, or play with remote controls.
Activate gate or door ONLY when it can be seen clearly, is properly adjusted, and there are no obstructions to door travel.
ALWAYS keep gate or garage door in sight until completely closed. NEVER permit anyone to cross path of moving gate or door.
PROGRAM USING THE GARAGE DOOR OPENER
PROGRAM USING THE DOOR CONTROL
TO ERASE ALL CODES FROM MEMORY
When deactivating any unwanted remote control code, all previous codes will be erased.

Press and hold the Learn button on garage door opener or other product until the learn LED goes out (approximately 6 seconds). All previous codes are now erased. Reprogram each remote control you wish to use.
TO CONTROL THE GARAGE DOOR OPENER LIGHTS
This feature is only available on garage door openers equipped with a multi-function door control and a remote control with more than one button. Not available with external receiver. A remote control button can be programmed to operate the garage door opener lights without opening the door.
Test by pressing the remote control button. The garage door opener lights should turn on or off but the door should not move.
THE REMOTE CONTROL BATTERY
The lithium battery should produce power for up to 5 years. If the battery is low, the remote control's LED will not flash when the button is pressed. To replace battery:
Pry open the case first in the middle (1), then at each side (2 and 3) with the visor clip.
Remove the old battery. Dispose of old batteries properly.
Insert replacement batteries positive side up. Replace the batteries with only 3V2032 coin cell batteries.
Replace cover.
WARNING: To prevent possible SERIOUS INJURY or DEATH:
NEVER allow small children near batteries.
If battery is swallowed, immediately notify a doctor.
To reduce risk of fire, explosion or chemical burn:
Replace ONLY with 3V2032 coin batteries.
DO NOT recharge, disassemble, heat above 212° F (100° C) or incinerate.
NOTICE: This device complies with part 15 of the FCC rules and Innovation, Science and Economic Development Canada license-exempt RSS. Operation is subject to the following two conditions: (1) this device may not cause harmful interference, and (2) this device must accept any interference received, including interference that may cause undesired operation. Any changes or modifications
not expressly approved by the party responsible for compliance could void the user's authority to operate the equipment. The device must be installed to ensure a distance of s5 mm is maintained between users/bystanders and the device.
HOW TO USE THE REMOTE CONTROL
Press and hold the button down until the door or gate starts to move. The remote control will operate from up to 3 car lengths away on typical installations. Installations and conditions vary, contact an installing dealer for more information.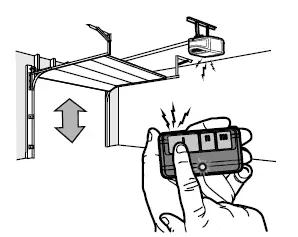 3-BUTTON REMOTE CONTROLS
Additional buttons on the remote control can be programmed to operate up to 3 devices such as additional garage door openers, light controls, gate operators or access control systems.
REPLACEMENT PARTS
3V2032 Lithium battery . . . . . . . . . . . . . . . . . . . . . . . . . . . . . . . . . . . . . . . . . . . . . . . . . . . . . .10A20
Visor Clip . . . . . . . . . . . . . . . . . . . . . . . . . . . . . . . . . . . . . . . . . . . . . . . . . . . . . . . . . . . . . . . .29B137
ONE YEAR LIMITED WARRANTY
The Chamberlain Group, Inc. warrants to the first consumer purchaser of this product that it is free from defect in materials and/or workmanship for a period of 1 year from the date of purchase.