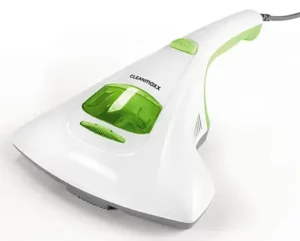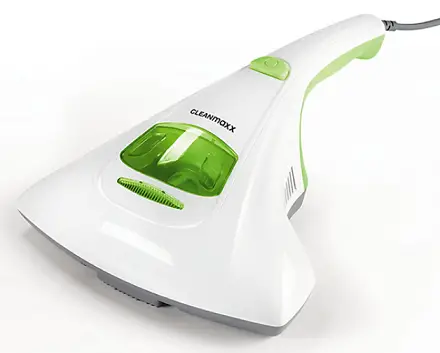 Coopers UV Bed Vac F874 Instructions
Technical Data
Voltage: 220-240V AC Frequency: 50-60Hz Machine Power: 300W Length of cord: 5m
Noise: ≤ 80db Vacuity: ≥5Kpa Dust Collecting Capacity: 180ml
Product Introduction
This product is designed to tackle allergens such as dust mites, bed bugs, bacteria and pollen. The UV light attacks their DNA preventing them from reproducing and spreading, sterilizing your mattress and soft furnishings.
Scope of Application
Please do not use this product to clean the following objects:
Objects with high temperature.
Liquid or semi-liquid, such as water, oil, coal oil, diesel oil, paint, alcohol and detergent.
Sharp fragment or dust, such as glass and ironic particles
Poisonous and hazardous materials, such as vitriol oil, corrodibility and erodent.
Ultraviolet Rays
Please pay attention to the following during usage:
Please do not aim the ultraviolet tube at any part of human body (eye, hand and face), animal or plant to avoid damage.
This product has a three-dotted touch safety design, so please do not modify the device to avoid reducing the product safety factor or unexpected accidents.
Please do not aim the ultraviolet tube at a part for a long time to avoid damage to the object.
After ultraviolet tube is open, do not put your hand under the ultraviolet light to avoid skin burning.
There are no user serviceable parts. If the ultraviolet tube is dimmed or flashing, stop using the appliance immediately.
Others
Do not use without all filter components having been installed.
Product Schema
Front Side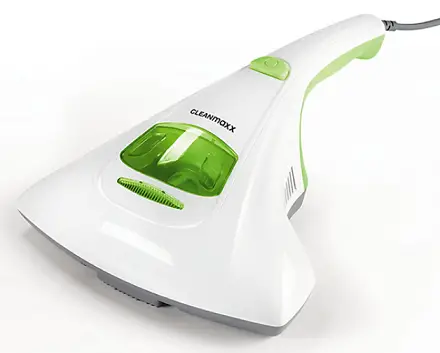 Product Feature and Function
Provided with high-efficiency (253.7nm) UV-C Silex glass ultraviolet sterilization tube.
Provided with 300W rated power, high-efficiency filter system (HEPA) and the vacuum cleaning function of the ordinary professional vacuum cleaner.
Provided with patented design; ergonomic handle design.
Provided with three-dotted touch safety design to ensure application safety.
Provided with tapping function to kill mite and provide thorough sterilization.
Function:
Vibrating and tapping can clear away mites, dust and scurf deeply rooted in textile.
After opening ultraviolet tube, the radiation of ultraviolet can kill bacteria, mite and other microorganisms by damaging its external ribonucleic acid and disabling it.
After the vacuum cleaner starts up, the mite, dust and scurf can be cleaned on the surface.
Application
Connect the machine to electricity, toggle switch from "0" to "I", launch sterilization and dust cleaning mode, move switch from "I" to "II" to launch tapping function.

Connect power line into mains socket Toggle switch
(ensure this is switched off before inserting the plug)
Put the machine on object to be cleaned (such as bedding and clothes), toggle switch to operation position, then the machine will be under pre-operation status to press two running trolleys that are in the front of the machine bottom, pull and push the machine back and forth to perform cleaning job.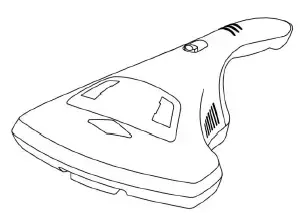 Working status window Running trolley
Cleaning and Maintenance
Switch off the machine, unplug power line and push the fasteners on both sides of the dust box to take out the dust box. After taking off the filter device, you can pour out the contents or wash with clean water.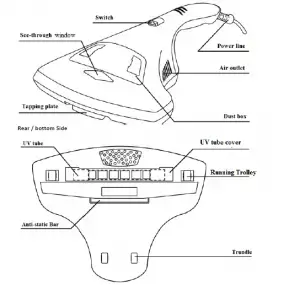 Take out the dust box Maintenance and Repair



Wash with clean water



Ventilate and dry
Daily Cleaning
Any daily cleaning or maintenance work must be performed after turning off and unplugging the UV Bed Vac.
Regularly empty and clean the dust box, filter cartridge.
Ensure the UV-C ultraviolet tube is kept free from dust, oil stains or others.
The surface of the vacuum cleaner cannot be cleaned with water or other liquids to avoid it entering the inside parts of the machine. Use a dry cloth or wet wipes for cleaning.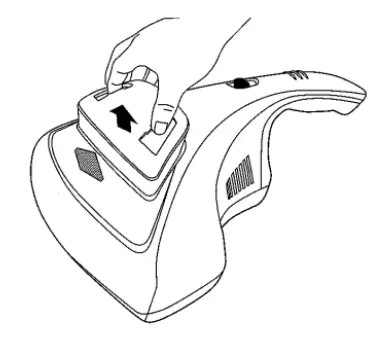 HEPA filter cartridge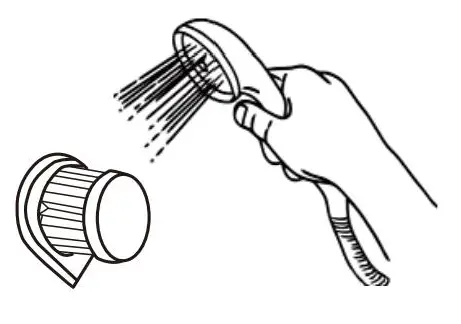 UV-C Silex glass ultraviolet sterilization tube
Daily Maintenance, Storage and Trouble Shooting
Storage and Maintenance
If not using machine for a long time, please put the machine in a flannelette bag (not included) and then locate it in dry and cool place; please do not put machine in direct sunlight or humid environment.
Do not store anything on top of the machine to prevent damage.
If the product (especially the ultraviolet tube) is broken, stop using product immediately.
Simple Trouble Shooting
Failure

Possible Causes

Solution

The vacuum cleaner is not working

The plug is not properly connected to the socket.
The power socket has no electricity
The vacuum cleaner is not

Reinsert the plug
Check the circuit breaker
Toggle the switch of the machine

Suction force is weak

The air inlet is blocked
Dust box is full
Too much dust on the HEPA filter surface

Clean the obstruction
Empty the dust box.
Clean the dust on the filter surface

Ultraviolet light is off

Running trolley on the bottom of the machine is not pressed down
Light is obscured.
The line of the ultraviolet tube is broken off
The ultraviolet tube is broken

Press the running trolley down with slight force
Shut down the machine power and wipe the cleaning tube
Contact customer service
Contact the customer service

Tapping head does not move

The switch is not pushed to "II"
Motor is broken

Push the switch to "II".
Contact the customer services
WARNINGS AND SAFETY INSTRUCTIONS:
WHEN USING ELECTRICAL APPLIANCES, BASIC SAFETY PRECAUTIONS SHOULD ALWAYS BE FOLLOWED:
READ ALL INSTRUCTIONS BEFORE USE.
FOR DOMESTIC INDOOR USE ONLY.
DO NOT USE OUTDOORS OR FOR COMMERCIAL USE.
BEFORE USE, CHECK THOROUGHLY FOR ANY DEFECTS AND DO NOT USE IF DEFECTS ARE FOUND. TAKE CARE NOT TO DROP THE APPLIANCE AS HEAVY IMPACTS MAY CAUSE INTERNAL DAMAGE.
BEFORE CONNECTING THE APPLIANCE, CHECK IF THE VOLTAGE INDICATED ON THE BOTTOM OF THE APPLIANCE IS IN ACCORDANCE WITH THE MAINS VOLTAGE IN YOUR HOME.
CHECK THE APPLIANCE AND POWER CABLE CAREFULLY FOR DAMAGE BEFORE EACH USE.
THIS APPLIANCE CAN BE USED BY CHILDREN AGED FROM 8 YEARS AND ABOVE AND PERSONS WITH REDUCED PHYSICAL, SENSORY OR MENTAL CAPABILITIES OR LACK OF EXPERIENCE AND KNOWLEDGE IF THEY HAVE BEEN GIVEN SUPERVISION OR INSTRUCTION CONCERNING USE OF THE APPLIANCE IN A SAFE WAY AND UNDERSTAND THE HAZARDS INVOLVED. CHILDREN SHALL NOT PLAY WITH THE APPLIANCE. CLEANING AND USER MAINTENANCE SHALL NOT BE MADE BY CHILDREN WITHOUT SUPERVISION.
CHILDREN OF LESS THAN 3 YEARS SHOULD BE KEPT AWAY UNLESS CONTINUOUSLY SUPERVISED.
SOME PARTS OF THIS PRODUCT CAN BECOME VERY HOT AND CAUSE BURNS. PARTICULAR ATTENTION HAS TO BE GIVEN WHERE CHILDREN AND VULNERABLE PEOPLE ARE PRESENT.
THE USE OF ANY ACCESSORY ATTACHMENTS NOT RECOMMENDED BY COOPERS OF STORTFORD MAY CAUSE INJURIES AND INVALIDATE ANY WARRANTY YOU MAY HAVE.
DO NOT LET THE POWER CABLE HANG OVER THE EDGE OF A TABLE OR COUNTER, OR TOUCH HOT SURFACES.
DO NOT PLACE ON OR NEAR HEAT SOURCES.
USE ON A LEVEL, STABLE SURFACE.
DO NOT COVER THE ITEM IN ANY WAY WHEN IN USE AS THIS MAY CAUSE OVERHEATING.
DO NOT USE THIS APPLIANCE FOR ANY OTHER USE THAN THE INTENDED USE IT IS DESIGNED FOR.
ENSURE THERE IS SUFFICIENT DISTANCE BETWEEN THIS APPLIANCE AND OTHER ITEMS ON THE WORK SURFACE OR WORK STATION, OR SUFFICIENT DISTANCE BETWEEN THE APPLIANCE AND THE CONFINES OF THE AREA IN WHICH IT IS SITUATED. WE RECOMMEND A MINIMUM CLEARANCE AROUND ALL FACES OF AT LEAST 10CM.
TO PROTECT AGAINST ELECTRIC SHOCK, DO NOT IMMERSE POWER CABLE, PLUG OR APPLIANCE, IN WATER OR ANY OTHER LIQUID.
UNPLUG FROM OUTLET WHEN NOT IN USE AND BEFORE CLEANING.
DO NOT OPERATE ANY APPLIANCE WITH A DAMAGED POWER CABLE OR PLUG OR AFTER THE APPLIANCE MALFUNCTIONS, OR HAS BEEN DAMAGED IN ANY MANNER. WE RECOMMEND THAT THE POWER CABLE IS NOT KINKED OR STORED IN A TWISTED MANNER, AND THAT YOU REGULARLY CHECK ITS CONDITION.
ANY REPAIRS MUST BE CONDUCTED BY A QUALIFIED ELECTRICIAN OR ELECTRICAL SERVICE AGENT.
PLUG WIRING (UK and IRELAND)
This appliance is fitted with a moulded BS 1363 13-amp plug. If you have to replace the fuse, only those that are ASTA or BSI approved to BS1362 and with a rated current of 13-amps should be used.
If there is a fuse cover fitted, this cover must be re-fitted after changing the fuse. If the fuse cover is lost or damaged the plug must not be used. Spare fuse holders and fuses are available from electrical outlets. If the socket outlets in your home or office are not suitable for this product's plug, the plug must be removed and disposed of safely.
Attempts to insert the plug into the wrong socket is likely to cause electric hazard.
DISPOSAL
Coopers of Stortford use recyclable or recycled packaging where possible.
Please dispose of all packaging, paper, cartons, packaging in accordance with your local recycling regulations.
Plastics, polybags – Contains the following recyclable plastic.
Code &

Symbol

Type of Plastic
Commonly used for
Notes
Polypropylene
Microwaveable food containers, yoghurt pots,

butter tubs, disposable plates and cups

Commonly recycled and collected from household recycling bins (packaging tape itself not recyclable but does not interfere with cardboard)
ABS
CD's, crisp packets, various flexible packaging, baby bottles, sunglass lenses
Not often or widely recycled
At the end of the product's lifespan please check with your local council authorised household waste recycling centre for disposal.