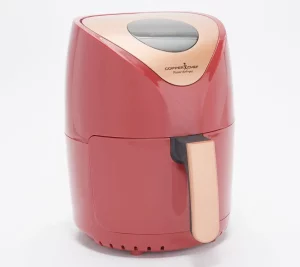 COPPER CHEF Power AirFryer User Guide
COPPER CHEF Power AirFryer User Guide
See owner's manual for complete assembly and operating instructions and important safety information before using this product.
STEP 1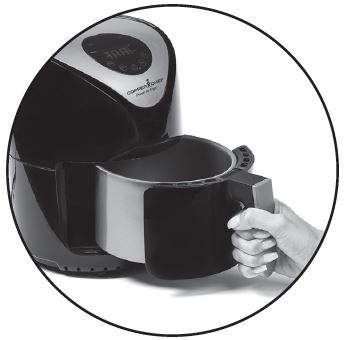 Remove Outer Basket: Pull the Easy-Grip Handle straight out.
STEP 2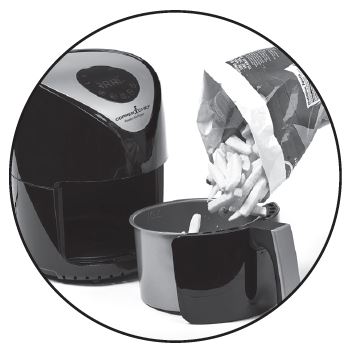 Load Outer Basket: Arrange the food you are cooking on top of the nonstick Fry Tray.
STEP 3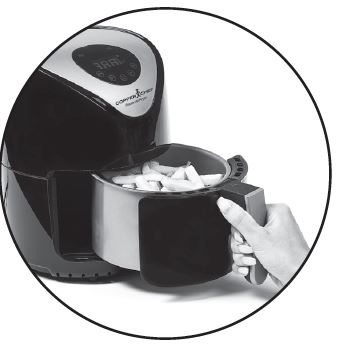 Return Outer Basket to Unit: Push the Easy-Grip Handle straight in, until it clicks.
STEP 4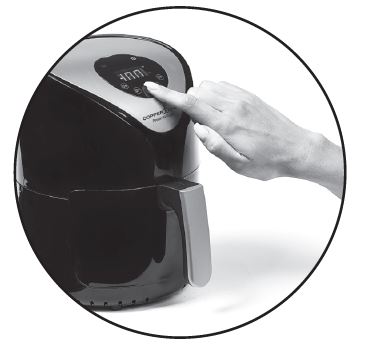 Power Unit On: Set the Time and Temperature. Follow instructions specific to your recipe.
STEP 5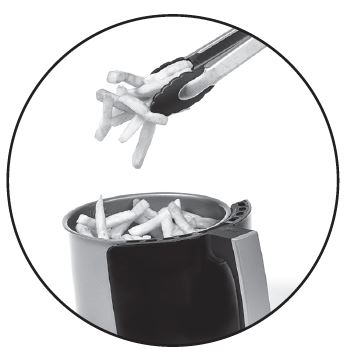 Remove Outer Basket: Set the Unit on a secure, heat-resistant surface. Use tongs to remove food.
NOTE:
Before plugging the Copper Chef Power AirFryer into a power outlet, make sure all packaging material is removed from both outside and inside the Unit.
After the cooking cycle has ended, the Digital Control Panel will shut off and the Unit's internal fan will run for an additional 10 secs. to cool down. After the Unit beeps five times, check to see if your food is fully cooked and transfer to a serving dish.
Wash All Components Before First Use.
FAQS
What is the dimension of inner frying basket?
It is 7″ across and 3 1/2″ deep with the fry plate in for air frying and 4″ deep for cooking without the plate. The plate keeps the food off the bottom and allows air to go around the food. It is plenty of air fries for two people but for a family you may want to go with the bigger unit. It takes 3 minutes to preheat and about 20 minutes to air fry a load.
could use this to reheat food?
To reheat, use a microwave at 50% level for enough time to almost get the food hot enough to eat, then destroy the sogginess by finishing in the air fryer at 370 for about 3 minutes! This is fast and it gives you the best of both appliances!
Is the frying bin traditional non-stick or is it Copper Chef coating? There is one in the market place that has copper colored lining.
This 2 quart air fryer by Copper Chef has regular black color non stick coating. It is not the super non stick coating in other Copper Chef products.
Will a pop tart fit in it?
Yes of course it will fit a pop tart , it does French fries also , love it
Will it it work with 220 volts?
No.
What is the non-stick coating made of? does it have teflon or pfoa's?
Don't know. It is a copper infused one.
Where is it made?
Made in China.
Does the food container separate from the handle basket?
Yes. Inside the basket there is a separate food holder that lifts out for easy cleaning. Just remember that this a a small unit and you will have to make more than one batcH.
Is the inside nonstick?
Yes it nonstick
What is kind of material us the pan made out of?
Non-stick steel
What is the coating on the inner basket?
The inner basket is some kind of non stick surface. So far it's very easy to clean. The fry rack is a copper colored non stick as well. Very easy to clean. It recommends spritzing with olive oil or PAM for real low fat items (lean meat, fish or veggies) so they crisp nicely without burning or sticking to the sides.
Is the loading Basket also dishwasher safe?
Yes the items are dishwasher safe
How many pieces of chicken can you put in the air fryer.
That depends on which pieces of chicken. The basket has a diameter of 6 3/4 inches and a depth of 3 1/4 inches.
Do you need to spray the pan with oil?
No oil is needed for the pan.
Is it safe to use on glass top stove?
Yes you can use it on a glass top stove.
what is the maximum cook time available?
Timer range is 1 to 30 minutes. Of course, you can always reset the timer for additional time, but 30 minutes is more than enough for most anything you'd want to cook.