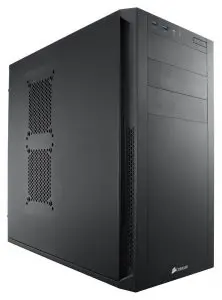 User Manual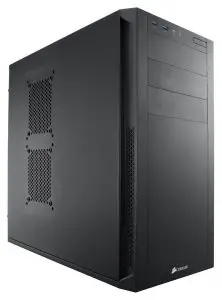 Corsair CARBIDE Series 200R Compact ATX Case
THANK YOU
Thank you for purchasing a Corsair® Carbide Series® 200R. With its elegant design and extensive feature set, 200R is a great case for beginning builders, or anybody looking for a compact, easy-to-use case.
Easy builds
Less work. More play. Build with the Carbide Series 200R and the only time you'll need to pick up a screwdriver is to install the motherboard.
Side panel thumbscrews
PCI-E expansion card thumbscrew mounts
Tool-free SSD, hard drive, and optical drive installation
Cutouts for cable routing and CPU cooling
Easy to expand, and easy to cool
Carbide Series 200R is compact, but it's designed to let you build high-performance systems with massive storage, extra graphics performance, and superior cooling and ventilation.
Seven PCI-E slots with room for cards up to 320mm long
Install up to four hard drives and four SSDs at once
Up to eight fan mounts (depending on hard drive configuration)
Easy to use
The mid-tower form factor combines room for expandability and out-of-the-way exterior dimensions.
Front panel USB 3.0, headphone and microphone ports
Dust filters behind the front intake fans help keep the interior clean
CONTENTS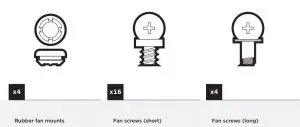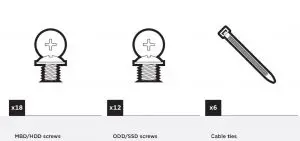 CARBIDE SERIES® 200R MID-TOWER CASE
BRILLIANT DESIGN, INSIDE AND OUT ™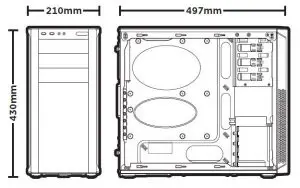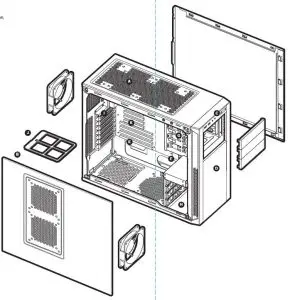 (A) Dual 120mm/140mm fan mounts compatible with 240mm/280mm radiators
(B) Dual 120mm/140mm fan mounts

(C) USB 3.0 (x2) Headphone/Mic, Power/Reset

(D) Dual 120mm fan mounts
(E) CPU backplate cutout
(F) Built-in cable routing cutouts
(G) Tool-free optical drive bays
(H) Tool-free 3.5″ hard drive cage with 2.5″ compatibility
(I) Seven expansion slots for GPUs
(J) Removable dust filters
(K) Built-in cable routing channel
1. Removing the side panels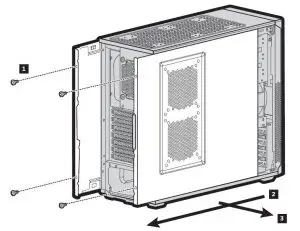 Unscrew thrumbscrews and remove, then pull side panels outward
2. Installing the motherboard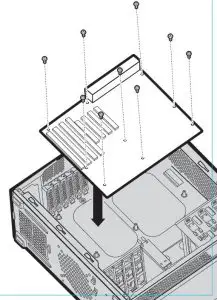 Install your motherboard's I/O shield (see motherboard manual for guidance)
Align motherboard with the standos in the case
Secure with included screws (MBD/HDD screws)
3. Installing the Power Supply (PSU)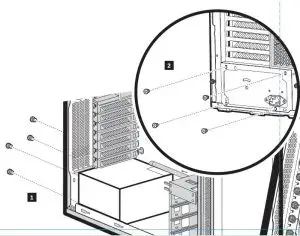 Place PSU on the bottom of the case
Align holes & secure with screws
NOTE: PSU can be installed in either fan up or fan down orientation
4. Installing the PCI-E/PCI Cards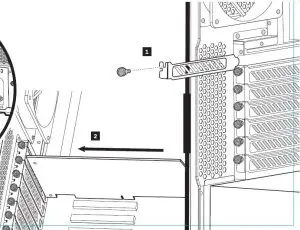 Remove thumbscrews and corresponding slot cover(s)
Install the add-on card & secure with thumbscrew
5. Installing 5.25″ Drive/Devices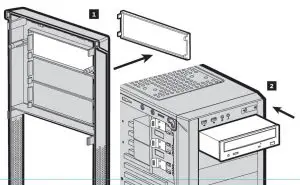 Remove the front panel blank for the 5.25″ drive bay
Insert the drive, pulling back the tool-free latch until it aligns with the mounting holes on your device, then release
6. Installing 3.5″ HDD/ 2.5″ SSD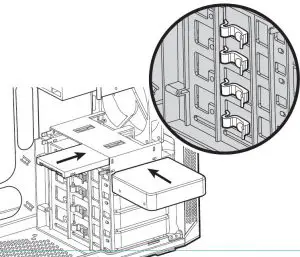 7. Attach case fan cables to motherboard headers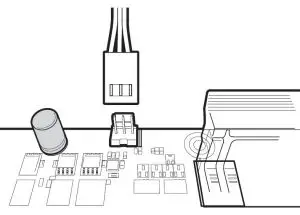 See motherboard manual for fan header locations
8. Installing front I/O connectors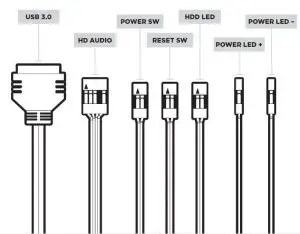 See motherboard manual for front panel header locations and pin-outs
46221 Landing Parkway • Fremont • California • 94538 • USA
© 2012 Corsair Components, Inc. All rights reserved. Corsair, the sails logo, and Carbide Series are registered trademarks in the United States and/or other countries.
All other trademarks are the property of their respective owners. Product may vary slightly from those pictured. Document Number: 49-000178 revAA