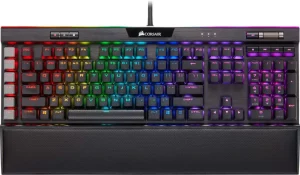 K95 RGB PLATINUM XT
Mechanical Gaming Keyboard
SETTING UP YOUR KEYBOARD
Connect both keyboard USB connectors (Q, R) to available USB 3.0 or USB 3.1 Type-A ports on your Windows ® PC, Apple Mac ® , or Microsoft Xbox One ® .*
*www.corsair.com/xbox-one-support
NOTE: For use only with Nationally Recognized Testing Laboratory listed end product and USB output rate at 5Vdc 900mAx2.
SOFTWARE
Install iCUE on a Windows ® PC to connect all of your CORSAIR iCUE compatible products together in a single interface, giving you complete control of everything from lighting to powerful macros. Download iCUE from www.corsair.com/downloads.
Additionally, install the Stream Deck software to program the macro keys (A) to take command of your stream through powerful integrations with OBS Studio, Twitch, Twitter, and more, then swap to the included S-key keycaps (N) to suit your streaming style. Download Stream Deck from www.elgato.com/gaming/downloads.
HARDWARE PLAYBACK
With ice, you can create custom profiles and then save them to the keyboard with 8MB of onboard storage. Once saved to the keyboard, your macros, settings, and backlighting effects will be available without the software or when connected to other devices. There are five hardware profiles available to customize which can be cycled through with the profile switch key (C) and have pre-programmed lighting effects.
FACTORY RESET
To clear the onboard memory, hold the ESC key while plugging in the USB keyboard connector (Q), then release the ESC key after two seconds. The keyboard will then power on normally and be reset to factory defaults.
GETTING TO KNOW YOUR KEYBOARD
A — SIX PROGRAMMABLE MACRO G-KEYS
B — 104-KEY PBT DOUBLE-SHOT KEYCAP SET
C — PROFILE SWITCH KEY
D — BRIGHTNESS KEY
E — WINDOWS KEY LOCK
F — NUM LOCK LED INDICATOR
G — CAPS LOCK LED INDICATOR
H — SCROLL LOCK LED INDICATOR
I — MUTE KEY
J — VOLUME ROLLER
K — DEDICATED MULTIMEDIA KEYS
L — FPS AND MOBA KEYCAP SETS
M — CORSAIR LOGO ESC KEYCAP
N — ALTERNATE MACRO S-KEY KEYCAPS
O — DETACHABLE, CUSHIONED
LEATHERETTE PALM REST
P — USB 2.0 PASS-THROUGH PORT
Q — USB KEYBOARD CONNECTOR
R — USB PASS-THROUGH CONNECTOR
NOTE ON ENVIRONMENTAL PROTECTION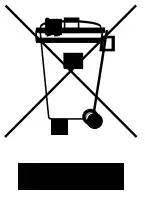 After the implementation of the European Directive 2012/19/EU in the national legal system,
the following applies:
> Electrical and electronic devices may not be disposed of with domestic waste.
> Consumers are obliged by law to return electrical and electronic devices at the end of their service lives to the public collecting points set up for this purpose or point of sale. Details to this are defined by the national law of the respective country. This symbol on the product, the instruction manual or the package indicates that a product is subject to these regulations. By recycling, reusing the materials or other forms of utilizing old devices, you are making an important contribution to protecting our environment.
© 2019 CORSAIR MEMORY Inc. All rights reserved. CORSAIR and the sails logo are registered trademarks in the United States and/or other countries. All other trademarks re the property of their respective owners. Product may vary slightly from those pictured. 49-001966 AB