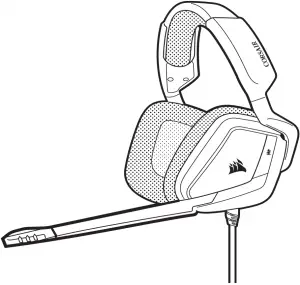 CORSAIR COMPONENTS, INC.
47100 BAYSIDE PARKWAY FREMONT CALIFORNIA 94538 USA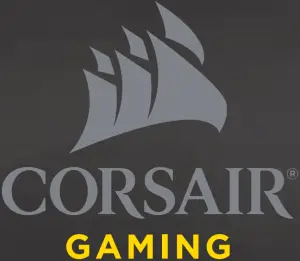 QUICK START GUIDE
VOID PRO
SURROUND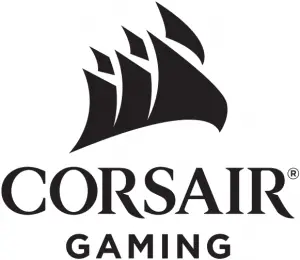 ENGLISH ………………….. 2

2 ENGLISH
A Corsair VOID PRO SURROUND Headset
B Dolby Headphone 7.1 USB Adapter
C Microphone foam windscreen (removable)
D Quick start guide
A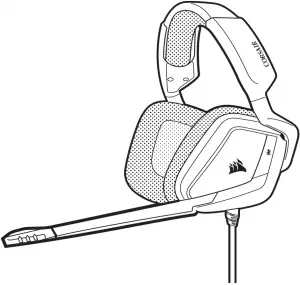 B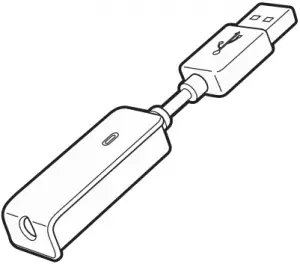 C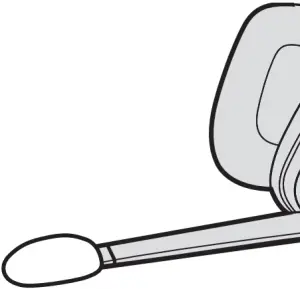 D


3 ENGLISH
A Mute button
B Volume Control
C Microfiber covered ear pads
D Headband adjustment
E Cantilevered arm + hinge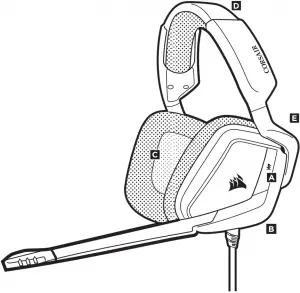 4 ENGLISH
A Mute button
B Volume Control
C USB Cable (Non-Detachable)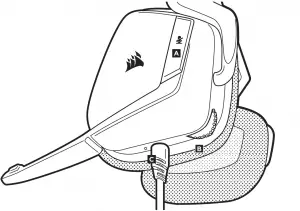 5 ENGLISH
Remember that powering the Dolby Headphone 7.1 USB Adaptor requires a high power (USB 2.0 or better) port. Some USB ports on older keyboards and monitors do not support high-power devices.
Place the headset on your head and adjust the headband for a comfortable fit. The extra-large ear pads and deep earcups enable the Corsair VOID PRO SURROUND Headset to fit comfortably so you can play for hours without fatigue.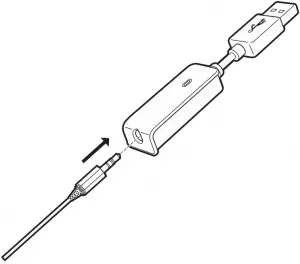 6 ENGLISH
Using CUE software will enable the full feature set of the VOID PRO SURROUND Headset.
Install the software on a PC running Windows 7, 8 or 10.
After installation is complete, reboot your PC, and launch CUE.
You can use it to:
Select and customize audio equalizer (EQ) settings.
Adjust headset volume, microphone input volume, and microphone feedback.
Set Dolby Headphone 7.1 SURROUND sound on or off
The software's built-in documentation explains how to use the VOID PRO SURROUND Headset features in greater detail.

7 ENGLISH
For the best audio performance:
Download the Corsair Utility Engine software from
corsair.com/support/downloads
Don't be afraid to use the software equalizer to adjust the audio quality to your liking. EQ presets have been provided for popular gaming and media types.
Prolonged listening at high volumes may adversely affect your hearing. Take breaks between sessions and always begin with the volume at the lowest possible level before increasing.

8 ENGLISH
As with any audio product, reduce the volume before trying it with an audio source the first time.
You can adjust the volume with:
The "CUE Control" is the digital volume controller on the headset at the
bottom corner of your left earcup: hold or repeatedly toggle it downwards to reduce volume, and upwards in short increments to increase volume.
The standard Windows audio controller can also be used to adjust volume.
Once an audio source is playing, set the volume to a comfortable level.

9 ENGLISH
Your new VOID PRO SURROUND Headset features a high performance "unidirectional" microphone designed to reject noise other than your voice, but it must be pointed directly at your mouth to function correctly.
Bend the flexible microphone boom to best fit near to the left corner of your mouth.
For improved voice quality, the included microphone foam windscreen may be applied over the microphone head.
We've found that about a 30 degree bend is a good place to start, but feel free to increase or decrease this if your mic is too loud or too soft.
Enjoy your Corsair VOID PRO SURROUND Headset! If you have any questions or comments, see the back panel of this guide for contact information.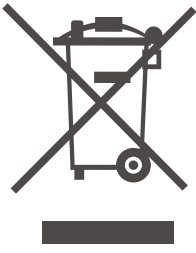 Note on environmental protection
After the implementation of the European Directive 2002/96/EU in the national legal system, the following applies:
— Electrical and electronic devices may not be disposed of with domestic waste.
— Consumers are obligated by law to return electrical and electronic devices at the end of their service lives to the public collecting points set up for this purpose of point of sale. Details to this are defined by the national law of the respective country. This symbol on the product, the instruction manual or the package indicates that a product is subject to these regulations. By recycling, reusing the materials or other forms of utilizing old devices, you are making an important contribution to protecting our environment.
!
CAUTION!
The manufacturer is not responsible for any radio or TV interference caused by unauthorized modifications to this equipment. Such modifications could void the user authority to operate the equipment.
FCC STATEMENT
This equipment has been tested and found to comply with the limits for a Class B digital device, pursuant to part 15 of the FCC Rules. These limits are designed to provide reasonable protection against harmful interference in a residential installation. This equipment generates, uses and can radiate radio frequency energy and, if not installed and used in accordance with the instructions, may cause harmful interference to radio communications. However, there is no guarantee that interference will not occur in a particular installation. If this equipment does cause harmful interference to radio or television reception, which can be determined by turning the equipment off and on, the user is encouraged to try to correct the interference by one or more of the following measures:
Reorient or relocate the receiving antenna.
Increase the separation between the equipment and receiver.
Connect the equipment into an outlet on a circuit different from that to which the receiver is connected.
Consult the dealer or an experienced radio/TV technician for help.
This device must not be co-located or operating in conjunction with any other antenna or transmitter.
Operation is subject to the following two conditions:
this device may not cause harmful interference, and
this device must accept any interference received, including interference that may cause undesired operation.
53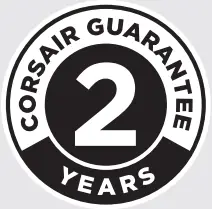 EMAIL
[email protected]
WEB
corsair.com
BLOG
corsair.com/blog
FORUM
forum.corsair.com
FACEBOOK
facebook.com/Corsair
TWITTER
twitter.com/Corsair
YOUTUBE
youtube.com/Corsair
---
© 2017 Corsair Components, Inc.
All rights reserved.
Corsair and the sails logo are registered trademarks, and Corsair Gaming and the Corsair Gaming logo are trademarks of Corsair in the United States and/or other countries. All other trademarks are the property of their respective owners.
Product may vary slightly from those pictured.
P/N: 49-001564 Rev AA
---